Benji Madden Had A Whirlwind Relationship With Paris Hilton Before Cameron Diaz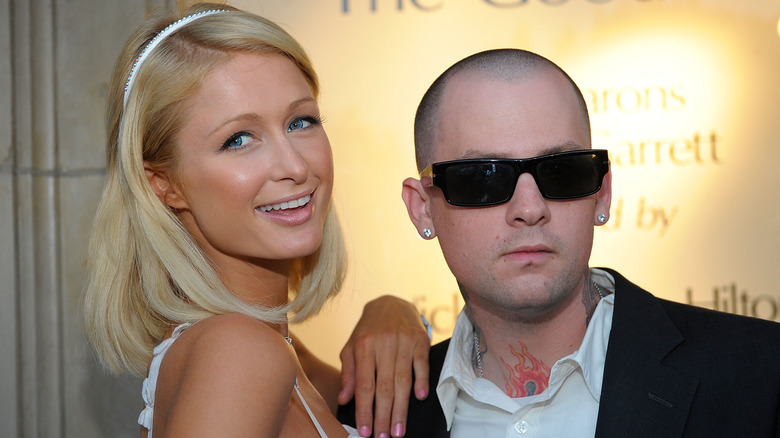 Charley Gallay/Getty Images
Benji Madden and Cameron Diaz have been one of Hollywood's most loved-up couples for the better part of a decade — so much so that it seems they've always been together. However, once upon a time, the Good Charlotte guitarist was linked to a different star: Paris Hilton. 
If the Madden name and Hilton's links seem familiar, there's a good reason for that. The multi-hyphenate's longtime friend and "The Simple Life" co-star, Nicole Richie has been with Benji's twin brother (and bandmate), Joel Madden, since 2006. They would go on to have their first child in 2008 — the same year Hilton and Benji started seeing each other. And, while Hilton was adamant that they hadn't been set up, and had known each other on a more platonic level years before they started dating, the reality star couldn't help but acknowledge the perks of being together. In fact, in an interview with David Letterman, she gushed, "We're like sisters and they're twins, so it works out well ... Nicole and I would be sisters-in-law. We talk about it."
Ultimately, it wasn't meant to be. Hilton and Benji's romance ended the year it started, and both have since married other people. However, in the nine months they were together, they were frequently pictured out and about, and made their feelings for each other known through the press. So, just what do we know about this whirlwind relationship? 
Paris Hilton and Benji Madden were pretty serious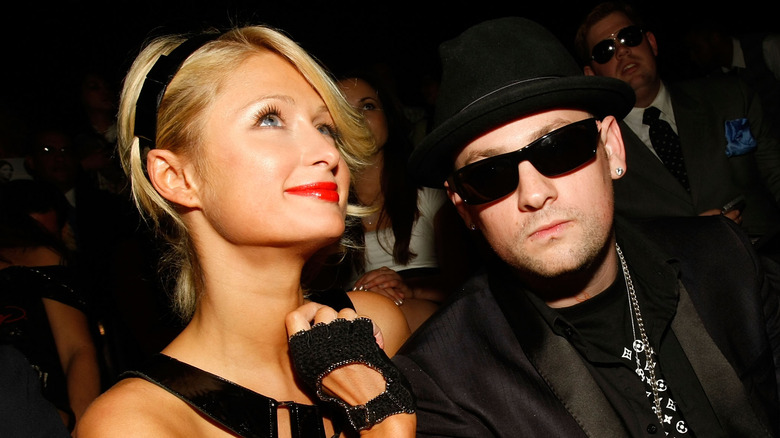 Michael Buckner/Getty Images
Paris Hilton and Benji Madden's relationship may have fizzled out relatively quickly, but that's not to say it wasn't a serious one. Far from it, both Hilton and Benji were open about falling hard for one another early on. 
Just two months in, Hilton revealed to People that he had written and recorded a song for her. "It's this really beautiful love song about me. It was the sweetest thing that anyone has ever done for me," she shared. Days later, People reported that the couple had broached the topic of getting hitched, and even quoted Hilton as saying she was open to starting a family — and hinting that she wouldn't be opposed to doing it with Benji. Speaking of his bond with his newborn niece, Nicole Richie and Joel Madden's daughter, Harlow, she shared, "I can tell he's gonna be an incredible father." 
As for Benji, he didn't hold back on his feelings for Hilton either. In fact, in the wake of rumors swirling that there was trouble in paradise, he reportedly made his love for her known in a comment to Life & Style. "She is my life, my heart and my soul, and is the most important thing in my life," he told the outlet. There's no denying it: these two were smitten!
...but things just didn't work out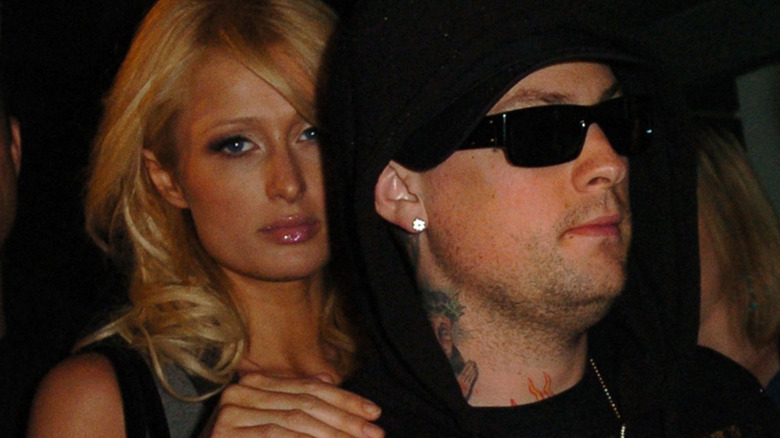 Teresa Barbieri/Getty Images
Despite their obvious love for one another, Paris Hilton and Benji Madden went their separate ways in late 2008. Three months after they'd dispelled the rumors of a split, People reported that they'd broken up — but that there were no hard feelings. One source speaking to the outlet explained, "They wanted different things in life ... He was loyal and sweet, but it was time to take a break." 
A few days later, Benji's brother, Joel Madden, doubled down on things ending amicably in an interview with Access Hollywood, and pointed to a decided lack of drama surrounding the split. "I don't think at the end of the day anyone reading it was like, 'Oh my gosh! What is he gonna do?' or 'What is she gonna do?' Everyone was kind of like, 'Oh,'" he said. Joel added that, despite the split, he wasn't too concerned that it would devolve into anything more tumultuous. Pointing to Hilton's lifelong friendship with his wife, Nicole Richie, he explained, "We all have to kind of see each other. So I think that whatever they figure out, they will." 
At the end of the day, it seems this breakup was for the best. Today, Benji's smitten with wife Cameron Diaz and their daughter Raddix and Hilton welcomed her first child, son Phoenix Hilton Reum, with husband Carter Reum. We're just glad to know that their relationship ended sans drama!