How John Travolta Embarrassed His Daughter Ella In Front Of Her Celebrity Crush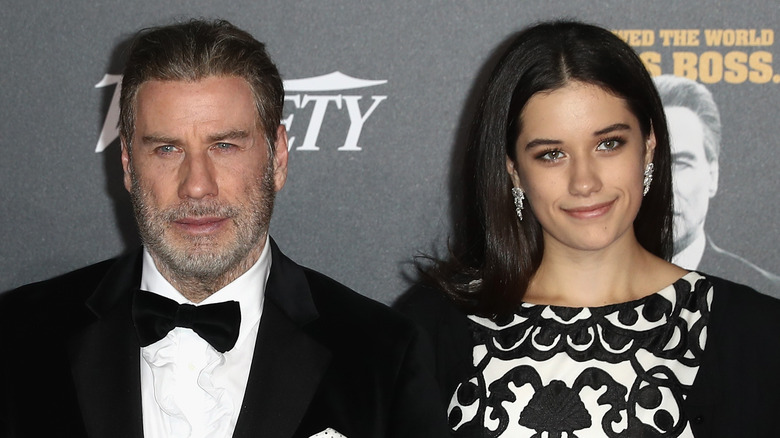 John Phillips/Getty Images
John Travolta once revealed something to a popular actor that left his daughter feeling a bit embarrassed. As written by People, Travolta is a father to three kids he had with his late wife, Kelly Preston: Jett, who sadly died in 2009, Ella, and Benjamin. In 2009, Travolta, Preston and Ella sat down for an interview to discuss a movie they all worked on together, "Old Dogs." During the conversation, Preston spoke about how giving Travolta is as a father. "Johnny is the best dad, bar none," Preston said, per ScreenSlam. "He is the most loving, spends so much time, supportive ... He's the perfect dad."
When Travolta and Ella visited "The Talk" in 2019, Travolta noted that he supports Ella as she pursues a career in entertainment. "I am ridiculous. I'm behind the camera mouthing every word she says, doing her moves," Travolta said (via Just Jared). In April 2023, Travolta took to Instagram to wish Ella a happy 23rd birthday while posting a video of himself, Ella and Benjamin celebrating in Disney World. "Here's a song for you on your birthday my dearest Ella! I love you with all my heart!!" Travolta wrote. Aside from publicly sharing their positive memories, Ella has discussed a time her dad accidentally embarrassed her in front of a heartthrob.
John Travolta made an embarrassing remark when Ella met Taylor Lautner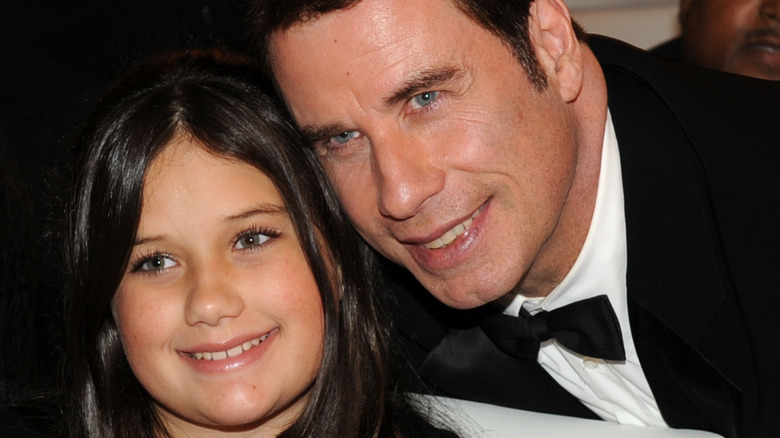 Kevin Winter/Getty Images
John Travolta unintentionally made his daughter, Ella, feel mortified when she met a celebrity she was a fan of. This was revealed while John and Ella spoke with Lena Waithe for a 2022 "Jimmy Kimmel Live!" interview. When Ella was asked if her dad ever embarrasses her, she spoke about a time when Taylor Lautner visited her family's home in past years. "I loved [Lautner] — Team Jacob," Ella said. She added that, prior to Lautner's arrival, "My friends and I were looking up pictures him and just sort of researching him, like, 'Oh my gosh, he's coming!'"
Once Lautner and his family members got to the Travolta home, "Then the first thing [John] says to them is, 'Oh, Ella was just looking you guys up on the internet,'" Ella said. "And I was like, 'What?!'" John then stated that he thought Lautner would "be flattered that Ella's looking him up." Ella said she was "bright red, probably" after her dad made this known to Lautner. In addition, back in 2020, Ella remembered meeting the "Twilight" alum by posting a photo of herself and Lautner from this occasion on Instagram. "#tbt to 10 years ago today. That time my Dad embarrassed me by telling Taylor Lautner I was researching all about him on the internet... also omg, my hair," Ella captioned the image. Moving past this awkward moment, John and Ella have remained very close throughout the years.
John and Ella Travolta are each other's biggest fans
Ella and John Travolta share a special father-daughter bond. In June 2022, Ella complimented her famous dad in honor of Father's Day via Instagram. "Happy Father's Day, to the smartest, kindest, most generous man I know," Ella wrote before adding, "Thank you for everything you do and for being my friend." Additionally, in February 2022, Ella honored Travolta with an Instagram birthday post in which she called him her "role model" and "best friend." 
Ella has followed in the footsteps of her celebrity parents by acting in projects like "The Poison Rose," a 2019 film that also starred her dad. She and Travolta have since teamed up for a 2022 PlayStation commercial which featured other celebrity parent-child duos as well, Business Wire reported. Furthermore, Ella has begun to pursue modeling and making music. In 2022, Travolta shared via social media that he was "so proud of Ella's debut at fashion week in New York City!" In regards to music, Ella released her latest song, "No Thank You," in December 2022. Since then, Ella chatted with Parade about being a main star of the 2023 Silk Nextmilk campaign and receiving her dad's encouragement. "He's my biggest fan and I'm his biggest fan, so there's a lot of support going on, which is — it's amazing," Ella said. "I learn so much from him all the time."