What Demi Lovato's Arms Revealed To Doctors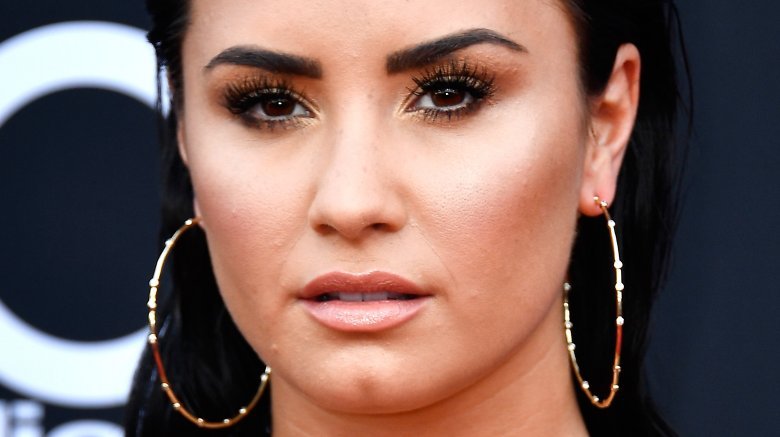 Getty Images
New details regarding singer Demi Lovato's apparent drug overdose have been revealed. 
On Wednesday, August 1, 2018, a source cited by Radar Online claimed that the "Skyscraper" singer reportedly showed "evidence of intravenous drug use" when she was admitted at the Cedars-Sinai Medical Center in Los Angeles last week. The insider explained, "The physical signs were on her arms."
The gossip rag's exclusive follows conflicting reports that Lovato had allegedly used methamphetamine before her hospitalization. A nurse, who presumably works at the Los Angeles hospital, reportedly told The Blast as much. However, the nurse didn't specify the exact type of methamphetamine nor the method in which it'd supposedly been used. It was previously reported that Lovato had overdosed on heroin.
At the time of this writing, these types of specifics surrounding Lovato's recent drug use remain unclear and are merely speculation. As her rep stated last week, "Some of the information being reported is incorrect" (via E! News).
Meanwhile, Entertainment Tonight recently reported that the 25-year-old pop star is expected to leave the hospital sometime this week. As a source told the publication on Thursday, August 2, "Demi has been in the hospital for over a week because she needed to be monitored by a medical professional" after becoming "physically sick." The insider added that Lovato is thankfully "doing much better" these days.
The "Confident" singer is now reportedly planning the next steps in her journey toward sobriety with the help of her family and team. "Demi has told the people close to her that she is serious about her sobriety," the source continued. "And plans to do whatever it takes to maintain a healthy lifestyle moving forward."
According to TMZ, some members of Lovato's team, who allegedly staged an unsuccessful intervention just weeks ahead of her apparent overdose, have reportedly given her an ultimatum by threatening to walk out of her life if she doesn't seek treatment in rehab. "She could die if she doesn't," a source told the media outlet. "And that's not going to be on my watch that we did nothing."
As Nicki Swift previously reported, Lovato, who has a history of drug and alcohol abuse, was rushed to the hospital on Tuesday, July 24, after being found unconscious in her Hollywood Hills home late that morning. Following her suspected overdose, the singer-songwriter was reportedly treated with Narcan, a drug used in cases of narcotic overdoses. After regaining consciousness, Lovato allegedly refused to tell paramedics what drugs she'd taken, TMZ reported. Regarding continued speculation that Lovato had taken multiple drugs before her alleged overdose, it's important to note that Narcan can combat the effects of heroin, but not methamphetamine. 
The following day, Lovato's rep shared a health update on her behalf, stating in part to E! News, "Demi is awake and with her family who want to express thanks to everyone for the love, prayers and support ... They respectfully ask for privacy and not speculation as her health and recovery is the most important thing right now."
Lovato's fans and a number of her peers in the entertainment industry have since expressed their love and support for the former Disney star on social media. Lady Gaga perhaps said it best when she tweeted, "We should all wrap our arms of love around Demi Lovato. I am so happy you're alive. Thank God. If I know my monsters as well as I believe I do, we all wish you self-compassion and inner peace. And may you receive the love so many have for you. #ImConfidentInDemi."
Lovato had celebrated six years of sobriety in March 2018, before hinting at a relapse with the release of her song "Sober" months later. In the emotional track's chorus, she'd apologized to her parents and fans, while singing, "I'm so sorry, I'm not sober anymore," and promising to seek professional help.
We hope Lovato will receive the help she needs as she continues to recover.
If you or someone you know is struggling with addiction, please call the Substance Abuse and Mental Health Administration's 24/7 National Helpline at 1-800-662-HELP.