Snooki Claps Back At Online Trolls Criticizing Her Daughter's Appearance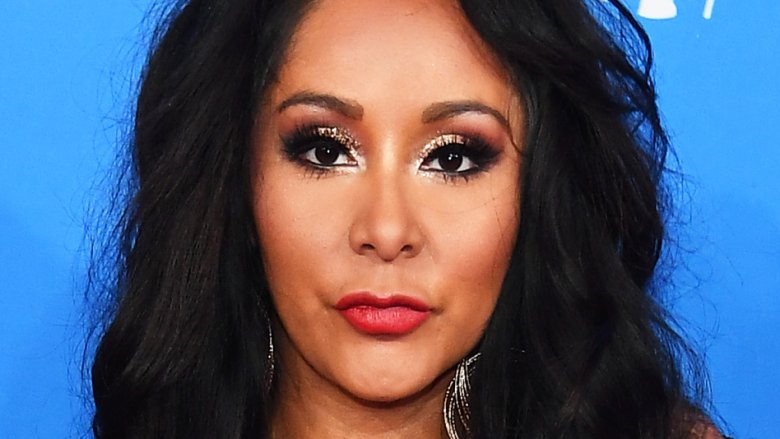 Getty Images
Jersey Shore star Nicole Polizzi, who's better known as "Snooki," is the latest celeb to face a nasty round of mom-shaming on social media.
When the reality TV star took to Instagram to share a cute snapshot of her 4-year-old daughter, Giovanna Marie, at costar Mike "The Situation" Sorrentino's wedding shower, we're guessing she didn't think it'd cause such a fuss.
"Here's a pic of us at our first red carpet event," Polizzi jokingly wrote to her 11.5 million followers, captioning a sweet pic of little Giovanna with fellow Jersey Shore star Jenni "JWoww" Farley's daughter, 4-year-old Meilani Alexandra. "We were so young. @jwoww #TheHitchuation."
While most fans loved the adorable look-alike photo, a number of online trolls seemed to take issue with Polizzi's daughter's appearance. Unfortunately for the MTV star, the post was soon flooded with judgmental comments.
"Kids hair is crazy," one person wrote (via The Hollywood Gossip). To which the protective mom responded, "Let her live." Meanwhile, another Instagram user commented, "Girl. You have money dress your girl better. She's beautiful but needs to look nicer. You take time to do your hair face and dress do the same for her." Soon after, Polizzi hit back with, "Mind your own business tho." The 30-year-old mom-of-two added, "I let my daughter pick her own outfits. I let her express herself. Are you a mother? Worry about your own d*mn kids, and let us live. She's 4 god d*mn years old, f**k off."
Meanwhile, another commenter went on a lengthy, unfounded rant. After accusing Polizzi of being "too busy" to take care of her children's basic hygiene needs, they wrote, "You should be ashamed and I'm glad these people are calling you out!"
Thankfully, most fans saw reason and quickly defended the mother-daughter duo, including one person who commented, "[I'd] rather have my daughter not give a d*mn what any judgmental snobs think about her." As Polizzi, who also shares 6-year-old son Lorenzo Dominic with husband of four years Jionni LaValle, wrote back, "Amen dude. Humans are such d**ks i fear for my kids in the future."
Unfortunately, Polizzi isn't the only celeb to be parent-shamed by anonymous online trolls this year. As Nicki Swift previously reported, former Fixer Upper star Joanna Gaines was slammed by anti-vaxxers after posting a sweet photo of her youngest child, son Crew, at a routine doctor's visit with husband Chip Gaines in September.
Meanwhile, Real Housewives of New Jersey star Teresa Giudice has been subjected to mom-shaming on multiple occasions in recent months. In late September, the mom-of-four faced backlash after sharing a seemingly innocent pic from daughter Audriana's ninth birthday party. A number of fans took offense at the time, claiming that Audriana — who wore a midriff shirt and makeup in the snapshot — wasn't dressed appropriately for her age.
However, similarly to the response to Polizzi's recent Instagram post, a number of social media users jumped in to defend both celebs from the ongoing criticism. Perhaps it's time for all of these parent-shamers to take a moment before deciding to voice their criticism and unwanted advice to famous moms and dads online.
Elsewhere in the Jersey Shore sphere, Polizzi's castmates Sorrentino and Farley have also been making headlines this fall. In late September, reports surfaced that Sorrentino and fiancée Lauren Pesce allegedly plan to marry in early November — just weeks after the reality TV star receives his sentencing for fraud charges. After pleading guilty to tax evasion in January of this year, Sorrentino faces up to five years in prison. Despite his looming sentence, the engaged pair happily celebrated their upcoming nuptials at their wedding shower on Saturday, Sept. 29. "It was such an amazing day celebrating our love for each other with all of our closest families and friends!" they later stated to E! News. "You felt the love in the room. We are excited to see what the future holds and can't wait to share with our family, friends and fans."
Meanwhile, Farley had attended the above-mentioned event shortly after filing for divorce from her husband of nearly three years, Roger Matthews. Citing "irreconcilable differences" as the reason for their split, she is reportedly seeking child support and primary custody of the former couple's children. In addition to daughter Meilani Alexandra, the exes share 2-year-old son Greyson Valor.