The Truth About Dianna Agron And Lea Michele's Relationship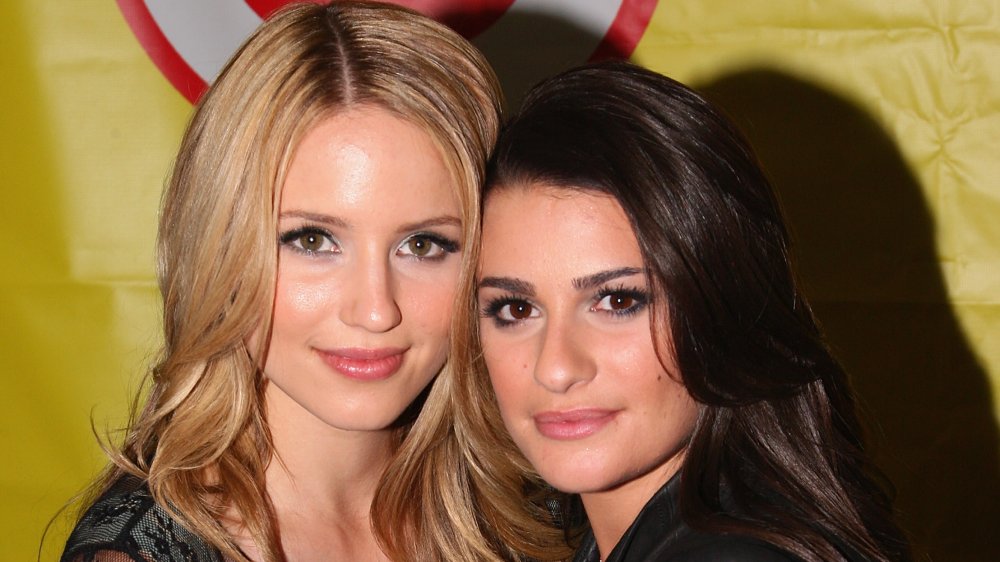 Theo Wargo/Getty Images
Glee had one of the most notorious sets of any TV show in recent memory. Rumors constantly swirled about supposed feuds and beef between the cast members, but one cast member was frequently at the center of the rumors: Lea Michele. From early on in the show's run, rumors leaked off the set that Michele was a bit of a diva, with co-stars Naya Rivera and Kate Hudson allegedly complaining about her behavior on set.
In 2020, Michele's actions came under renewed scrutiny after Samantha Ware — a cast member on Glee's sixth and final season — accused Michele of making her experience on the show "a living hell." Fellow Glee alums Amber Riley, Heather Morris, Alex Newell, Melissa Benoist, and Kevin McHale all seemed to corroborate Ware's story to varying degrees. However, a major cast member was notably absent from the pile-on: Dianna Agron. Agron played Quinn Fabray, the head cheerleader to Michele's dorky Rachel Berry. While their characters on the show were frenemies, Michele and Agron's relationship off-screen was seemingly a bit different.
Dianna Agron and Lea Michele were roomies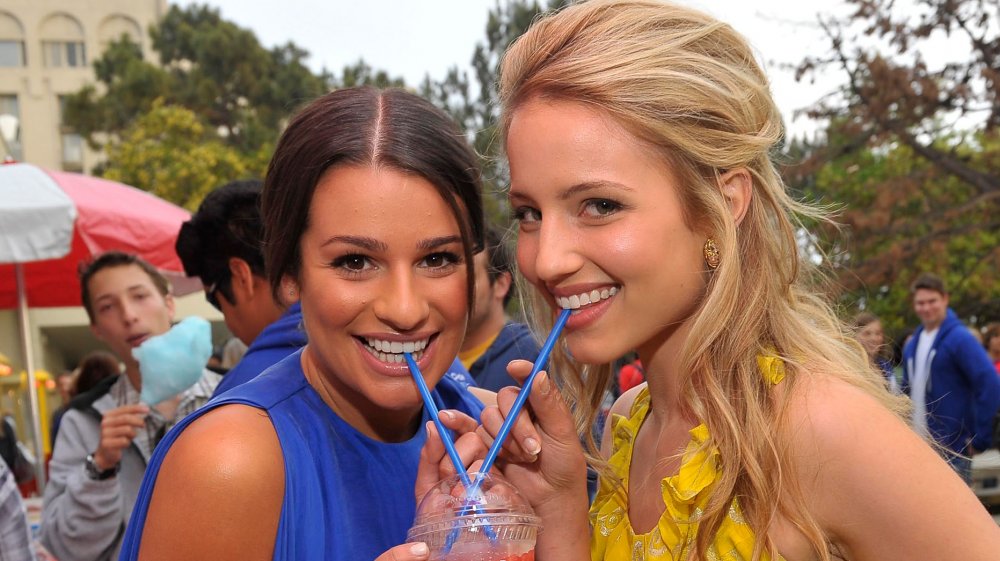 Charley Gallay/Getty Images
Back before Glee was a pop culture juggernaut and its stars were everywhere, they were all virtually unknown actors filming a pilot. As a new Los Angeles resident by way of New York, Lea Michele actually shared an apartment with Dianna Agron. On Glee co-stars Kevin McHale and Jenna Ushkowitz's podcast Showmance, she revealed that they had "theme parties at [their] house, like, every week." Additionally, Michele told Vulture that their characters' issues with each other didn't spill over into the apartment. "Wasn't it so funny when we were fighting today?" Michele would joke when they got home. "Let's make cookies!"
The two were seemingly particularly good friends out of the large cast, with Agron telling Marie Claire that Michele taught her "how to stand up for [her]self," describing an incident on a flight where a random man kissed Agron and Michele "pushed him off." Michele and Agron's friendship at the beginning of the show's run was so clear that there were fan theories that the two weren't just friends, but actually romantically involved. Of the rumors, Agron said, "It's funny, but flattering — Lea is beautiful. Since when can't you hug your friends?"
Lea Michele and Dianna Agron seem to have drifted apart
Dimitrios Kambouris/Getty Images
As solid as their friendship appeared to be at the beginning of the show, as Glee got more successful, it seems Lea Michele and Dianna Agron drifted apart a bit. While there doesn't seem to have been a falling out — at least, not publicly — they didn't live with each other forever, and the cast toured the world. Over the years, a few cast members have commented on the added stress that brought. After the untimely death of Cory Monteith, a particularly nasty rumor circulated that Michele had a hand in excluding Agron from his tribute episode.
In 2013, Agron said, "Of course" they were still friends, also expressing frustration that people kept asking about the supposed interpersonal drama, noting, "every time we bring this up, it just keeps going." The pair was photographed together in 2014 at the Met Gala, which seems to be one of the last times they were seen in public together. It is notable, however, that Agron did not criticize Michele's on set behavior when their other Glee co-stars spoke out in 2020. That being said, she didn't defend her either. 
Whether the two had a falling out or not is debatable, but they certainly don't seem to be as close as they once were.