The Strange Hobby You Didn't Know Scarlett Johansson Had
Amy Sussman/Getty Images
From Parks and Recreation fan-favorite Nick Offerman's impressive woodworking company to Dylan Sprouse's full-fledged "meadery" — yes, one-half of the Sprouse twins brews mead — many celebrities have surprising passions unrelated to showbiz. But few are as (literally) "buzz-worthy" as Scarlett Johansson's!
Plenty of facts about ScarJo need not even be mentioned, but we will go ahead anyway. The versatile superstar has lit up the screen in films like 2020's Marriage Story and 2003's Lost in Translation. In fact, although she was just 17 when filming the Sofia Coppola hit, Johansson won over legions of new fans faster than you can say "Suntory time!" She's now married to Saturday Night Live golden boy Colin Jost, and has kicked some serious tush as Marvel's Black Widow in the Avengers flicks. And, of course, we cannot forget that Johansson was once married to none other than Ryan Reynolds. Yup, the fellow Marvel action heroes had a short-lived matrimony. They said "I do" in September 2008, per E! News and, just three years later, the two mumbled an extremely quiet "we don't" and went their separate ways.
Yup, according to Elle, Johannson and Reynolds split in 2011 and stayed quite mum about their marriage throughout. You would be hard pressed to find a photo of the pair, or a PDA-filled interview to this day. In fact, it's like they were never married. But while they have both found love again, they did give a "swarm" welcome to this curious hobby while married. Scroll down to discover Scarlett Johansson's secret passion.
Scarlett Johansson's hobby is 'buzz-worthy'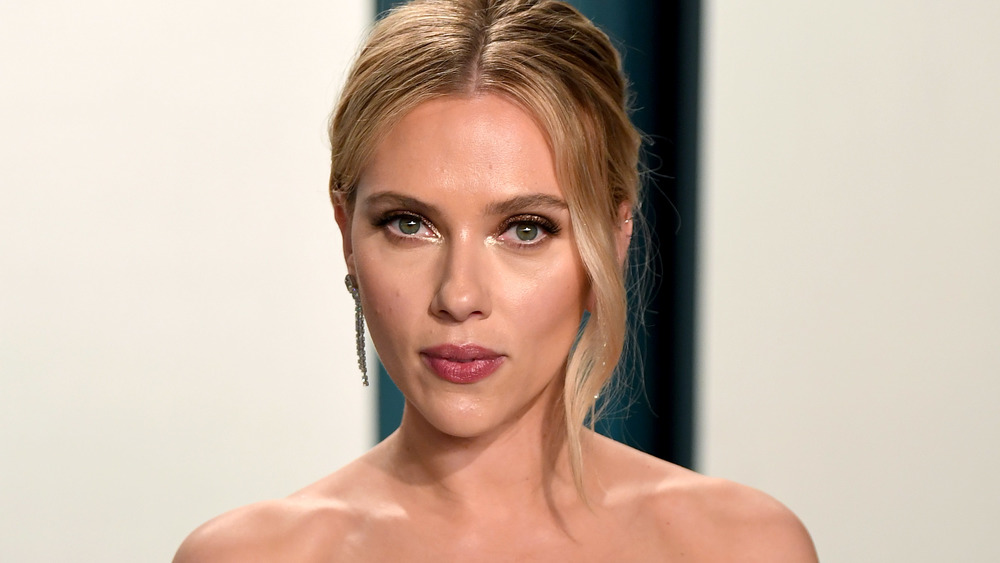 Karwai Tang/Getty Images
So what is Scarlett Johannson's secret pastime? Apparently, the star has (or at least had) "pollen" in love with ... beekeeping! Yes, ScarJo enjoys caring for bees. She became a part-time beekeeper after receiving the wedding gift of 10,000 bees from pal and Avengers co-star Samuel L. Jackson.  "Scarlett was always talking about how the bees were dying and the planet was going to die," Jackson said in an interview on the Late Show with David Letterman in 2009. "I was telling her that people keep saying the bees are dying because they want to charge us more for fruit and vegetables," Jackson added, jokingly.
At the time, ScarJo and Jackson had co-starred in 2008's The Spirit when this odd gift "took flight." As ScarJo kept lamenting, he invested in a beehive for her and Ryan Reynolds for their nuptuals. "So she kept complaining about the bees, we had the same dressing room. 'Sam, the bees are dying, we need to do something', so I said, 'Ok, what I'm going to do is buy you a beehive as your weeding gift'". He continued, "So when the weather was right, I sent my sister out to a bee farm, we got about five pounds of bees. We got them some bee suits and hats as well. And they've harvested some honey already." 
Well, Scarlet Johannson and Ryan Reynolds' marriage may not have had wings, but apparently their beekeeping hobby did!