Cardi B Responds To Offset's Paternity Rumors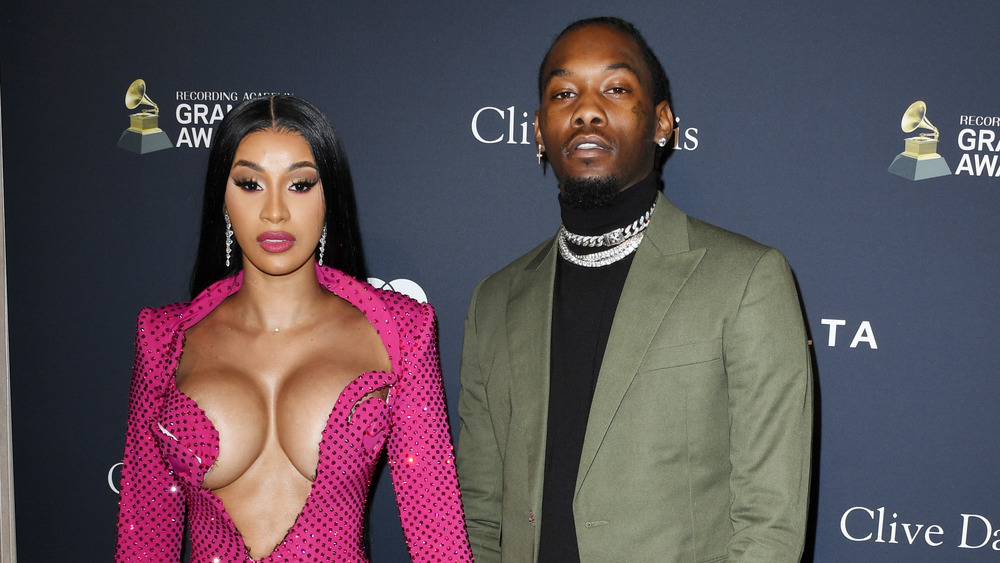 Jon Kopaloff/Getty Images
Cardi B and Offset have a tumultuous relationship. Ever since Cardi first publicly confirmed she was dating the Migos rapper and got married within the same year, the rap couple has endured their fair share of infidelity and other drama. In December 2018, Cardi B took to social media to announce that she and Offset broke up, and the latter rapper later admitted in an interview that his infidelity caused the split.
In September 2020, Cardi B filed for divorce from the "Need It" rapper, revealing she was "tired of ... arguing" with her husband. She also denied rumors that the divorce filing was caused by infidelity or someone trying to "pin babies" on Offset. "When you feel like it's just not the same anymore, before you actually get cheated on, I'd rather just leave. Nothing crazy, out-of-this-world happened, sometimes people really do grow apart," Cardi, who shares a daughter with Offset, said in a now-deleted Instagram Live (via Bustle). "Sometimes you're just tired of the arguments and the build up. You get tired sometimes and before something happens, you leave." In November 2020, Cardi B called off her divorce filing, per TMZ.
In what seems to be yet another case of both cheating and paternity rumors that won't stop haunting the "Motorsport" crooners, Cardi B is taking a different approach to addressing the next installment of drama surrounding her husband.
An Instagram model says Offset paid her for an abortion
New year, new rumors. 2021 may have had a great start for a freshly mended relationship between Cardi B and Offset, but of course, there's always something. After going viral for getting curved by Drake in a text message thread, per No Jumper, controversial Instagram model Celina Powell is doubling up on her wild celebrity claims — and this time, Offset is the subject matter.
Powell, who is popularly dubbed the "Black Widow" due to a number of scandals involving herself and a few notable celebs, made a TikTok video of all the celebs who she claims paid her to have an abortion in January 2021. The list includes celebs such as Eminem, Jason Derulo, Offset, and Gucci Mane, who had a newborn in December 2020. In another TikTok video, Powell claims that Offset offered her $50,000 to have an abortion and even shows off the cease-and-desist letter allegedly filed by the rapper.
After the video circulated on Twitter, Cardi B clapped back at Powell in defense of her husband. When a fan asked why Cardi took Offset back after his paternity scandal, the "Bodak Yellow" rapper responded, "You must be new on social media ....here let me take you way back." Cardi attached a headline of Powell allegedly admitting she lied about everything.
In response, the Black Widow continued her trolling under Cardi's post, writing, "I miss you." In another post, Powell tweeted, "First drake and now cardi b lmao I'm having a great day. They both hate me. I love them both tho." Yikes.