Everything We Know About The Dale Moss Cheating Allegations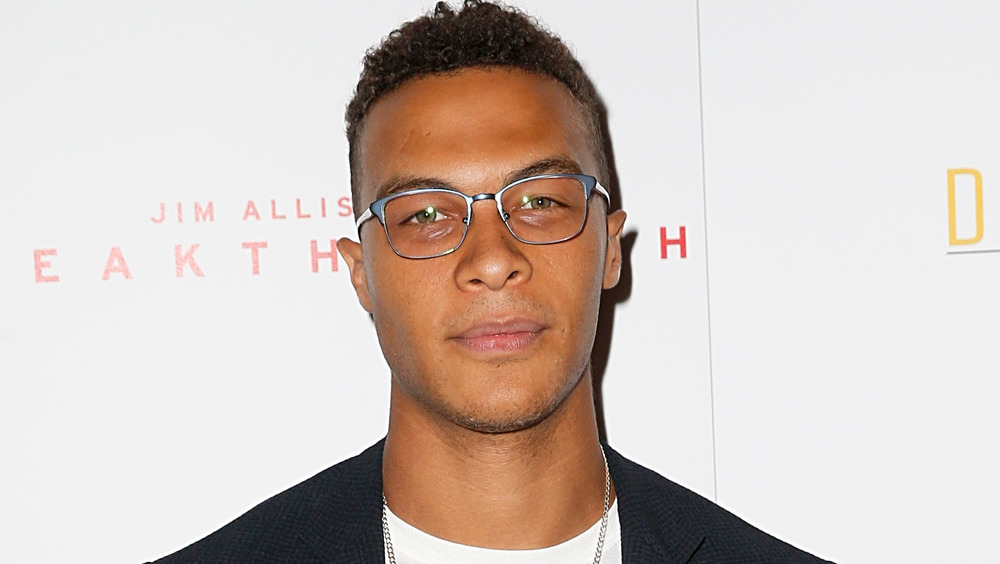 Dominik Bindl/Getty Images
There's a chance that Clare Crawley is singing Olivia Rodrigo's viral breakup anthem "Driver's License" because there is speculation that her split from Dale Moss might have to do with another woman. Clare met Dale on Season 16 of The Bachelorette, and she immediately fell for him. Even upon meeting him for the first time, Clare said she might have met her husband. Fast forward a couple weeks and the new couple ditched the La Quinta Resort — where Clare's season of The Bachelorette was filming in quarantine — to pursue their strong connection.
Following their time on The Bachelorette, the pair looked as happy as can be, sharing cozy photos together at the beach, in the snow and seemingly anywhere they could capture a snapshot of their happiness. However, the romance came to a screeching halt when on Jan. 20, 2021, Dale posted a breakup announcement on his Instagram. "I wanted to share with you all that Clare and I have decided to go our separate ways. We appreciate the love and support we've received from so many people, but this is the healthiest decision for both of us at this time," he wrote before asking for privacy during the heartbreaking time.
From his announcement, it seemed that the breakup was mutual and respectful but now, sources are saying there was a deeper meaning behind the split.
Dale Moss has been accused of cheating on Clare Crawley
Multiple sources have accused Dale Moss of cheating on Clare Crawley, per E! News. According to the outlet, a source revealed that Dale has been linked to another woman who he has known since 2019. Clare reportedly always had her suspicions about their relationship. "Clare has always been skeptical. She never trusted the friendship and thought it was shady," the source divulged. The source added that the woman "has been talking to her friends about sneaking around with Dale."
Furthermore, the source said Clare "has seen proof" that Dale was leading an inappropriate relationship with the mystery woman. A witness who spotted Dale and his alleged flame in November 2020 said they were together on what looked like a date in New York City, where Dale is based. "Dale looked really smiley and happy with her. They were laughing and flirting," the source shared.
As speculation continues to float around, Dale is adamant that he and Clare split on good terms. "Clare and I have a lot of love for each other," he told a member of the paparazzi who approached him on Jan. 20, 2021, per E! News. "Clare and I will be cool."
However, Clare has broken her silence on the situation, and her statement is a hefty hint that the breakup is not as Dale is making it out to be.
Clare Crawley is still digesting the breakup
Two days after Dale Moss posted his breakup announcement, Clare Crawley shared her side of the story. "I was made aware of a 'mutual' statement at the same time you all were, so I've needed some time to really digest this," the hair stylist claimed in an Instagram post. "Speaking for myself, my intentions with this relationship have always been very clear, so the truth is I am crushed. This was not what I expected or hoped for and am still trying to process this." Since leaving the show, Clare has been very clear that she saw a lifelong relationship with Dale and was open about wanting kids with him, per US Weekly.
Clare further explained the situation, saying it was less than ideal, but she is working through it. "It hasn't been ideal circumstances, but that is life right. I have been looking forward to the light at the end of the tunnel," she continued. "Our relationship was not perfect, but I can say that I was genuinely invested with all of my heart. I may not have the answers, but I do know this — I will continue to show up, stand by my word and be committed to love. XO Clare."
Meanwhile, former Bachelorette contestant Spencer Robertson – who actually appeared on Tayshia's half of Season 16 — has already made a move on the newly single Clare, asking her out to coffee via his Instagram Story.