The Truth About Rihanna And Karen Huger's Relationship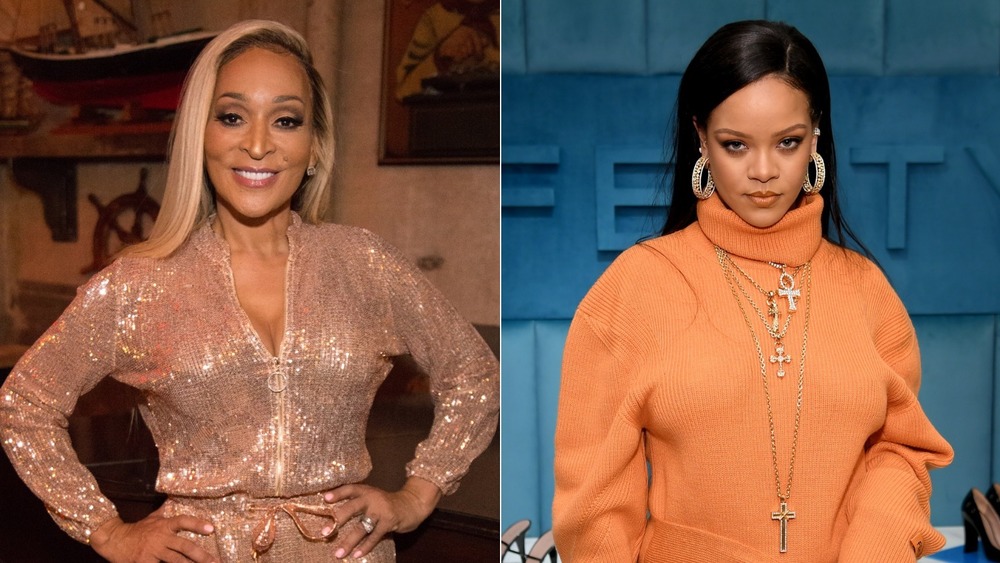 Brian Stukes, Dimitrios Kambouris/Getty Images
For most viewers of Bravo's Real Housewives franchise, the nice houses and the shady drama between the casts keeps us coming back for more. Since the franchise's debut with Real Housewives of Orange County in 2006, we've seen several different personalities in the Real Housewives cast and plenty of jaw-dropping moments that have cemented a spot in reality TV history. Although there are millions of viewers of the franchise around the world, there is one celebrity you'll be most pleased to know tunes in regularly: Rihanna.
The R&B-singing beauty mogul has made it clear in the past that she is a longtime fan of Bravo. In 2018, Real Housewives of Beverly Hills star Kyle Richards recalled a story of her daughter meeting the "Needed Me" crooner. "One of my favorite stories is my daughter was at a karaoke place and someone came in and there's like a commotion, like a big entourage. She turned around and was talking to her friends and then she felt a tap on her shoulder and she turned around and it was Rihanna," Richards to Los Angeles Times. "And Rihanna goes, 'Oh my God, I'm obsessed with you.' And my daughter started to cry and she goes, 'I'm so confused, what's happening?'"
It's fair to say that, like many of us, Rihanna is using her downtime in quarantine to binge seasons of Real Housewives, especially Real Housewives of Potomac. Clearly, the Fenty Beauty owner has a favorite cast member from RHOP, and, of course, it's Karen Huger.
Rihanna says she's proud of Karen Huger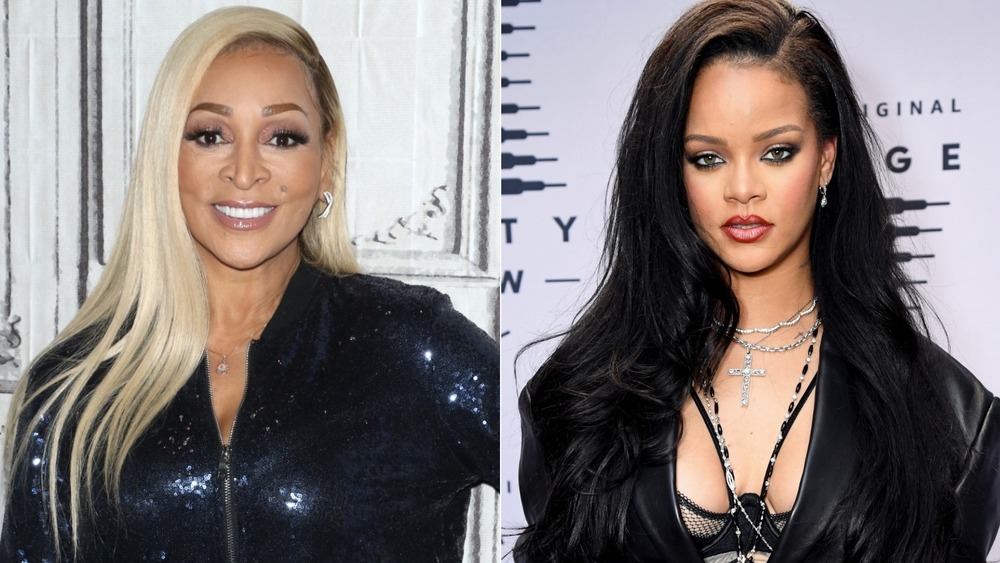 Jim Spellman, Kevin Mazur/Getty Images
Considering both Karen Huger and Rihanna's dominant personalities, it makes sense why the Real Housewives of Potomac star is one of the singer's favorite housewives. In August 2020, Rihanna dropped in on Karen's Instagram Live chat with comedian Luenell. The bad gal had a sweet message for the self-proclaimed "Grand Dame" of Potomac, Maryland. "Proud of you Karen," Riri commented during the discussion. She later commented again, "Oh shooooot!! Kareeeennn ... What's up FAVES?!"
Just like anyone who'd just been recognized by Rihanna, Karen was excited about the interaction. In an interview with Hollywood Life, Karen expressed her gratitude for Rihanna's joining the live. "I am so honored," Karen said. "When [Rihanna] chimed in with Luenell and I — I love Luenell, love her, love her, love her. We have a magic chemistry and we always have from day one and to have Rihanna chime in was just such an honor and to have her give support and to say she was proud of me for my hustles and my businesses, I really appreciate that."
When asked if she connected with the Grammy Award-winning singer, Karen didn't spare the details. "I wouldn't tell you guys if she did DM me [after the interview]. I wouldn't! I wouldn't! Because this thing called fame, it brings a lot with it, so it would be an honor and I would keep that confidential. Whenever she wanted to be live with me, she'll be live with me and I with her." Must be nice!