16 Facts About Donald Trump's Youngest Son, Barron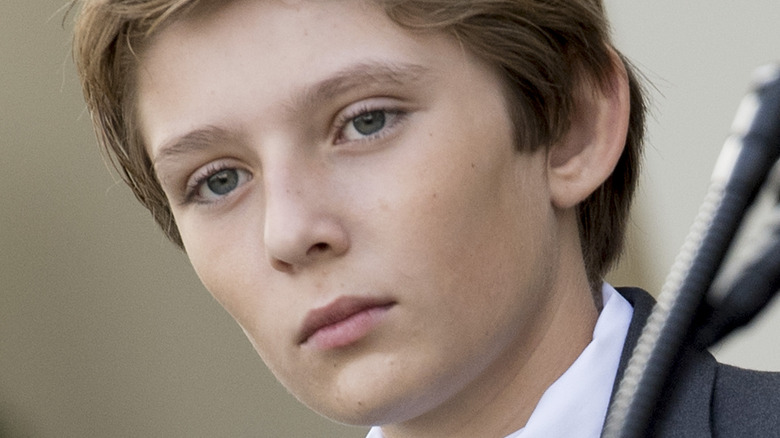 Jim Watson/AFP/Getty Images
Most of the Trump children have become well-known to the public over the years, but Barron Trump remains a family outlier. The youngest son of former President Donald Trump first captivated the eyes of the world late on election night in 2016 when he stood behind his father on the stage while victory was accepted. Barron, of course, looked more sleepy than jubilant on stage, which inadvertently won over the cold hearts of an America that was mostly happy the election cycle was finally over. 
Since his father officially took office in 2017 — and begrudgingly left it following a single term at the start of 2021 — Barron has remained largely out of sight, but we've managed to learn quite a bit about this former prince of American politics. For starters, his pre-White House living situation at Trump Tower was unimaginably sweet. Oh, and his mother, Melania Trump, used to moisturize his face with caviar — but you probably could have guessed that.  
Ready to learn more about this young Simba-like figure? It's time we get familiar with Barron Trump.
Melania Trump intended to keep Barron out of the spotlight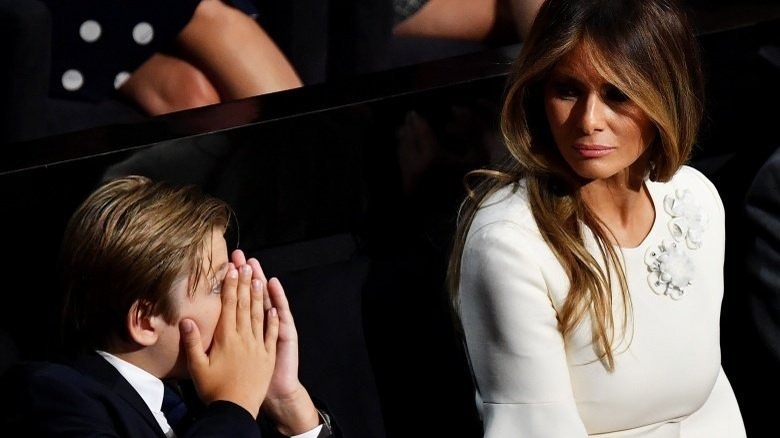 Jeff J Mitchell/Getty Images
Since Barron Trump's official appearances were essentially limited to traditional first family events like Inauguration Day festivities and the White House Easter Egg Roll, it seemed like Donald and Melania Trump intended to uphold the tradition of keeping kids of first families mostly out of the public eye. In an October 2016 interview with ABC News, Melania actually spelled it out. "I teach him, I explain to him so he knows what's going on," she said. "He's taking very well. I keep him balanced and — just have him a childhood as normal as possible. And he's enjoying his school and his sports. He's a great athlete. And I just want to have him — out of the spotlight for now." 
That plan remained firmly in place throughout Donald's presidency. In December 2018, the Washington Examiner reported on how Barron "rarely appears in public with his parents." Speaking with Fox News' Sean Hannity around the same time, Melania said that even though Barron's childhood, following the family's move to Washington D.C., wasn't exactly normal, he was happy and enjoying his time there. She also said her efforts to offer Barron protection from public scrutiny were required to "give him the childhood he deserves."
Meanwhile, in 2020, when inappropriate comments and, um, "jokes" about Barron's parentage made the rounds on social media, Melania tweeted in part, "A minor child deserves privacy and should be kept out of politics."
He was the first boy to live in the White House in decades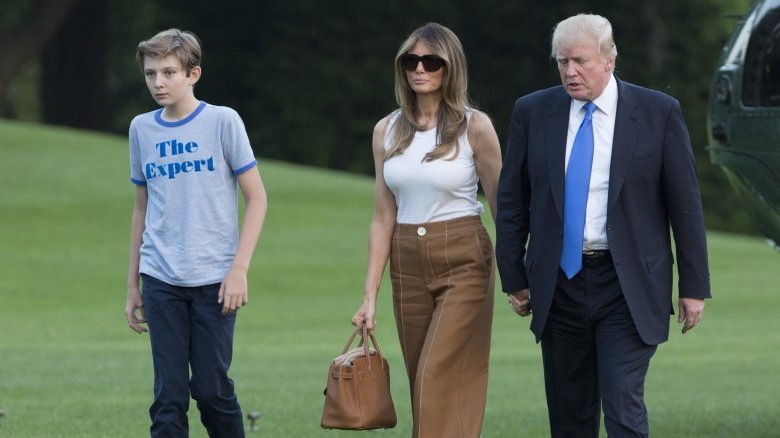 Chris Kleponis-Pool/Getty Images
After making his move to Washington alongside mom Melania Trump in June 2017, Barron Trump officially become the first boy to grace the halls of the White House in almost 60 years. Yep, the last time America had a "First Boy" was all the way back in 1961, when John F. Kennedy's son, JFK Jr., moved into the White House when he was just a baby. For his part, Barron made his entrance to the presidential residence in true Trump fashion, exiting Marine One and strolling across the White House lawn to his new digs while wearing a shirt emblazoned with the words "The Expert."
And though he didn't get his own wing of the executive residence, the luxurious lifestyle Barron grew up with in NYC (more on this below) didn't exactly get downgraded in his new living quarters in the nation's capital. According to Inquisitr, the White House reportedly had a staff of 100 people geared up to keep all of the Trump family's go-to favorites well stocked, including everything from snacks to toiletries.
Did Barron Trump have a nanny?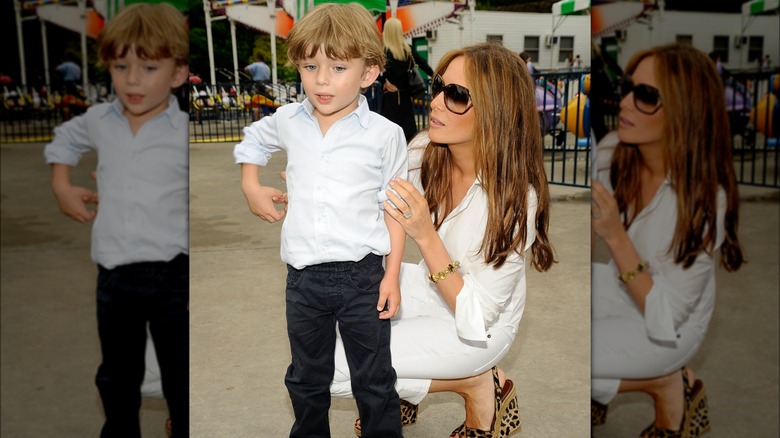 Gary Gershoff/Getty Images
A few months after Barron Trump's birth in May 2006, new mom Melania Trump told The Palm Beach Post that they did have a nanny on hand to help out when need be. "In one way, we still need to have a life," she explained. However, in a 2015 interview with People, Donald and Melania Trump insisted they didn't use a nanny to help raise Barron. "I like to be hands-on," Melania said. "I think it's very important. ... [Barron] needs somebody as a parent there, so I am with him all the time. As you know my husband is traveling all the time." But days after this interview was published, Donald — in true form — told the New York Post that there was, in fact, "a young woman, someone who works with Barron." 
Still, reports continued to describe Melania's devotion to raising her young son — allegedly sans nannies. So, who knows what the heck was going on, even during the Trump family's time in the White House? In 2018, Melania's former advisor and pal, Stephanie Winston Wolkoff, claimed in "Melania and Me: The Rise and Fall of My Friendship with the First Lady," "Melania has perpetuated the myth that she never hired a nanny when Barron was young and that she waited to start her businesses until he went to school. ... There was always someone there — the cook, Melania's assistant, and a lot of the time, her mother — to watch him. Now, at the White House, Barron hangs out with the Secret Service agents."
Barron Trump is fluent in two languages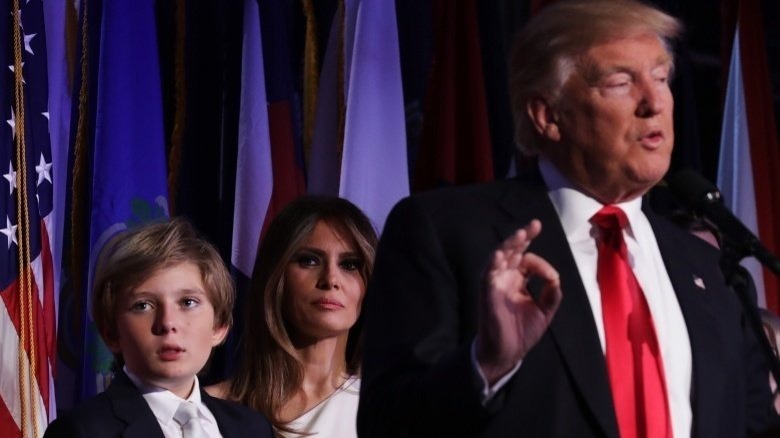 Chip Somodevilla/Getty Images
Although he reportedly takes after his father, Barron Trump has also inherited his mother's roots, as well. According to a 2016 interview with GQ magazine, Melania Trump revealed that Barron was fluent in her native Slovenian. In fact, he speaks the language with his grandparents, who lived near Trump Tower at the time of the interview.
Melania also once bragged to People in 2009 that at just three years old, Barron was also speaking French in addition to Slovenian and English. "He's very special, he talks nonstop," she told the outlet. But two years later, during an appearance on "The Joy Behar Show," Melania said, "Barron speaks two languages completely perfect. He goes from one thing to another, Slovenian/English." What happened to French? Was he just not fluent enough to mention it yet? Does Barron Trump own a beret? These are questions of national importance that need an answer.
This Trump kid had his own floor in his family's penthouse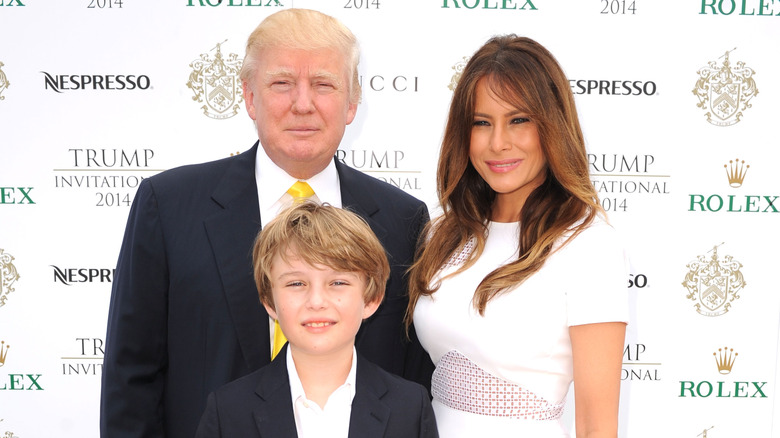 Larry Marano/Getty Images
At a mere three weeks old, Barron Trump had an entire floor of a penthouse to himself. You read that right. According to a 2006 report in the New York Post, Barron's floor in his parents' $100 million New York City triplex included its own kitchen, living room, nursery, and separate rooms for mom Melania Trump and Barron's nanny to stay. It also had enough room to hold the golden stroller with the built-in chandelier Ellen DeGeneres bought for him. "He's a very good baby," Melania said at the time. "He's not like a crybaby — he's calm and it's fantastic."
"In his space the décor style of the rest of our home is mixed with what he is into: planes and helicopters," Melania told Parenting magazine of then six-year-old Barron's space in 2012. "We let him be creative; let his imagination fly and do whatever he wants." While Melania noted that "he likes clean and white," she added, "He also has his playroom and he has his pictures and art and all of his stuff. And since he has his own floor, he can also put those things on his living room and on his own walls." 
Barron and Melania officially moved from the Big Apple into the White House five months after Donald Trump's inauguration. "Looking forward to the memories we'll make in our new home! #Movingday," Melania tweeted at the time. Following Donald's single presidential term, Barron and his parents relocated to their newly renovated digs at Mar-a-Lago.
Barron Trump has attended some prestigious schools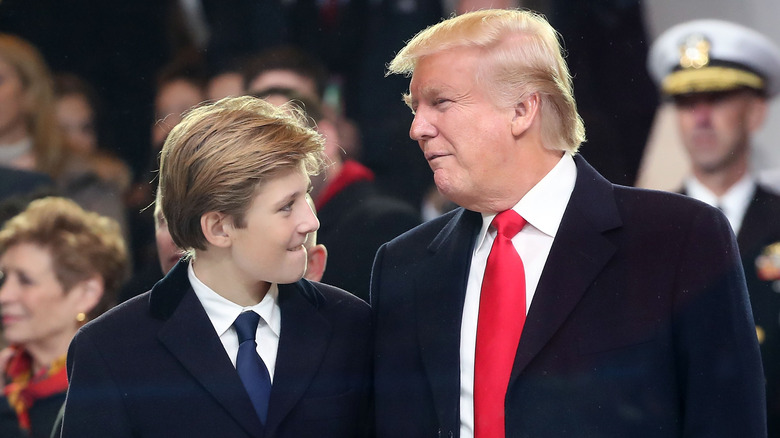 Mark Wilson/Getty Images
While Barron Trump's education started at the Columbia Grammar and Preparatory School in New York, he began his matriculation at St. Andrew's Episcopal School in Potomac, Maryland in the fall of 2017. In addition to the school's prestigious reputation — 100% of its graduates go on to some type of higher education — St. Andrew's costs approximately $40,000 per year and has a range of impressive facilities. This includes a dance studio and theater, a darkroom, a massive library, and lots of space for Barron to focus on sports, including baseball, lacrosse, and soccer fields, basketball courts, and a fitness room.
Not impressed? There's more. Per The 74, St. Andrew's is "the only school-based center for mind-brain-education science in the country," meaning part of its curriculum is based on "a rapidly growing multidisciplinary field that aims to translate new developments in neuroscience and psychology into better classroom practices." Sounds like we could have a second stable genius on our hands. 
At this time, Barron was also the first child of a sitting president to attend St. Andrew's (most traditionally go to Sidwell Friends), though the school does claim other famous alumni, like eBay founder Pierre Omidyar. Meanwhile, following his move to Florida alongside Donald and Melania Trump in 2021, Barron was enrolled in Palm Beach's equally prestigious private school, Oxbridge Academy, where he's set to graduate in 2024.
Only the finest products for Barron Trump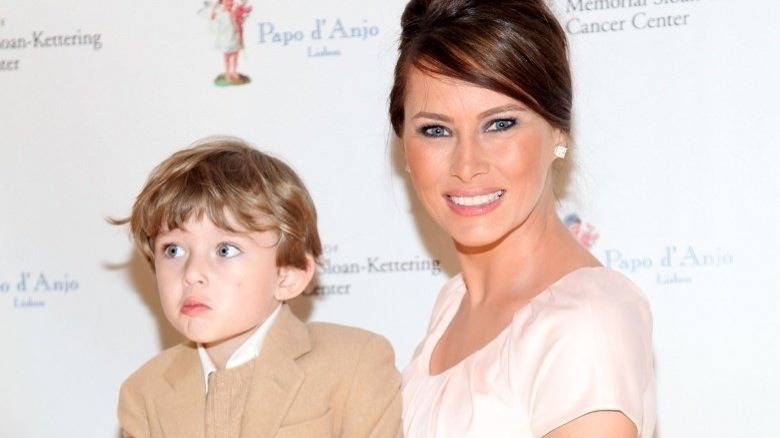 Astrid Stawiarz/Getty Images
As one might expect from someone born into a billion-dollar business family, Barron Trump has been dressing for success pretty much his entire life. He even wore a suit to the launch of half-sister Ivanka Trump's book, "The Trump Card: Playing to Win in Work and Life," when he was only three-and-a-half years old.
"He's not a sweatpants child," Melania Trump said while discussing her son with ABC News in 2013. "He doesn't mind putting on [a suit] — but not every day — and he likes to dress up in a tie sometimes like Daddy." But that's not to say that Barron doesn't like a little comfort. In fact, he was later known to sometimes pair his prep school uniform with customized New Balance sneakers that reportedly cost $149.
But if you needed further proof that Barron Trump isn't your typical kid, try this one on for size: the then-seven-year-old's mother also admitted to ABC News that, at the time, she applied her own line of caviar-infused moisturizer to his skin after he took his nightly bath. "It smells very, very fresh," Melania said of her Caviar Complex C6 skincare line. "I put it on him from head to toe. He likes it." Unfortunately for the two of them, this tradition may have been short-lived, as Melania's skincare line fell apart shortly after its high-profile launch.
Melania Trump calls Barron Trump 'mini Donald'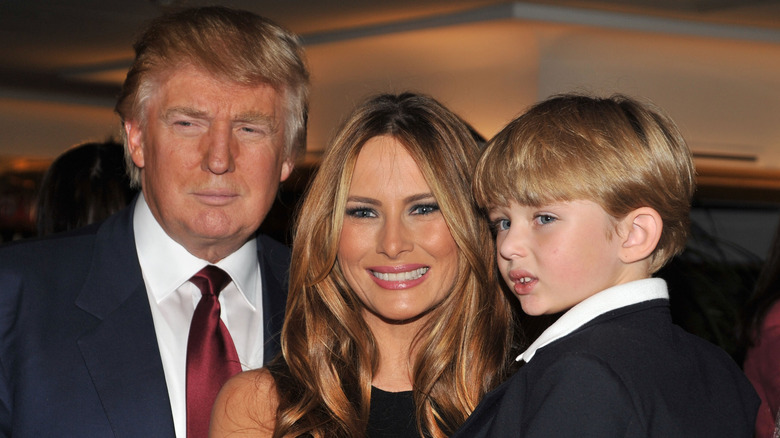 Andrew H. Walker/Getty Images
Given that he loves to wear suits and moisturize his skin with caviar, it should surprise exactly no one that Melania Trump often refers to her only son as "little Donald" and "mini-Donald." "He is a very strong-minded, very special, smart boy," Melania told Parenting in 2012. "He is independent and opinionated and knows exactly what he wants. ... He is a mixture of us in looks, but his personality is why I call him little Donald."
In addition to explaining that a five-year-old Barron aspired to be a golfer and businessman one day like his famous father, Melania later added in the interview, "He loves to build something and tear it down and build something else." She further explained, "He is very detailed at drawing. We travel often and he remembers everything he sees. Sometimes later the same day or the next he would build something like he saw or imagine something himself."
In her 2013 interview with ABC News, Melania referred to Barron as "mini-Donald," which if we're being honest, has to sting a little for Barron's older half-brother, the actual Donald Jr. 
Donald Trump didn't change his youngest son's diapers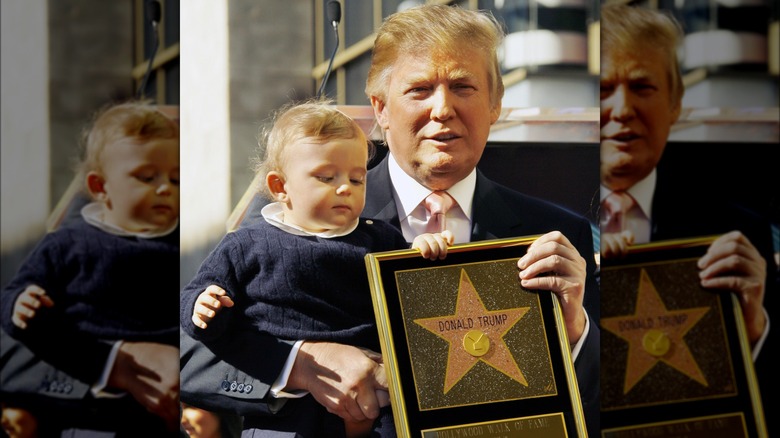 Vince Bucci/Getty Images
In her 2012 interview with Parenting, Melania Trump said of her husband, "He didn't change diapers and I am completely fine with that. It is not important to me." She added, "It's all about what works for you. It's very important to know the person you're with. And we know our roles. I didn't want him to change the diapers or put Barron to bed. I love every minute of it."
But that's not to say that Donald wasn't a doting dad in his own way. Melania also said that he and Barron love to play golf and eat dinner together at Mar-a-Lago, the Trump clan's Florida getaway. While there, Melania said, "We enjoy family time." Golf actually comes up a lot when the former first lady is asked about Donald's relationship with Barron, like in the couple's 2015 People interview, where she again said that the two men in her life enjoy going out for dinner, just the two of them, and hitting the green together.
Golf and dinner, huh? Some might say that sounds a bit more like the closing of a business deal than a loving father-son day. But as Donald told the outlet, "I've always prided myself on being a good father." Meanwhile, Melania stated of the father-son duo, "They have beautiful respect and admiration for each other."
He was on Oprah when he was just a baby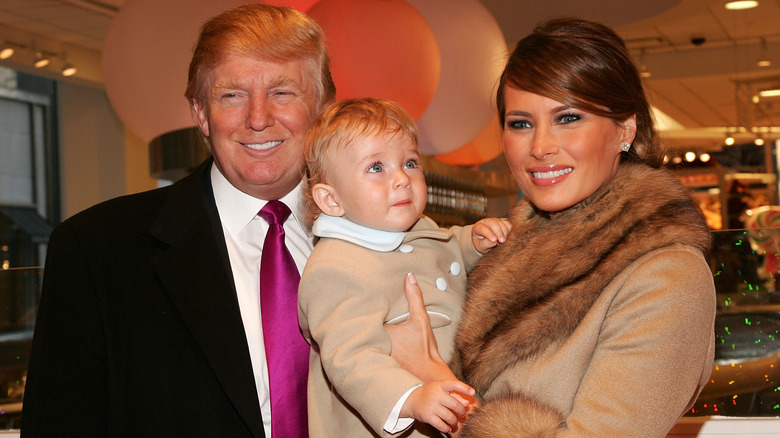 Bryan Bedder/Getty Images
"Be sure to watch today's Oprah for Donald and Melania Trump's son Barron, who will be making his television debut!" People announced on May 16, 2006. On at that day, when Barron was just two months old, Oprah Winfrey's BFF, Gayle King, visited Trump Tower on behalf of "The Oprah Winfrey Show" to introduce the then-newest Trump to the world. At the time, Oprah dubbed him, "The Baby Barron Trump."
For his part, Donald Trump seemed excited to be father once again, holding his youngest son, kissing him on the head repeatedly, and calling attention to Barron's "delicate hands." Melania informed King that Donald was wonderful with Barron, spending time each morning watching television and reading newspapers together. "Five weeks old and we read the papers together?" Donald joked.
So, why the name Barron? King had asked. "It's a name I always loved, but I never had the courage to use," Donald said. "And then I gave the idea to Melania." When asked if he would change diapers, "The Apprentice" star claimed, "I would be able to do it, yes." Though, as previously mentioned above, The Donald opted out of this particular parenting role.
Barron Trump has a creative spark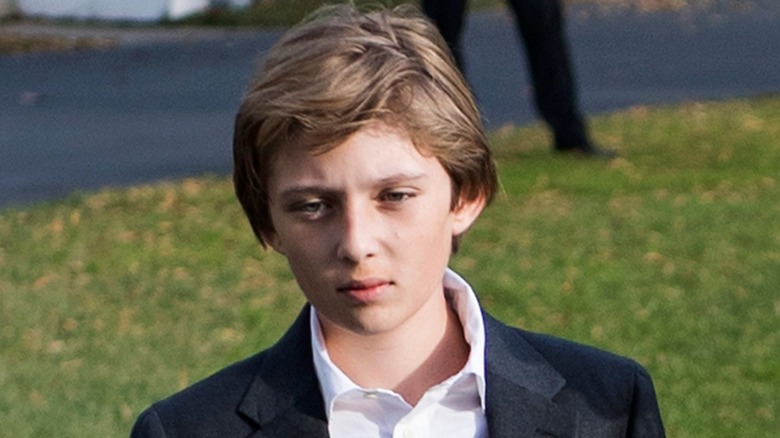 Jim Watson/Getty Images
What might not be immediately obvious about Barron Trump is his creative streak, a trait former First Lady Melania Trump revealed in a chat with Parenting magazine in 2012. Melania shared a sweet anecdote to illustrate her claim, recalling an especially impressive moment of free play when Barron was young. "His imagination is growing and important," Melania said at the time. "He draws on the walls in his playroom, we can paint it over. One day he was playing bakery and he wrote Barron's Bakery on the wall with crayons. He is very creative, if you say to a child no, no, no, where does the creativity go?" How cute — it's clear Barron was a very imaginative tyke. 
Of course, it's fair to reason Barron's free reign over his playroom had something to do with his artistic flair. Not many kids are allowed to draw on their playroom walls, after all.
A former butler also thinks Barron's a mini-version of his dad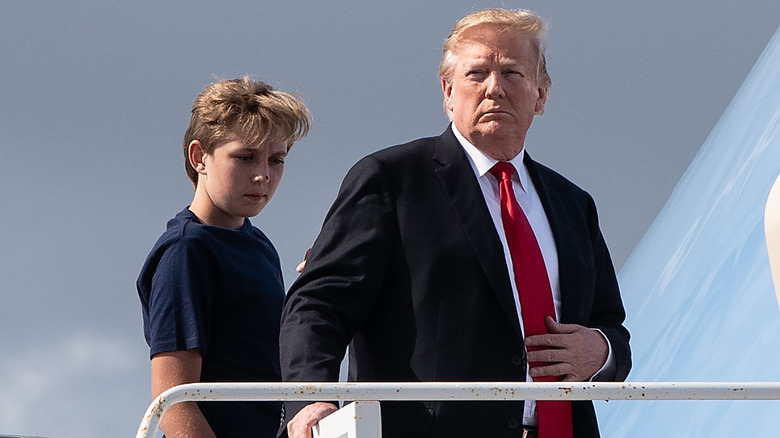 Nicholas Kamm/Getty Images
It's no secret former First Lady Melania Trump thinks Barron Trump takes after his dad, ex-President Donald Trump, as she has openly stated so on multiple occasions in the past, as previously mentioned. Interestingly enough, the Trump family's former butler, Tony Senecal, shares her take. Senecal explained that while he has a fondness for all of Donald's five kids, Barron is the most like his famous dad. Want some proof? Look no further than Senecal's anecdote about a conversation he apparently had with a then-two-year-old Barron. 
"When Barron was two-and-a-half years old I took his breakfast into him," the ex-butler recalled, according to "Inside Edition." "He was sitting in his highchair and he looks at me and he said: 'Tony! Sit down! We need to talk!'" Holy moly! Although we can't say whether this account is true, we can't say it's too hard to imagine. And who knows, maybe Barron will be shouting his dad's famous "You're fired!" line around one day. Never say never.
Did Barron Trump get flavored e-cigs banned?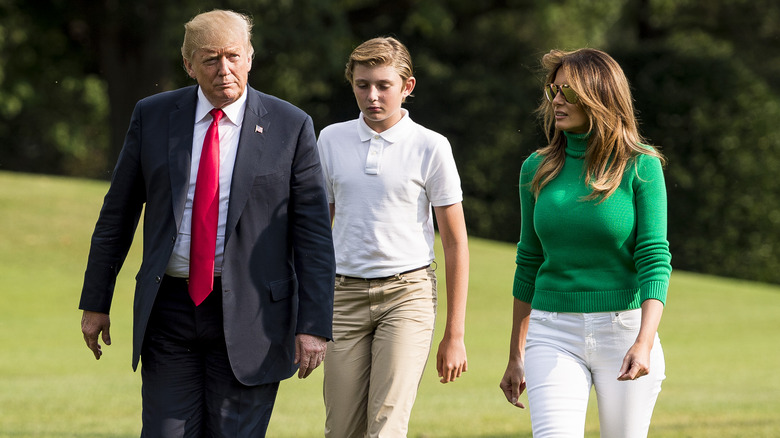 Pool/Getty Images
In September 2019, then-President Donald Trump announced that the US Food and Drug Administration would soon issue what he called "some very strong recommendations" related to flavored e-cigarette use (via CNN). This ban followed multiple deaths due to lung diseases thought to be related to vaping, as well as another reported 450 lung illnesses seemingly related to the product.
Earlier that week, Melania Trump tweeted, "I am deeply concerned about the growing epidemic of e-cigarette use in our children." She concluded, "We need to do all we can to protect the public from tobacco-related disease and death, and prevent e-cigarettes from becoming an on-ramp to nicotine addiction for a generation of youth." During a follow-up press conference discussing the dangers of vaping with Melania sitting quietly by his side, Donald explained (via Vox reporter Aaron Rupar) that this issue first came to his attention because of the first lady's involvement. Then, without mentioning Barron Trump by name, Donald referred to his and Melania's 13-year-old son in a peculiar way: "She's got a son, together, that is a beautiful young man, and she feels very, very strongly about it."
This led many Twitter users to speculate that Melania caught Barron vaping, like #KillStream founder Ethan Ralph, who claimed, "Barron got caught with a Juul and now we can't have Mint pods anymore." There has since been neither confirmation nor denial of Barron's alleged vape use. However, Donald later stated of the couple's parenting on the issue (via USA Today), "We haven't told him anything but 'don't vape, don't vape.'"
Barron Trump is really into sports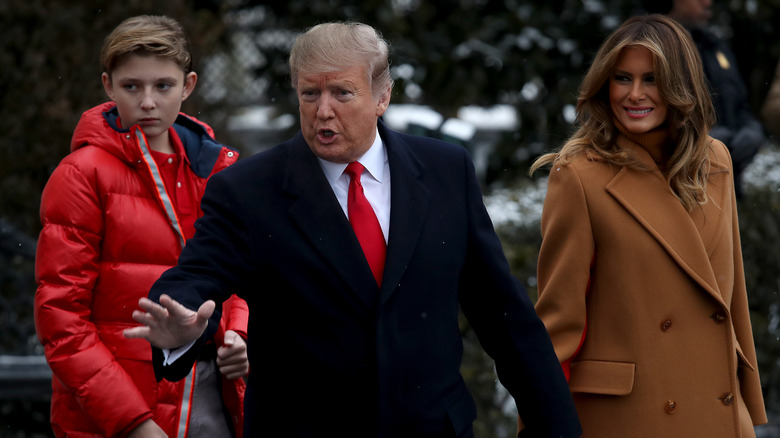 Win McNamee/Getty Images
In 2017, then-11-year-old Barron Trump joined D.C. United's under-12 team as a midfielder. Apparently, his love of soccer has only grown. According to a video posted on Sports Bible, Barron's play on the pitch has earned him the admiration of soccer fans. "United States national team should call him up," one user stated. Barron also impressed professionals with his knowledge of the game.
"He was very knowledgeable about soccer, knew about D.C. United and was interested to know more," former D.C. United striker Patrick Mullins, whose team had paid a visit to the White House, said. "Little kid to have a passion for the game and to be knowledgeable and have a conversation with us, it makes me feel good about kids growing up playing the game."
In 2018, proud mom Melania Trump revealed that her athletic son is "all into sports" (via SCMP). However, one sport Barron most likely won't be playing is American football — at least if his father has anything to do with it. "I just don't like the reports that I see coming out having to do with football," Donald Trump told CBS News' Margaret Brennan before the Super Bowl in 2019, calling it a "really tough" and "dangerous sport." He added, "I thought the equipment would get better, and it has. The helmets have gotten far better but it hasn't solved the problem. ... I've heard NFL players saying they wouldn't let their sons play football. So it's not totally unique, but I – I would have a hard time with it."
Donald Trump's youngest son had a major growth spurt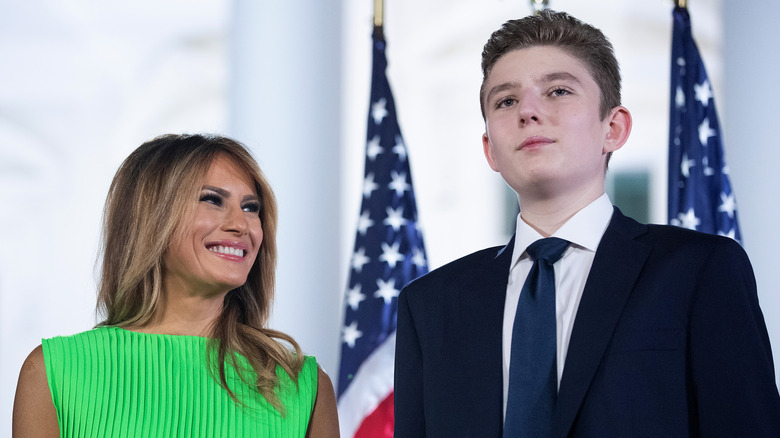 Chip Somodevilla/Getty Images
Donald Trump is 6'3", so when you see him standing next to Barron Trump, you might be thinking to yourself, "Wow, this kid is tall." And you'd be right. Per a 2021 report in the New York Post, Barron was already 6'7" at just 15 years old. Forget soccer, someone might want to put a basketball in his hand at some point.
Somewhat ironically known as "Little Donald" among family and friends, Barron unfortunately had some jokes made at his expense appear online due to his extensive growth spurt. "Barron Trump looks like two kids in a trench coat," one Twitter user wrote. Another added, "Barron Trump is literally SpongeBob when he goes to the dance lol." Even reporters noticed Barron's seemingly overnight growth spurt. "The President, first lady, and Barron Trump are headed to Palm Beach. Joining them on Marine One: Melania's parents, Amalija and Viktor Knavs," CNN White House correspondent tweeted in January 2020. "(Also: did Barron grow half a foot since Thanksgiving?!)"
"Barron is 6-foot-7, can you believe it? And he's 15," Donald said at a 2021 political event held in North Carolina (via the New York Post), before quipping of the family's now second-tallest member: "Eric is short — he's only 6-foot-6."
Barron Trump became a 'very young uncle'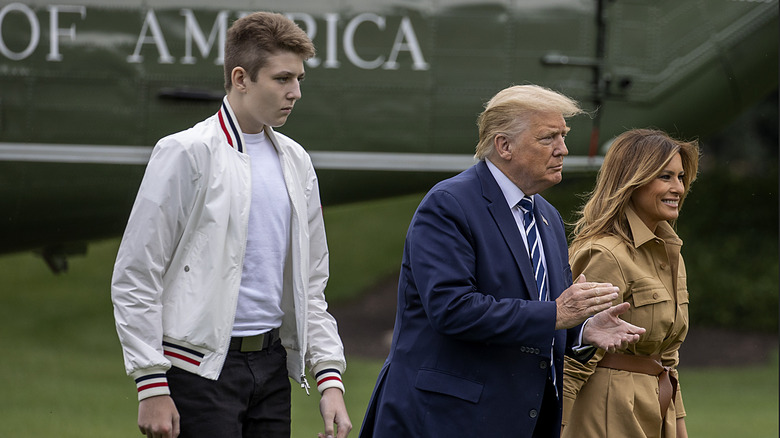 Tasos Katopodis/Getty Images
Although Barron Trump's only 17 years old at the time of this writing, he's long been an uncle to a gang of younger Trumps. Described in the media as protective and loving toward his nieces and nephews, Barron first became an uncle at the ripe age of one. "A very young uncle," Donald Trump later noted of his then-toddler son in a 2009 appearance on "Live with Regis and Kelly" (via People). "... He's a sweetheart, he's great."
Donald now has a total of 10 grandchildren, all of whom have Uncle Barron to play with. These include Donald Trump Jr.'s five children with his ex-wife, Vanessa Haydon, and Eric Trump's two kids with wife Lara Trump. Barron's also uncle to three baby Kushners — children his older sister, Ivanka Trump, shares with fellow former Trump advisor Jared Kushner. All the kids, especially Ivanka's, seem to love their uncle. "Now with Barron here they have so much fun together and they are so young. They're really just kids. So they are just enjoying it," Ivanka stated in a 2017 "Fox & Friends" interview (via Hello!). "They spend a lot of time in the Oval [Office] with their grandfather, which is a lot of fun for them." 
Around this time, Ivanka shared a sweet clip on Twitter, where a smiling Barron could be spotted in the background playing peek-a-boo and high fiving her youngest son, Theodore Kushner. "My youngest brother proves he's a baby whisperer — while my father signs his first executive orders," she wrote.