Reality Steve Claims This Contestant Will Be The Next Bachelorette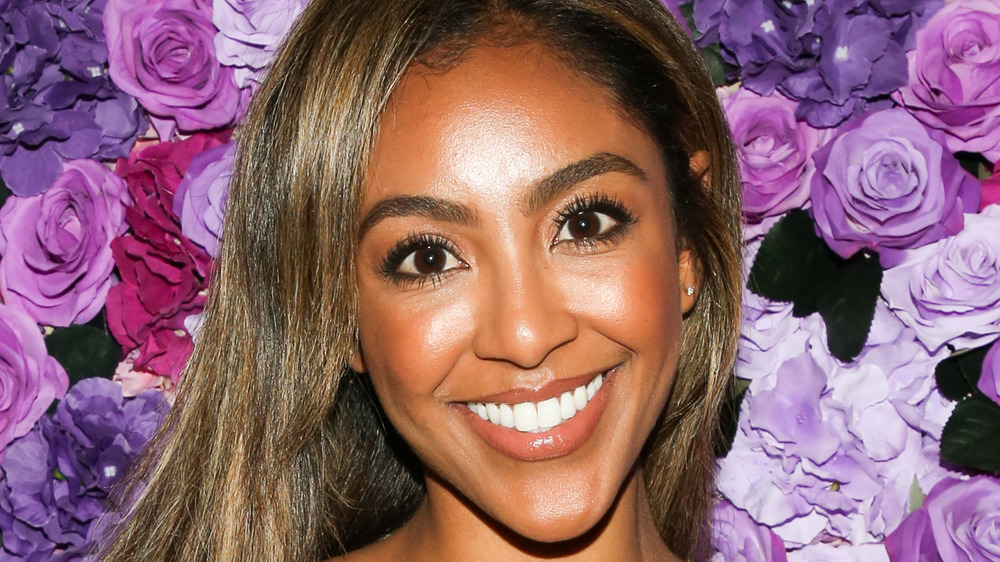 Paul Archuleta/Getty Images
ABC has chosen its next Bachelorette, at least, if you believe Reality Steve's spoiler. The notorious Bachelor franchise insider has revealed who's allegedly been chosen to lead Season 17 of the reality dating show after an explosive few weeks of controversy. 
The Bachelor has been thrust into the spotlight for all the wrong reasons ahead of Season 25 Bachelor Matt James' finale. The reason? One of his top three contestants, Rachael Kirkconnell, faced major backlash after photos resurfaced of her attending an antebellum-themed party in 2018. She also allegedly "'liked' controversial posts [on social media], including an image of two women posing in front of a Confederate flag," per US Weekly. She broke her silence on the matter in February 2021.
Host Chris Harrison went on to show her sympathy during an interview with Rachel Lindsay — to much uproar — which resulted in him apologizing and temporarily stepping away from the show before opening up about how he's bettering himself during a candid appearance on Good Morning America on March, 4, 2021, which received some mixed responses. 
But amid all the controversy, who's going to be trying to find love on the franchise next? Keep reading to find out.
Who is the Season 17 Bachelorette?
Reality Steve claimed to reveal all in a tweet posted on March 3, 2021, in which he alleged that Katie Thurston will be looking for love as the next Bachelorette. "The more things change, the more they stay the same. The original spoiler I reported seems to be correct. Katie Thurston is set to be announced as the Bachelorette in the coming days," he tweeted.
Reality Steve referenced a lot of back and forth, which allegedly saw Katie selected before the controversy. However, amid the widely reported uproar, Katie was said to be dropped from the role. The blogger claimed that ABC executives supposedly changed their minds. However, the tweet seems to confirm the network has doubled back on itself with Katie back as the Bachelorette once again.
It's not yet clear when the next Bachelorette will officially be announced. However, in his March 3, 2021, tweet, Reality Steve noted that the news would be revealed to the world in "the coming days," which suggests the network could make the announcement on its morning show, Good Morning America, sooner rather than later. The other possibility is a big reveal during The Bachelor: After the Final Rose when Matt James will discuss his journey with Chris Harrison's temporary replacement Emmanuel Acho, though that's not scheduled to air on ABC until March 15, 2021.
Who is Katie Thurston?
Katie Thurston appeared on Season 25 of The Bachelor in 2021, where she competed for Matt James' heart. According to her ABC bio, she's a Bank Marketing Manager from Renton, Wash. Katie made quite an entrance on the reality show when she exited the limo with a sex toy, denying she did it for attention. "It wasn't some agenda that I had coming on to the show. It's just who I am and who I've been this whole time. It wasn't until after the fact that I realized how big of a deal it was — which excites me because I do believe it's 2021 and women should be comfortable talking about their sexuality," she said (via Cosmopolitan).
Katie was widely praised by Bachelor viewers for being authentic during her time on the show and for the way she held herself amid confrontations with her fellow contestants, including a heated exchange with Serena Chew, as detailed by Refinery29. She also stood up for the new ladies when more contestants were brought in part way through the season. Katie made it fairly far in her quest for Matt's heart. She made it all the way to week six before Matt sent her home, explaining that his relationships with other women had progressed further than theirs.
Only time will tell if Katie will get another chance to find love as part of the franchise.