Is This How Jill Biden Showed Her Support For Meghan Markle?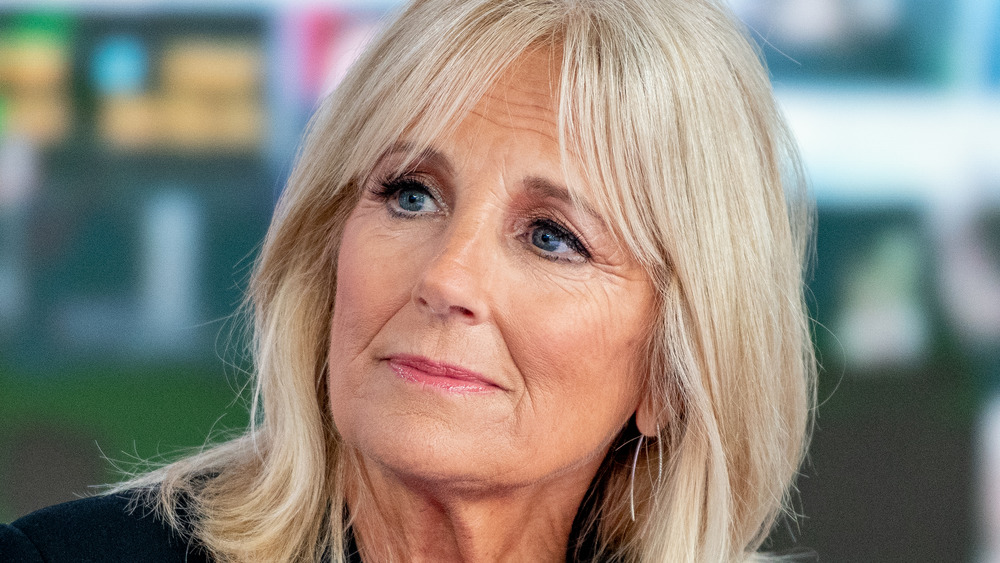 Roy Rochlin/Getty Images
Meghan Markle and Prince Harry's bombshell Oprah Winfrey interview has received mixed responses since it aired on March 7, 2021 on CBS. The couple made a slew of bold claims about the royal family and also opened up about the intense tabloid attention that drove them out of the U.K., and it seems that first lady Dr. Jill Biden may have given Meghan a subtle nod of solidarity. Plenty of famous faces have shared their opinions about the sit-down, with varying degrees of support for the couple. Piers Morgan made it very clear he wasn't a fan of the chat, as did Donald Trump Jr., while Hillary Clinton had some much kinder words for the former Suits actor and called the interview "heart-rending."
The White House also spoke out about Meghan and Harry's interview during a March 8 press conference, with Press Secretary Jen Psaki appearing to suggest President Joe Biden supported the couple. "For anyone to come forward and speak about their own struggles with mental health and tell their own personal story, that takes courage and that's certainly something the president believes and he's talked about the importance of investing in a lot of these areas that they're committed to in the future as well," she told reporters (via The Hill).
Neither Joe nor Jill have explicitly spoken about the interview publicly themselves, though fans have speculated the latter may have shown her support for Meghan in a subtle way on International Women's Day. Here's what happened. 
Did Jill Biden support Meghan Markle through her dress choice?
First lady Jill Biden had fans speculating she made her feelings about Meghan Markle clear on March 8, 2021 — one day after the Oprah Winfrey interview aired — with her interesting choice of dress. Per Daily Mail, Jill attended the International Women of Courage awards ceremony in the Citrus Primavera Jacquard Fit-&-Flare Dress by Oscar de la Renta. The light green gown featured a green and yellow leaf and lemon-print design and sleeves to her elbows.
While the gown was stunning on its own, many suggested it may have had a deeper meaning. It was very similar to a sleeveless dress Meghan wore on Feb. 22, 2021, during her first appearance after she and Prince Harry confirmed they would not be returning to the royal family. People confirmed Meghan's dress was also by Oscar De La Renta and featured the same lemon print over a gray material.
Plenty of fans noticed the similarities on social media, assuming Jill's choice was her way of showing support for Meghan. "Jill Biden giving a shout out to Meghan Markle through her dress choice is so fantastic... We see you Jill. Thanks for the subtle nod to our girl in show of support," one person tweeted. Another wrote, "Meghan Markle wore the same dress in a promotion for Spotify just a few weeks ago. A little subtle solidarity from Dr. Jill!"
Why Jill Biden may have kept her support for Meghan Markle subtle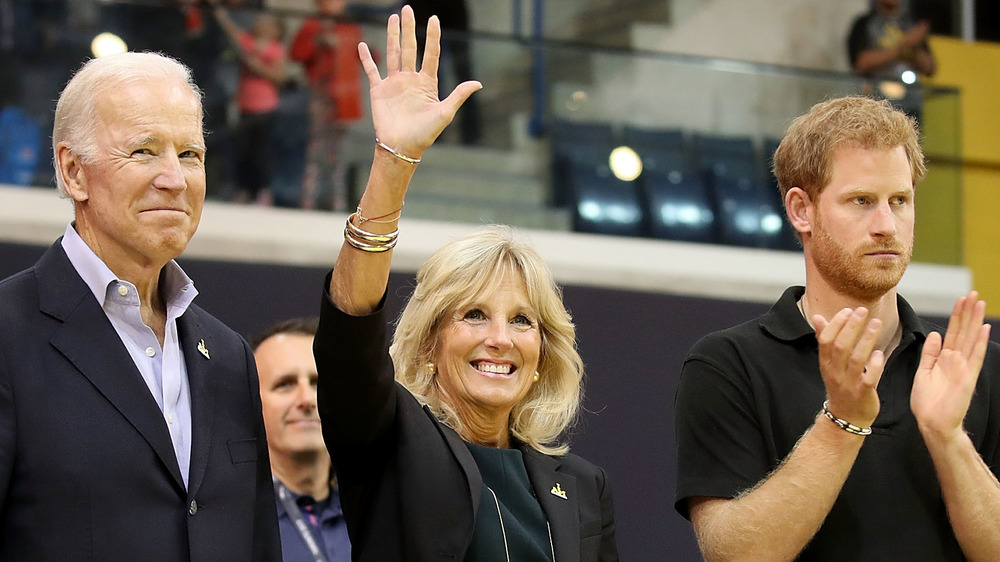 Chris Jackson/Getty Images
Jill Biden and President Joe Biden have a history with Prince Harry that goes back several years, long before he met Meghan Markle. Per Insider, Jill was first snapped with Harry in 2012 when he attended an event at the White House while Barack Obama was president and Joe was vice president. The Bidens and Harry have been photographed together during several meetings since and the couple have been big supporters of Harry's Invictus Games. While attending the 2016 games, Joe even joked about his wife's friendship with Harry, quipping to the crowd (via Daily Mail), "She spent too much damn time with Prince Harry!"
Notably, as president and first lady, it may be a little more difficult for the couple to support Harry and Meghan publicly following their shocking claims against the royal family, as they likely have to remain neutral to maintain a strong relationship with the British monarchy. White House Press Secretary Jen Psaki appeared to make a point of keeping her comments balanced during her press conference remarks about the Winfrey interview, stating (via Daily Mail), "And let me just reiterate that we have a strong and abiding relationship with the British people and a special partnership with the government of the United Kingdom on a range of issues and that will continue."