How John David And Abbie Duggar Really Make Their Money
John David Duggar and his wife Abbie Duggar seem to approach life differently than most of the other Duggar siblings. The couple got married in their late 20s, and they only have one child. Fans are curious about the couple, and many want to know how John David and Abbie make their money.
John David is the second-oldest son in the Duggar family, who became famous on TLC's 19 Kids and Counting reality series. He took on a larger role in the family after the scandal broke in 2015, revealing that oldest son Josh Duggar had molested his sisters and cheated on his wife, Anna. The incident led to John David really stepping up to support his siblings (more on that later).
Unlike some of his siblings, John David and Abbie earn money outside of the revenue created by Counting On, the second TLC series about the Duggar family that focuses on the older Duggar kids and their families. John David also has a twin, Jana Duggar. According to the TLC website bio for the Counting On stars, John David and Abbie, who's from Oklahoma, got married in November 2018. They have one daughter, Grace Annette Duggar, born in 2020. It appears that waiting to tie the knot and only having one child has worked out well for the couple.
Keep scrolling to learn more about how these two earn their money.
John David and Abbie Duggar seem more independent
If John David Duggar and his wife Abbie Duggar seem more independent than other Duggar family members, it's because they have jobs outside of the family reality TV franchise. The couple has a net worth of $500,000. Abbie is a licensed practical nurse, and John David has several jobs outside of Counting On. He is a pilot, owns a towing service, and is a constable, similar to a police officer (via Distractify). According to TLC's bio, he's also previously "worked as a firefighter, first responder, and police volunteer."
John David and Abbie's jobs outside the reality series appear to allow the couple to be more selective in how much of their lives are revealed on-screen. For example, when the couple welcomed their daughter Grace to the world on Jan. 7, 2020, there were no cameras in the delivery room.
On TLC's Counting On, it's become almost a "family tradition" to have the cable network's cameras in the delivery room, filming every aspect of childbirth. According to The Daily Mail, "Josh's wife Anna, Jill, Jessa, Joy-Anna, Jinger, Joe's wife Kendra, and Josiah's wife Lauren have all given birth on camera." John David and Abbie's decision marked a departure from Counting On tradition and set the couple apart from some of the Duggar siblings.
John David Duggar speaks his mind and supports his sisters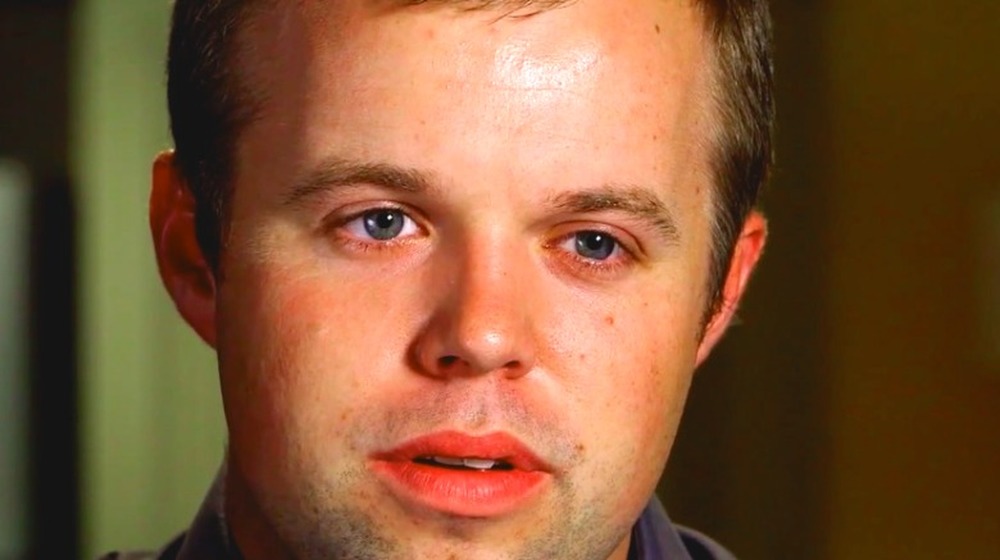 TLC/CountingOn
John David Duggar isn't always as vocal as his sisters Jill Duggar Dillard or Jinger Dugger Vuolo. He and his wife Abbie Duggar also did not move to California like Jinger and her husband, Jeremy Vuolo. But the second-oldest Duggar son has no problem speaking his mind. For example, John David spoke out about the 2015 scandals involving his brother Josh.
In May 2015, news broke that his brother Josh Duggar allegedly molested his sisters and a babysitter; it was a PR disaster for the Duggar family. The disaster worsened in August 2015, when Josh got caught cheating on his wife via the Ashley Madison website. Speaking out about his brother in a Counting On episode, John David said, "One of the toughest things I ever had to tell my older brother was, 'I don't want to be like you anymore.'"
Instead, he quietly stepped up to support his younger siblings after his older brother's scandals. John David talked about the responsibility he felt toward his younger siblings on Counting On. He said, "It's a big weight upon me now. I know that hey, I've got a whole bunch of younger siblings looking up to me, and I've got to be an example to them. Because whatever I am, that's what they want to be."
If you or someone you know has been the victim of sexual abuse, you can call the National Sexual Assault Hotline at 1-800-656-HOPE (4673) or visit RAINN.org for additional resources.