Royal Expert Noticed A Game-Changing Gesture Between William And Harry At The Funeral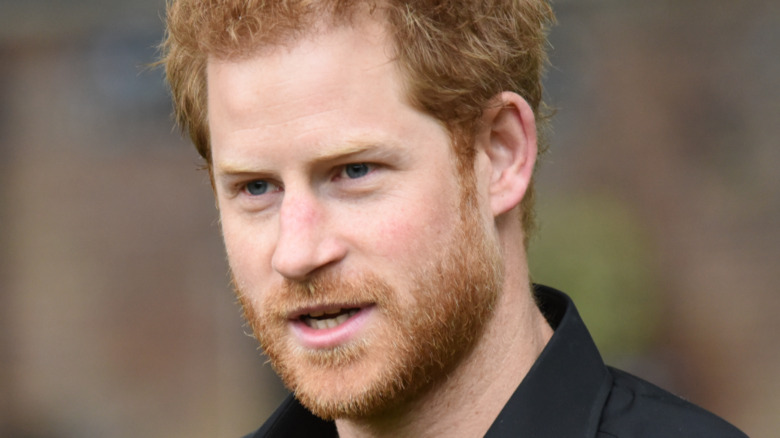 Shutterstock
Unfortunately for Prince William and Prince Harry, their strained relationship became a story in the midst of their grandfather's death. Prince Harry returned to the United Kingdom for the first time since he and wife Meghan Markle stepped down as working members of the royal family. In addition to walking away from those duties, the Duke and Duchess of Sussex presumably caused some family tension following their bombshell televised interview with Oprah Winfrey, which included allegations of racism against unnamed family members and claims that Meghan wasn't permitted to seek help for her mental health struggles, including suicidal ideation. 
With everything that has happened in the past year, many people were anticipating the brothers' interactions at Prince Philip's funeral on April 17, 2021. Even before the funeral took place, there was a lot of chatter about the siblings not standing next to each other during the procession. Instead, their cousin Peter Philips stood in between them, which had people wondering if that was a move to ease tension between the brothers. However, it should be noted that Prince William and Prince Harry did not even stand next to each other during the procession at their mother Princess Diana's funeral (via ABC News). Nevertheless, that arrangement was perceived as further confirmation of their strain, which is why they practically broke the internet when they were spotted talking privately after the funeral services, a moment that Kinsey Schofield, founder of ToDiForDaily.com, a website about the British royal family, analyzed for Nicki Swift.
Could this be a fresh start for Prince William and Prince Harry?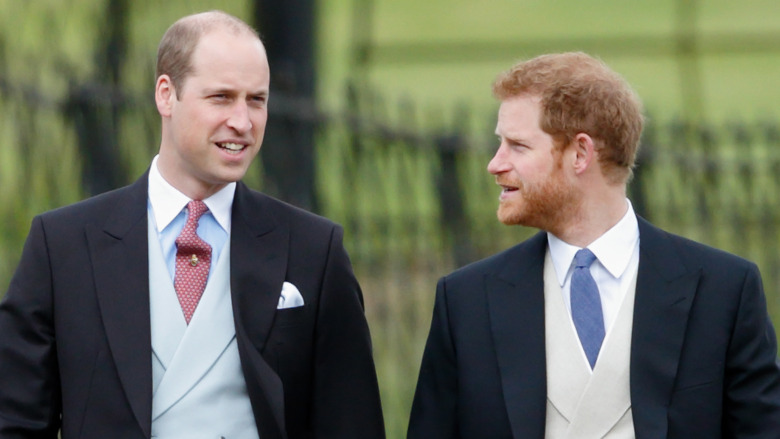 Max Mumby/indigo/Getty Images
ToDiForDaily.com founder Kinsey Schofield discussed the brothers' very public reunion, remarking that "seeing Prince William encourage Prince Harry to walk away with him at the end of the funeral was huge. You then saw him catch up with William and Kate Middleton." And, of course, social media users were riveted by the reunion, with one person tweeting, "[I]t did warm my heart seeing William, Harry and Kate so close."
Schofield exclaimed, "This is exactly the moment that we have been waiting for — FOR A YEAR. While this day is about Prince Philip, it really is spectacular to see the duke be what reunites these brothers." She also addressed the pre-funeral speculation about the procession, remarking, "Without clarification as to the why, speculation became that they did not want to be near one another." While some were shocked to see the brothers engage in conversation, Schofield was not. She said, "I would have predicted that it would be Prince William that would pursue the reunion because he is naturally a leader and naturally very protective of Prince Harry."
Additionally, the royal family expert said, "I imagine that Prince William wants Harry to see his niece and nephews who used to be very close to Harry and see him regularly at Kensington Palace." So many people are invested in their relationship, so it's only a matter of time before an "inside source" (or Gayle King) dishes on what went down.
Prince Harry says he and Prince William will always have each other's backs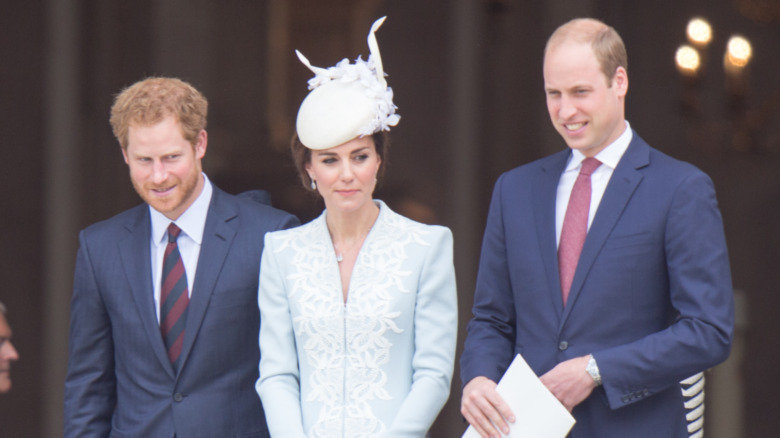 Shutterstock
Royal admirers could not wait to see Prince William and Prince Harry reunite at Prince Philip's funeral, and of course, they were hoping the two would mend their broken bond. Though the status of the royals' relationship is up in the air, the Duke of Cambridge and the Duke of Sussex will always be there for each other.
William opened up about their bond during an interview for the 20th anniversary of Princess Diana's death in 2017. "We have been brought closer because of the circumstances as well, that's the thing," he said, according to The Independent. "You are uniquely bonded because of what we've been through."
Their relationship has experienced some hiccups since then, but Harry echoed his sibling's sentiments during his CBS tell-all with Oprah Winfrey in March 2021, noting, "He's my brother." The duke said, although they are "on different paths," he insisted he is willing to put their differences aside. "You know, as I've said before, I love William to bits," Harry shared (via Express). "We've been through hell together. I mean, we have a shared experience. But we — you know, we're on — we're on different paths."
As for William, the duke will also have his brother's back at the end of the day. Though William is "very upset" over the series of events that have taken place, a source told The Sunday Times (via People), he's "absolutely intent that he and Harry's relationship will heal in time."