The Real Meaning Behind Saweetie's 'See Saw'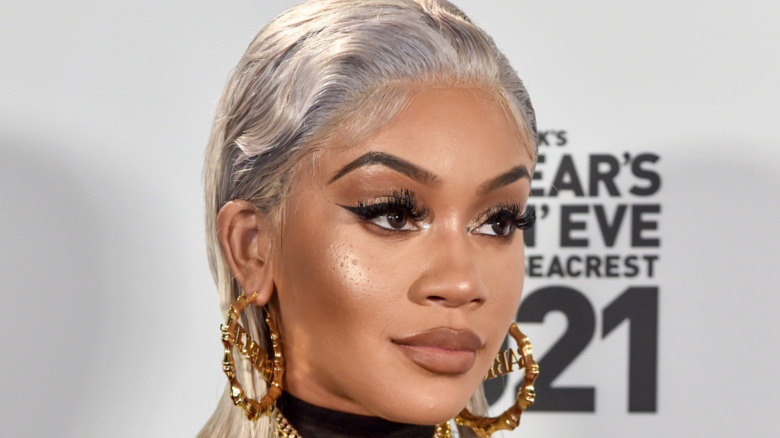 Alberto E. Rodriguez/Getty Images
Everybody handles breakups differently. While some people opt for the old-fashioned ways of coping through tears or finding a rebound, some like to take their relationship woes to social media. For ex-lovers Quavo and Saweetie, their relationship's end is quite tumultuous. The two split in March 2021, with the Icy Girl herself confirming it on Twitter. "I'm single," she wrote. "I've endured too much betrayal and hurt behind the scenes for a false narrative to be circulating that degrades my character. Presents don't band aid scars and the love isn't real when the intimacy is given to other women."
On Quavo's side of things, he doesn't seem too happy about the relationship's end. In his own separate tweet, he suggested that Saweetie was "not the woman I thought she was." The "Bad Enough" rapper didn't stop there — in April 2021, leaked audio of his unreleased song surfaced on the internet, and he is reportedly dissing Saweetie on the track. He is heard rapping, "Lil' bitty b***h, she slimy, she sneaky/ Takin' back that Bentley," suggesting that he took back the Christmas gift he got her in December 2020.
Since telling her ex to "take care" on social media, Saweetie hasn't said much about the breakup and has since focused on her music. However, it looks like Saweetie is ready to clap back at Quavo on her new track, "See Saw." Read on to find out what Saweetie has to say.
Saweetie claps back at Quavo on 'See Saw'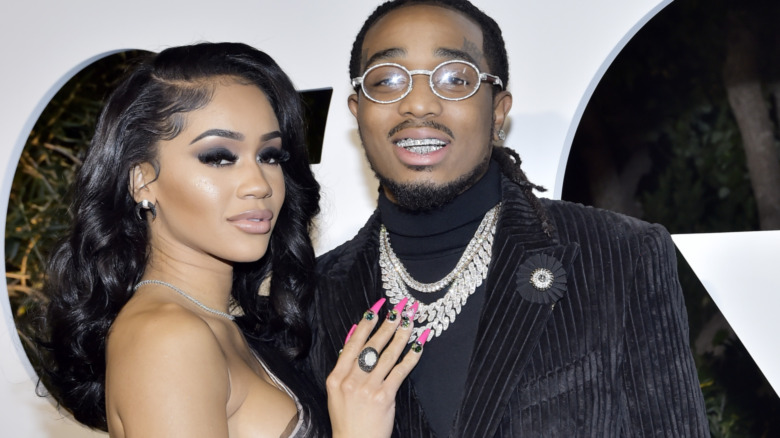 Stefanie Keenan/Getty Images
Saweetie is laying it all on the table about her split from Quavo. In April 2021, she released her collaborative Pretty B***h Summer Playlist: Season 1 EP, compiled of seven tracks. One song in specific, Kendra Jae-assisted track "See Saw," Saweetie spills the tea on her split and directly addresses his previous claims. "Had me going in, up-down like my scraper (Yeah) / Feelin' dangerous, I thought you was my anchor (Mhm)," she raps of her ex. "But you ain't s**t, and on some real s**t tell me what the problem is (Yeah) / Say he gon' do better, but it's always just the opposite."
She continued, "How you fumble with the baddest bitch, are you a dumb n***a? / You got nerve selling me all these threats when you wrong," she continues on the track. "That's a big trigger / How you figure, ain't the woman that you thought."
On the last line, Saweetie clearly refers to Quavo's tweet. Further into the track, the "Best Friend" rapper delved into the alleged cheating of her ex of two years. "You was humpin' thots, f***in' narcissist you just mad you got caught / So what's up now?" she raps. "You only f***in' with me 'cause I'm up now (Uh-huh) / I ain't tryna hear that you in love now (Yeah)." Yikes. It's not everyday we see a rap beef between ex-lovers, but clearly we have something to forward to between Quavo and Saweetie.