Why JoJo Siwa Is Getting Emotional Over Her Relationship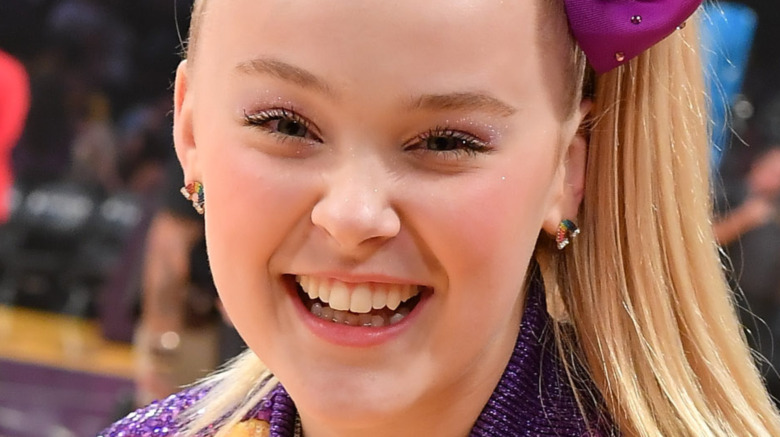 Allen Berezovsky/Getty Images
Teen sensation JoJo Siwa is known for her bubbly personality, but the former "Dance Moms" star has her sad moments too. In fact, in April 2021, she wore her heart on her sleeve in some posts to her Instagram Story, while revealing some emotional moments related to her romantic relationship.
In January, Siwa came out as gay to her millions of fans and revealed she had a girlfriend. She got plenty of love from fans and fellow entertainers, and she admitted she had never been so happy. Siwa already had a reputation for her sometimes over-the-top, exuberant personality. Despite that, acknowledging she was a part of the LGBTQ community and embracing her authentic self seemed to elevate her confidence and happiness sky high.
The social media starlet soon shared photos on Instagram showing her with her girlfriend. Soon after coming out, she noted that they were celebrating their one-month anniversary. She added that they had been close friends for quite some time before they started dating. At this point, Siwa hasn't revealed many specifics regarding her girlfriend, but we do know that her name is Kylie Prew.
The distance makes their time together even sweeter
JoJo Siwa has seemingly been blissfully happy with her girlfriend Kylie Prew, but she acknowledged a big challenge in maintaining their relationship. In a series of Instagram Story posts in late April 2021, Siwa revealed that they had to say goodbye, which prompted big emotions from the "Dance Moms" alum. "I. Don't. Like. Saying. Goodbye," Siwa noted in text over a photo on her Instagram Story (via People). The dancer was crying and clearly struggling. She then shared a series of short videos and explained why she'd been sad and mentioned a goodbye.
"Nothing happened, just we are long distance, and we had to say goodbye today." She continued, "I'm sad. It happens every time we say goodbye, and I wish we didn't have to, ever." Siwa acknowledged that people panicked over her initial note, and she wanted to provide clarity. She noted that the distance is tough, but added, "it just makes when we say hi to each other even more special."
Siwa told People she and Prew first met on a cruise ship. They immediately connected, but things didn't turn romantic for a while. Prew has spent quite a bit of time with the Siwa family in California, but HITC notes she's from Key Largo, Fla. That means that the two have had to maintain a long-distance relationship throughout their romance thus far. Even though this wasn't their first goodbye, Siwa made it clear that it's painful and difficult each time they have to part.