The Real Meaning Behind Luke Combs' 'Lovin' On You'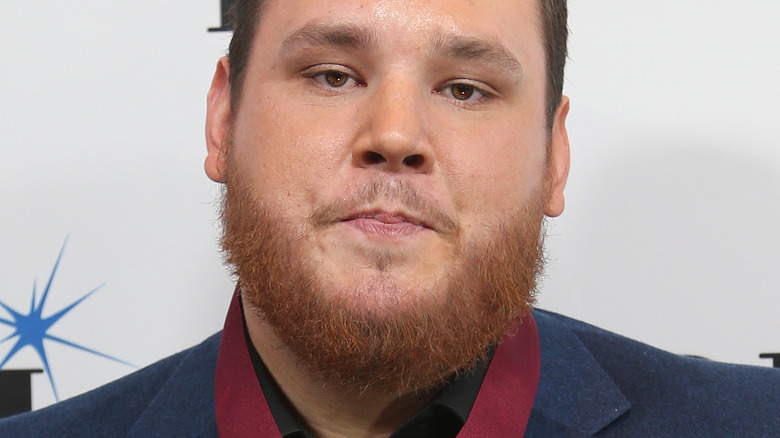 Shutterstock
How much do you really know about Luke Combs? If you're a fan of country music, then you likely know that he's a successful singer. You might also know that he's faced controversy and even found himself apologizing to fans. Beyond that, do you think you'd be able to fill others in on the meanings behind some of his popular songs? For instance, there's "Does To Me" and "Even Though I'm Leaving" as well as "Better Together" and "Behind Forever After All." Of course, there's also "Lovin' On You."
"I like a bobber on the water / Hookin' 'em and reelin' 'em in / I like a Friday night slow ride / Brooks & Dunn B-side / ... I like a strong shot of whiskey / The way a Marlboro hits me / Some broken-in cowboy boots," Combs sings in the first verse in the song from his 2019 "What You See Is What You Get" album, per Genius. In the second verse, he adds, "I like a sunrise, duck blind / Birdie on a par 5 / Miller Lite before noon / I like a two-door old Ford / Wood board back porch / Three chords and the truth."
What do all of those things have in common? Well, they're clearly a list of the things and experiences that Combs enjoys. However, even these things can't seem to compare to something else that he loves. Read on to find out what — or rather, who — that might be and how he really feels about them!
Is 'Lovin' On You' about Luke Combs' wife, Nicole Hocking?
Shutterstock
Listening to "Lovin' On You" from Luke Combs certainly makes what the star appreciates obvious. However, even though he mentions plenty of things he likes, he only sings about one thing that he loves. 
"But I'm in love and lovin' on you / I feel that rush soon as you walk in a room / I can't get enough of you, honey / You're right on the money," Combs sings in the chorus of the song written by himself along with James McNair, Ray Fulcher, and Thomas Archer, according to Genius. He also repeats, "I'm in love and lovin' on you."
While Combs is obviously singing about a certain someone that he seems to love (and loves "lovin' on"), he doesn't exactly name who that is. Of course, we're going to go ahead and assume that it's his wife, Nicole Hocking. We know that he wrote his 2017 song "Beautiful Crazy" for Hocking (despite the fact that they weren't even dating yet), so it wouldn't be the first time he showed a little love for the lady in his life through his music. Telling The Artist and The Athlete podcast that "Beautiful Crazy" was the song that was played during the first dance at the couple's wedding in 2020, he explained, "There's no way that any other song will top that as far as sentimental value for me." Granted, we're sure that "Lovin' On You" is still pretty darn special.