Chrissy Teigen Makes Her First Instagram Appearance Since The Courtney Stodden Controversy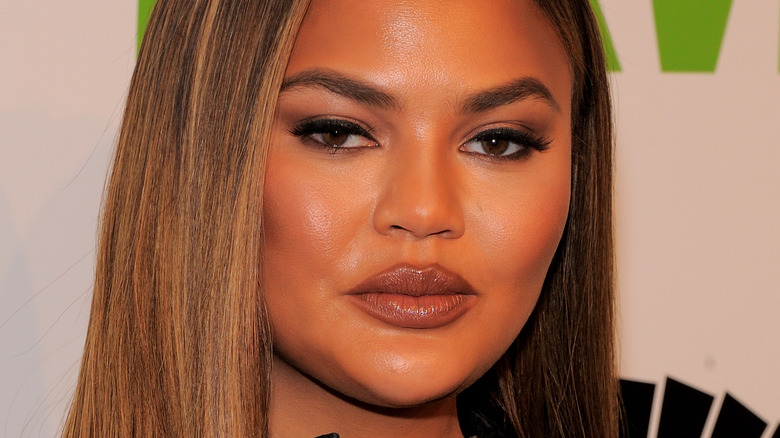 Shutterstock
Is Chrissy Teigen saying goodbye to social media for good? It's been several weeks since the "Cravings" author gave an update about her family with John Legend or her successful business empire, and it's got a little something to do with the recent controversy involving Courtney Stodden. Teigen has been silent on both Instagram and Twitter since Stodden came forward with cyberbullying claims in May.
During a candid interview with The Daily Beast, published May 10, Stodden said Teigen was one of the many "celebrities acting like playground bullies" who used to mock and shame them when they were a teenager. "She wouldn't just publicly tweet about wanting me to take 'a dirt nap,' but would privately DM me and tell me to kill myself. Things like, 'I can't wait for you to die,'" the "Celebrity Big Brother" alum recalled.
Two days after Stodden's interview was published, Teigen issued a lengthy apology on Twitter, writing, "Not a lot of people are lucky enough to be held accountable for all their past bulls**t in front of the entire world. I'm mortified and sad at who I used to be. I was an insecure, attention-seeking troll. I am ashamed and completely embarrassed ... ."
Since expressing how "deeply sorry" she is for her behavior, Teigen has taken a hiatus from posting on social media. However, she made her first appearance on Legend's Instagram following the scandal. To find out what Teigen is up to, keep scrolling. 
Chrissy Teigen makes appearance during family outing with John Legend
Chrissy Teigen may not be flaunting it on her own social media account, but the supermodel seemed in good spirits as she made her first appearance on husband John Legend's Instagram since the cyber-bullying scandal with Courtney Stodden came to light. Teigen smiled alongside their daughter, Luna, as the little girl made her dance recital debut.
"So proud of our little dancer!" the "All of Me" crooner captioned a snapshot of his spouse with her mom, Vilailuck "Pepper Thai" Teigen, and the couple's 5-year-old cutie at her performance on June 5. Aside from beaming a subtle smile as she wrapped her arms around her mini-me child, the "Chrissy's Court" alum was glowing in a floral-patterned frock. Teigen pulled back her brunette hair in two French braids at the top of her head and curled the rest of her long, luscious locks.
In the comments section of Legend's post, Instagram users shared their mixed opinions on Teigen's appearance. "[Luna is] a cutie patootie! Miss you Chrissy," one fan penned, as a second follower echoed, "Beautiful photo! You must be so proud! I miss Chrissy so, so much." 
However, other users did not hold back. "Hope your babies never get bullied the way your wife @chrissyteigen bullied people to kill themselves. What a horrible thing to do," read one comment, while another made a good point: "Why would she come back after what's been said? All her comments will just be hate."