Chanel West Coast Talks The Painful Truth Behind Her Song, 'Black Roses'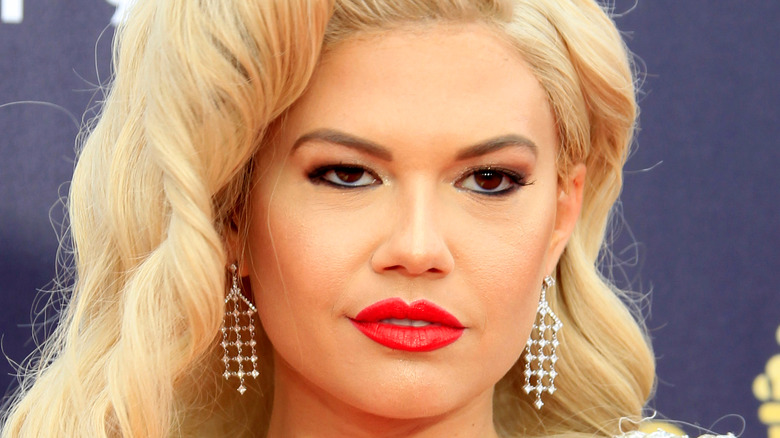 Shutterstock
We may receive a commission on purchases made from links.
For Chanel West Coast, putting emotions into music is the best way to vent. And she's done exactly that in the many songs she's released, as well as the plenty of other tunes she's been featured on. Most notably, the "Ridiculousness" star released her debut album, "America's Sweetheart," in October 2020.
The record, which includes 19 tracks, is a symbol of Chanel's reputation. In a press release at the time the record hit shelves, the artist explained why the name is "an oxymoron and contradicts the perception that many have" of her. "I have flaws. I've made mistakes," Chanel said (via Complex). "I've had second chances in life that, unfortunately, many people have not received." 
While the TV personality is aware of how fortunate she is, she sings about heartbreak in her music — one tune in particular, "Black Roses." The song is about loving someone before it's too late, which is something Chanel experienced when her longtime friend Nicole died from addiction in September 2020.  
"I am absolutely devastated to find out about the loss of one of my best friends since childhood," Chanel penned via Instagram, expressing how guilty she felt after not doing "more to help" out. "I'm so sorry that I was so busy and consumed with my own life and career." In "Black Roses," Chanel echoes her heartache, telling others to "make sure you show them love while they here" (via AZ Lyrics). For more on the painful truth behind the tune, keep scrolling. 
Chanel West Coast wrote 'Black Roses' to cope with how 'guilty' she felt following friend Nicole's death
Chanel West Coast's world came crashing down when she was told her best friend since childhood, Nicole, had overdosed and died in September 2020. To cope with the "really guilty" feelings of not being able to do more to save her loved one, Chanel put her emotions on paper and wrote "Black Roses." During an appearance on "Shirley's Temple" on June 9, the MTV star candidly spoke about the reason she released the hit.
"I felt really guilty when she passed away because I was really busy at the time," Chanel told host Shirley Ju. She said in addition to having a "busy ass year" at the time, she had "separated" herself from Nicole because she was getting involved with drugs. "I was like, 'I cannot be around this,'" Chanel recalled. 
Tragically, the two hadn't talked in more than a year when Nicole died. "It was a really hard situation to deal with," Chanel emotionally shared, explaining how "Black Roses" came to life. "I was like, let me get this out and get these emotions out while it's relevant and in my life ... and it helped a lot," the singer stated. "That's how I got into writing music ... I would write music to express myself. So I was happy that people could like relate to 'Black Roses.'"
If you or anyone you know is struggling with addiction issues, help is available. Visit the Substance Abuse and Mental Health Services Administration website or contact SAMHSA's National Helpline at 1-800-662-HELP (4357).