Rudy Giuliani Has Something To Say About His Law License Suspension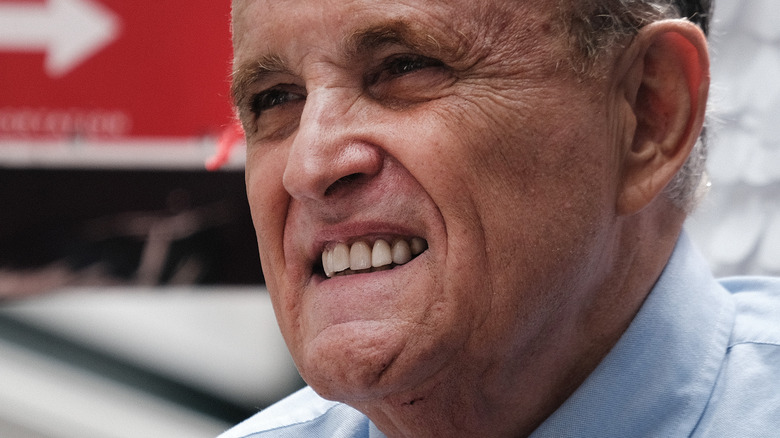 Spencer Platt/Getty Images
On June 25, a number of main players who spread false allegations of voter fraud over President Joe Biden's victory in the 2020 election were gathered in one place for a scheduled court hearing over a $1.3 billion defamation suit. Well, all except for one, that is; one of ex-President Donald Trump's biggest supporters, Rudy Giuliani. 
While other defendants listed in the suit — among them "MyPillow Guy" Mike Lindell and attorneys Sidney Powell and Alan Dershowitz  — were present for the court hearing, Giuliani was a no-show, instead represented by his lawyer, Joseph Sibley. Per CNBC, Sibley answered "it's just me" after he was asked about the whereabouts of Giuliani by the press. 
While Giuliani nor Sibley mentioned the reason why Giuliani failed to appear for his court date over the defamation lawsuit, it's easy to speculate — especially considering it came off the heels of the news that his law license had been pulled by New York state court officials. (It also occurred only weeks after the FBI raided Giuliani's New York City apartment in late April over his alleged dealings with government officials in Ukraine.) But just because Giuliani didn't appear in person at the June court hearing doesn't mean he hasn't been making the rounds in the press, or addressing the loss of his ability to practice law. 
So what has Giuliani said about the whole mess? Read on after the jump to find out. 
Rudy Giuliani isn't pleased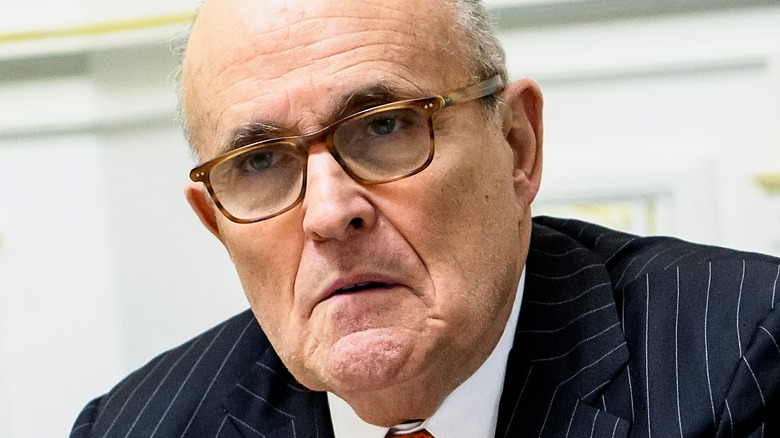 Shutterstock
There have been varying reports as to Rudy Giuliani's response over his lost license, possibly due to the fact that the former New York City mayor has spoken about it in multiple interviews since its revocation. The U.K. Independent quoted an interview Giuliani gave on the conservative network Newsmax, stating the U.S. is no longer a "free state." Per the Independent, he argued he had lost his license to practice law because he was, in his opinion, too good at his job. "I represented my client [Donald Trump] so effectively that they're trying to get me to shut up because they know what's gonna happen -– because they did it -– they know what's gonna happen in Arizona, and they know what's gonna happen in Georgia," Giuliani stated at the time, referencing the controversy over voting counts (and re-counts) in both states fueled by Donald Trump. "And they want this mouth shut."
According to another report by CNBC on June 25, Giuliani told reporters who were grouped outside of his apartment in Manhattan that the decision, which he deemed "ridiculous," was a result of "false allegations made by the Democrats." Per CNN, the ruling was made in response to Giuliani's actions in continuing to spread "demonstrably false and misleading statements" over the November 2020 election, among which allegedly, possibly fueled incitement of the Jan. 6 insurrection at Capitol Hill.
Whichever instance you prefer, clearly Giuliani isn't happy.