Chrisley Knows Best Season 9 Release Date And Cast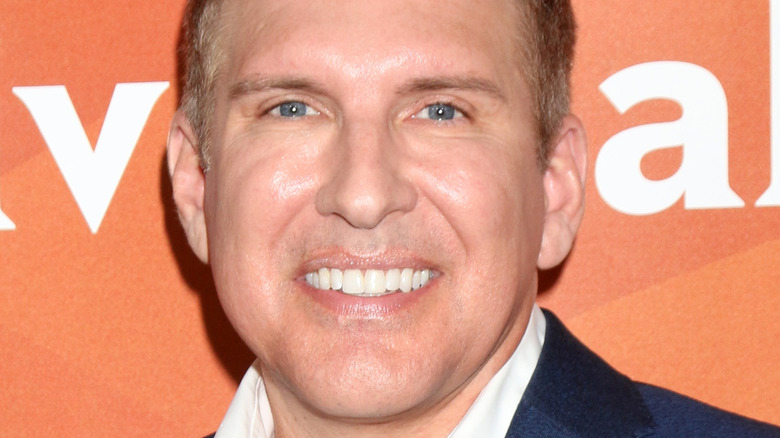 Shutterstock
Reality show "Chrisley Knows Best" is returning to TV this summer. The series follows the hijinks of the Chrisley family, headed by the outspoken patriarch Todd Chrisley, his wife Julie Chrisley, and featuring their children Chase, Savannah and Grayson, their granddaughter Chloe, and Todd's mother Nanny Faye.
According to the trailer, in this latest season, Todd and Julie are staying with Nanny Fay while searching for their dream home in Nashville. Todd is also celebrating his 52nd birthday, as well as his 25th wedding anniversary with Julie. Yet there also appears to be a little drama in store as the Chrisley kids wonder if their parents seem to be headed for divorce. 
The Chrisleys are no stranger to drama, with Todd having contentious relationships with his two older children from a previous marriage, Lindsie and Kyle Chrisley, who have spoken out against him to the press. Lindsie and Kyle also allegedly helped authorities bring tax evasion charges against Todd and Julie in 2019. Yet, Todd, Julie, and the three youngest Chrisley kids have apparently moved forward onto new adventures for the newest season of the family's reality show. Here's what we know.
When will Season 9 of "Chrisley Knows Best" premiere?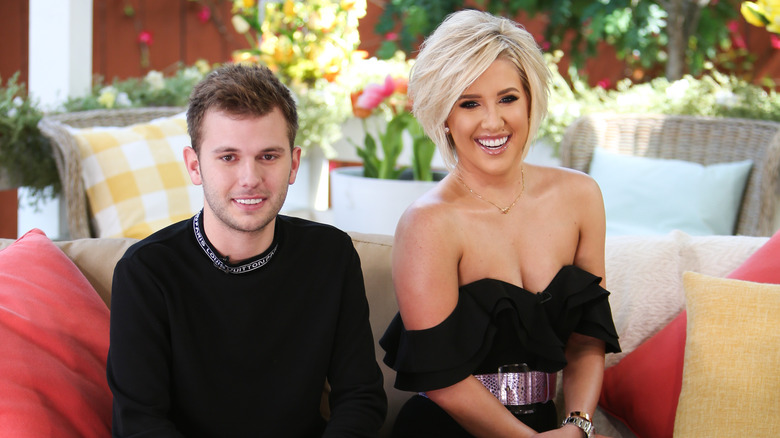 Paul Archuleta/Getty Images
"Chrisley Knows Best" will kick off Season 9 on Thursday, August 12 at 9 p.m. ET/PT on the USA Network. According to Deadline, news first broke that the Chrisleys' show would be renewed for another season ahead of its Season 8 finale, which aired on March 25, 2021. 
Fans first met the Chrisleys when their first season premiered in 2014. Since then, the family has been a hit for the USA Network. "Chrisley Knows Best" averages 1.5 million total viewers year-to-date. Its spinoff, "Growing Up Chrisley," which focuses on siblings Chase and Savannah Chrisley, is also a success, with its latest season averaging 1.1 million viewers. That show has also been picked up for another season. 
For those who want to catch up before Season 9 of "Chrisley Knows Best" airs on USA, reruns of the series are frequently shown on E! and Bravo. For fans who don't have cable, they can binge the first eight seasons on the streaming service Peacock as well.
Which Chrisleys will be on Season 9?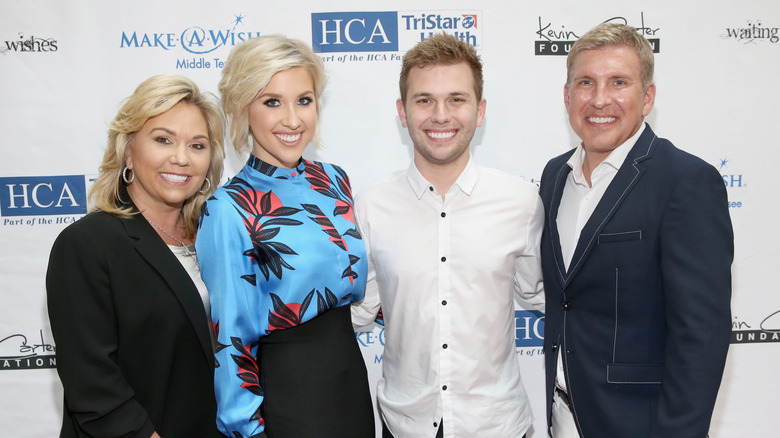 Terry Wyatt/Getty Images
Season 9 of "Chrisley Knows Best" will of course feature the Chrisley family, which includes parents Todd and Julie Chrisley, and their three kids Chase, Savannah and Grayson Chrisley. There's also Todd and Julie's granddaughter Chloe, whom they have custody of, and Todd's mother Nanny Faye. Todd's eldest daughter, Lindsie Chrisley, no longer appears on the show since the two are currently estranged. Todd's oldest son and Chloe's father, Kyle Chrisley, also rarely appears on the newer seasons due to issues with the family as well.
As mentioned above, Todd and Julie will live with Nanny Faye while searching for a new home in Nashville. The family relocated there from Georgia during Season 4. Savannah is the one who purchased her parent's old home, but according to a synopsis for Season 9 (via Entertainment Tonight), she's having trouble making it her own. As for Chloe, she has decided to quit swimming. Nanny Fay, on the other hand, is taking on a new business venture and with that a "turf war" with a competitor.
When it comes to the Chrisley boys, the youngest child, Grayson, is learning how to drive this season and seeks out big brother, Chase, for some dating advice. As the synopsis states, "​​Whether they are enjoying a NASCAR race or a family vacation in Florida, one thing is certain, Chrisley hijinks and hilarity will follow." And if it's anything like the past eight seasons, it certainly will.