How Much Money Has Donald Trump Raised Since Leaving The White House?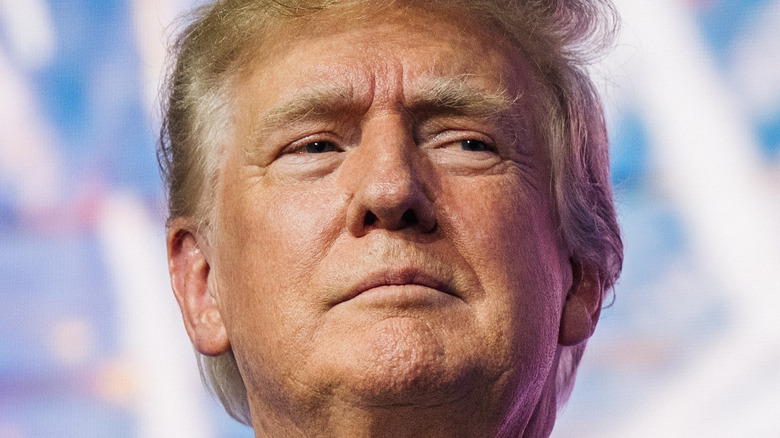 Brandon Bell/Getty Images
Former President Donald Trump did not have the cleanest exit in the history of U.S. presidents. There was much tussle and denial, a battle of egos — words spewed to tangle the masses against authorities and each other. Americans would remember the Trump era as one where comments from the president's mouth were often controversial and contained much mockery.
Trump might be out of office, but he continues to be opinionated, both in the political sphere and everywhere else (he recently slammed the U.S. women's soccer team's loss at the 2020 Olympics). Even after the suspension of his social media accounts, Trump still manages to generate buzz with his association with the Republicans and public statements.
And if there's one aspect that Trump will need to forge his way ahead, it's money. The businessman-turned-politician has had a noteworthy financial ground, but it's also been riddled with obstacles. Per The New York Times, Trump's long-concealed records on his financial statement reveal that he's largely suffered losses to the point of alleged tax avoidance for years. And now that he doesn't have his presidential armor, he'll have to be much more careful with his financial operations. So, how much money has the ex-commander-in-chief raised since leaving the White House?
Donald Trump's political organizations have raised more than $100 million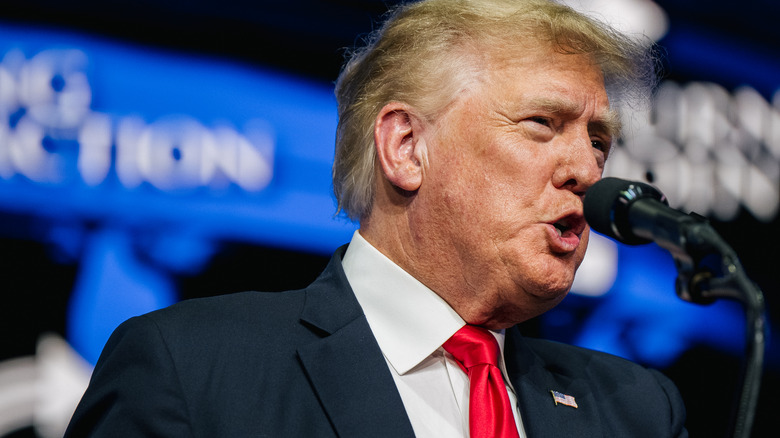 Brandon Bell/Getty Images
Since leaving the presidency in January 2020, Donald Trump has continued to raise money by speaking to Americans. The donations from his supporters come through two political action committees — Trump's Make America Great Again PAC and Save America leadership PAC. Per CNN, his political organizations recorded $102 million in cash reserves in July, with $90 million of that in his Save America leadership PAC. 
Support that generates such revenue for a businessman-turned-politician comes with contributors who believe in his politics and his statements through his term and post-presidency. Per CNN, the first six months of the year saw 3.2 million contributions to the political committees. And these millions might just come in handy if Trump decides to contest for the White House once again in 2024. Trump has had large political support, and his followers contributing such large amounts certainly helps clear the pathway for him.
The Trump family has grown richer, too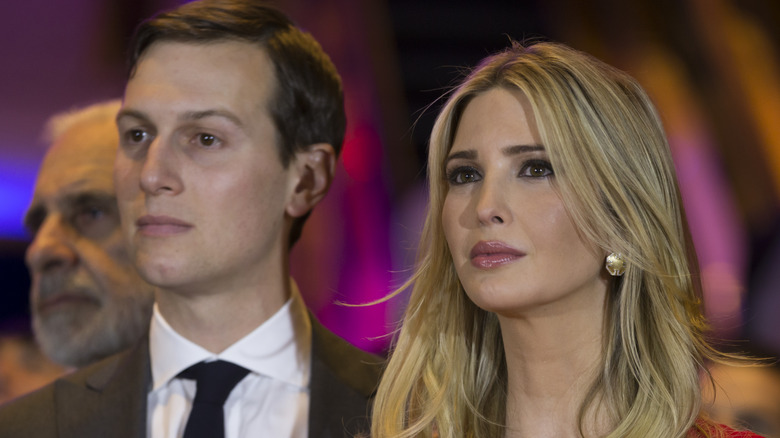 Shutterstock
The donations have flown well for Donald Trump to lead his plans. Along with many others who'd want to see him back at the White House, there's also his family who'd be eager to have him there, for they did grow quite rich when Trump was in office.
As Trump settled into his term, Ivanka Trump and Jared Kushner served as the senior White House advisors, but their work wasn't just limited to that. Per The Washington Post, the couple additionally made $82 million in 2017 from outside sources, as revealed by their financial documents. As the site claimed, Ivanka made $3.9 million from her Trump International Hotel shares. The Trump Organization severance paid her over $2 million, and Kushner too earned a large amount — $70 million — from his shares at the family-owned Kushner Cos.
But the Trump family's time in office — and since — has been marred by financial difficulties. Ivanka's clothing company made her $5 million in 2017, according to The Washington Post — until she closed it in 2018 due to poor sales and in the midst of her time in the White House. Plus, after the Trumps exited the building, Ivanka's older brother, Donald Trump Jr., signed up for Cameo — leading many to believe he is doing so for the money.