This Was David Faber's Actual First Appearance On Jeopardy!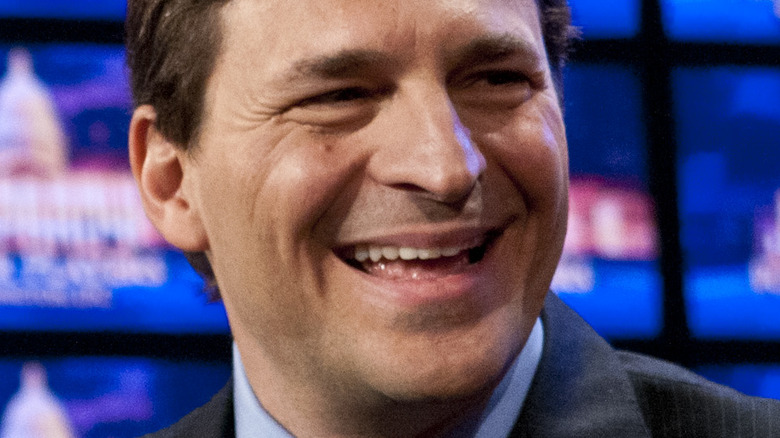 Kris Connor/Getty Images
Since "Jeopardy!" legend Alex Trebek's heartbreaking death in November 2020, the iconic game show has kept the late star's legacy alive thanks to the slew of guest hosts who have tried their very best to fill his metaphorical shoes. Although replacing Trebek, who hosted "Jeopardy!" for 37 years, according to The New York Times, will be nearly impossible, the beloved show has enlisted the help of fellow television personalities in order to keep entertaining fans from the comfort of their living room.
Savannah Guthrie, Katie Couric, George Stephanopoulos, and dozens of other notable news anchors have been slated to host a week's worth of episodes, according to the "Jeopardy!" website. Ken Jennings, series GOAT and consulting producer, who holds the record for the longest winning streak in the game show's history, also earned a spot as guest host. Another "Jeopardy!" alum, David Faber, was announced as host for the first week of August.
Faber is a financial journalist and market news analyst for CNBC, best known for serving as the co-anchor of the network's "Squawk on the Street." The New York native's work on CNBC's documentaries and long-form programming has earned him multiple accolades, including Loeb, Emmy, Peabody, and duPont awards. Faber has even authored two books, including "The Faber Report" in 2002, followed by "And Then the Roof Caved In" in 2009. Considering Faber is an alum of "Jeopardy!," this isn't the first time he has graced the game show's stage. Keep scrolling to learn more about his first appearance on "Jeopardy!" 
David Faber took home the title during his 2012 stint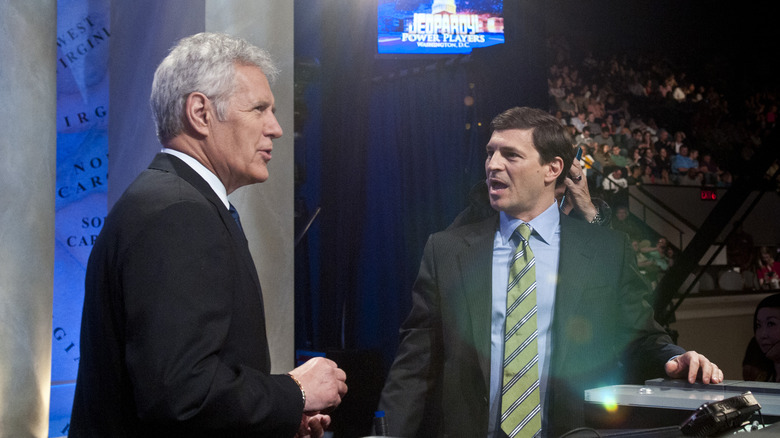 Kris Connor/Getty Images
Prior to making his debut as guest host of "Jeopardy!" during the first week of August, David Faber appeared on the award-winning series nearly a decade ago. Not only did the CNBC star take a stab at questioning Alex Trebek's tricky answers, but Faber actually came out on top and earned the title of champion. Back in April 2012, he competed in the "Jeopardy! Power Players Tournament," where he defeated basketball legend Kareem Abdul-Jabbar and Fox News anchor Dana Perino. As Newsweek reported, Faber cashed in a prize of $50,000 for his winnings, which was ultimately donated to the charity of his choice, New Visions for Public Schools.
While making his intro to kick off his week-long stint as "Jeopardy!" guest host, Faber said he was "so excited" to be back on the famous stage. "As a financial journalist, I live in a world of facts, and what I love is that that's what 'Jeopardy!' is all about," he proclaimed (via Yahoo! Entertainment), pointing out how his past involvement in the show has influenced his time now. "Having also played as a contestant with Alex, I understand just how important it was to him that the players were able to perform at their very best. And I hope and intend to honor that standard as a guest host this week." It looks like "Jeopardy!" sure knows how to pick their temporary replacements!