Olivia Munn Slid Into This Olympic Star's DMs After Their Silver Medal Win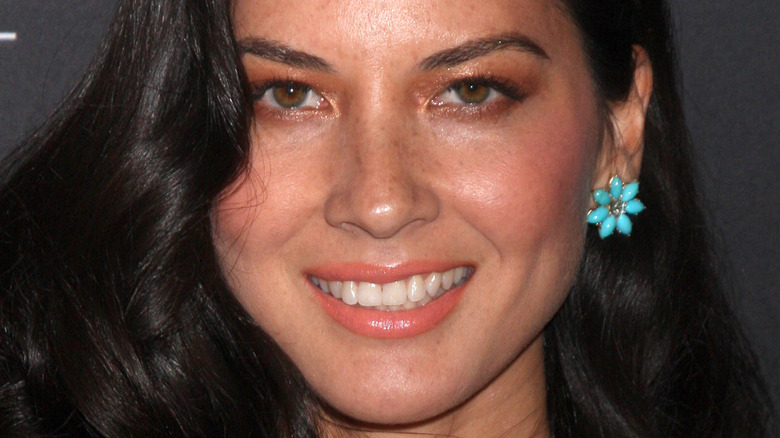 Shutterstock
Olivia Munn had a sweet message for an Olympian after he took home a silver medal at the Tokyo Olympics. Munn, much like the rest of us, appears to have been glued to the TV to see how Team USA has been doing in Japan's capital, and she couldn't seem to contain her excitement after a swimmer made history at the games in July.
Munn in no stranger to an Olympian though, as she even got a hand from gymnasts Simone Biles and Aly Raisman back in 2016 when she enlisted their help for a stunning performance of Sia's "Cheap Thrills" for an episode of "Lip Sync Battle". The star brought the two out as she rocked Sia's infamous half black, half blonde bob wig and jokingly attempted to give them a run for her money with her own flips in front of the camera.
Raisman didn't make the trip to the Tokyo Olympics (she announced her retirement in January 2020) and Biles showed the world what she's made of with a bronze medal after a difficult time in Japan, but it wasn't gymnastics that Munn had her eye on this time.
Scroll on to find out whose DMs the "X-Men: Apocalypse" star slid into...
Olivia Munn shared praise for Olympic swimmer Jay Litherland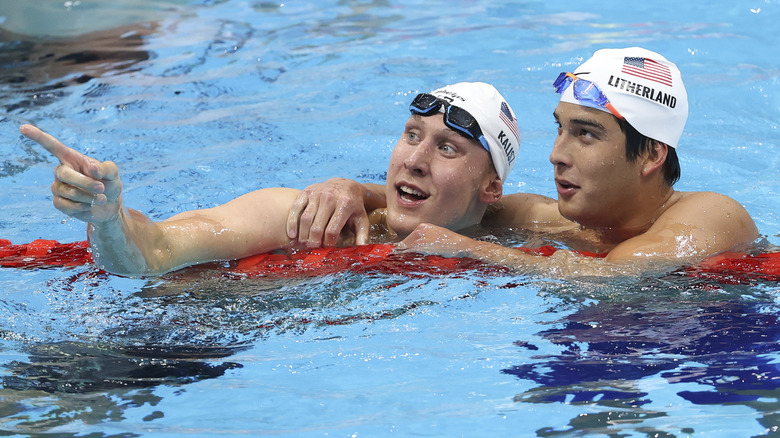 Jean Catuffe/Getty Images
Olivia Munn was all about sharing the love after swimmer Jay Litherland won silver at the Tokyo Olympics while competing in the men's 400m individual medley, just behind fellow Team USA's Chase Kalisz, who took home the gold. The twosome's impressive display marked the first time two Americans finished in the top two spots since Michael Phelps and Erik Vendt managed the feat during the Athens Olympics back in 2004 (per The New York Times).
Not only that, but Litherland's silver medal win made him the first Asian-American athlete to win a medal on the second official day of the Olympics (per People) — and it's safe to say Munn was impressed with his big achievement.
Litherland told People that Munn slid into his DMs and was more than happy to show off the message, revealing that the actor's note read, "So proud of you. Excited for you." The athlete couldn't seem to hide his excitement, saying, "Just to get a response from [Munn] too. No fan page or anything, the real thing."
Munn doesn't appear to have spoken publicly about the message herself, but she has expressed her desire to compete in the Olympics before. Well, kind of. Back in 2012 she jokingly tweeted, "If the Veggie Samurai app was a real Olympic sport, I think I'd definitely have a shot of making it to the alternate team. Real talk." Yeah, we won't hold our breath on that one.