Brad Pitt Rekindling Old Friendships Post-Divorce From Angelina Jolie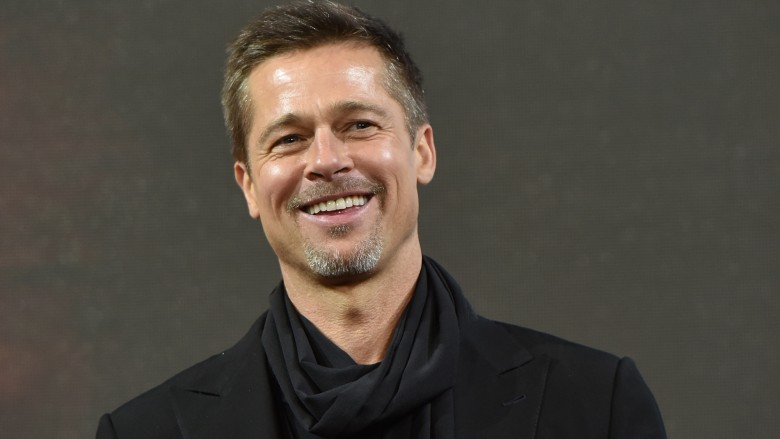 Getty Images
Since Angelina Jolie filed for divorce from Brad Pitt in September 2016, the Allied (2016) star has been reconnecting with pals he'd lost touch with during 10-year relationship and two-year marriage.
"He often has friends over," a source told People. "Old friends are back in his life, and he seems happy about it." A second source said Pitt's been working out almost daily, adding, "He's lost a few pounds. He's in very good shape. He seems a lot happier."
The first insider noted, "Things are definitely calming down [with the divorce]" and that Pitt, 53, is "in better spirits." Sources close to the two-time Sexiest Man Alive also said that he's not dating yet, prioritizing his kids, career, and friendships over a rebound romance.
One of those rekindled friendships may be with Pitt's pal Melissa Etheridge. The singer previously slammed Jolie, telling Andy Cohen, "I was around when Angelina was not doing nice things with Billy Bob to Laura Dern. I went through that on a personal level, and then to know the side of Jennifer [Aniston] and Brad... I helped Laura move out of her house with Billy Bob—I like broke into their home to get their stuff out because it was so nasty. I really hope that [Pitt] reaches back out because there are a lot of us who haven't seen him in 10 years," she said. "And it was hard then. We all lost a friend."
Etheridge later said that Jolie's camp didn't take kindly to her comments.
As Nicki Swift previously reported, Jolie, 41, filed for divorce from Pitt after an alleged in-flight altercation between Pitt and their son, Maddox. She retains temporary sole physical custody of their six children (Maddox, Pax, 13, Zahara, 12, Shiloh, 10, and twins Knox and Vivienne, 8), though Pitt is fighting for joint custody after being cleared of child abuse allegations.
The pair recently agreed to seal their custodial documents and keep the proceedings out of the press and began speaking cordially again, a move that those close to Pitt have said benefited his outlook tremendously.
"They are in a place where they can put anger or hurt aside to focus on their children and how they plan to co-parent," a source close to Jolie said. "It's been a difficult time for Angelina, and both are now willing to move forward and begin the next chapters of their lives." A second source said, "They are still in the process of working things out. They have made taking care of the children a priority and they are still figuring out everything else."
A source told People that Pitt, who's recently taken up sculpting as a hobby, is in a much healthier place. "He seems to have a more positive outlook. Things seem much better now... He seems much happier. He has missed his kids terribly. The kids are his whole world. It's all he cares about."