Joe Biden And Ron DeSantis' Feud Explained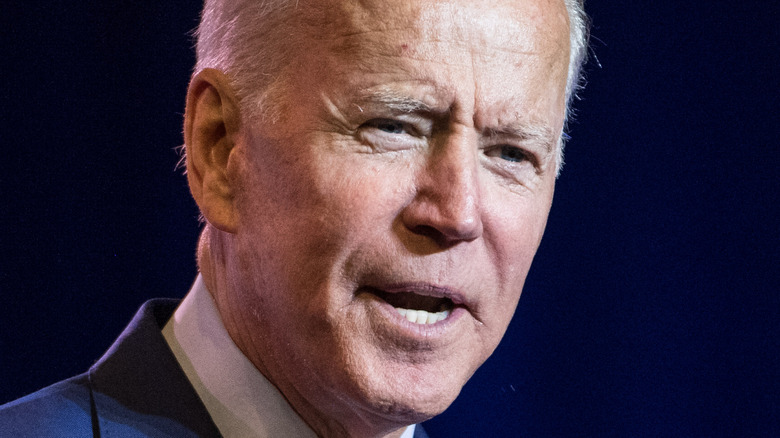 Naresh777/Shutterstock
There has been a war of words going on between President Joe Biden and Florida Governor Ron DeSantis. The Republican governor is rumored to be one of the front-runners for the 2024 GOP presidential candidates. DeSantis' profile among Republicans has risen as COVID-19 cases rise in Florida. In July, DeSantis put out an executive order banning schools from requiring students to wear masks. According to CBS, DeSantis and the Florida Board of Education threatened schools with funding cuts if they put mask mandates in place. 
Biden scolded DeSantis, saying, per CNN, that the Florida governor was "trying to turn a public safety measure, that is children wearing masks in school so they can be safe, into a political dispute." In addition, Biden is offering federal power and funding to help Florida school districts that DeSantis threatened to punish for implementing mask mandates. Fellow Floridian and Democratic operative Kevin Cate sided with Biden, telling CNN, "What the White House is doing is attempting to do everything they can with restraint to stop people from getting sick and dying."
To learn more about the feud between Biden and DeSantis, keep reading.
Ron DeSantis and Joe Biden have repeatedly clashed over COVID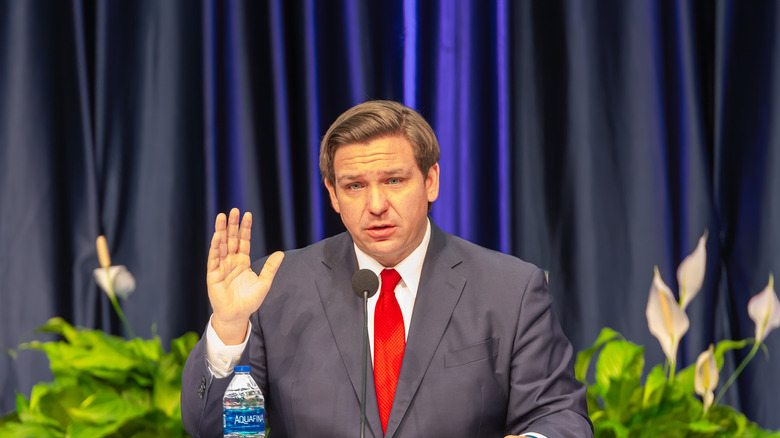 YES Market Media/Shutterstock
Ron DeSantis and Joe Biden's feud started after the 2020 election. DeSantis never congratulated Biden on winning the 2020 presidential election, but the Orlando Weekly reported that after Trump lost the Electoral College vote, the Florida governor acknowledged Trump lost. "The president has been one hell of an ally for this state..." DeSantis said. "So, it's unfortunate, I think, for Florida." The comments were definitely not a great start to their working relationship.
The relationship didn't improve after Biden took office. In February, the president discussed limiting travel to COVID-19 hot spot states like Florida. DeSantis said that he "100% opposed" any Florida travel restrictions and called it "a political attack." Per WTXL, DeSantis said, "I think it would be unconstitutional, it would be unwise and it would be unjust." 
The Biden-DeSantis feud erupted again in August as Florida students prepared to go back to school. The Miami Herald reported that the schools are in a "frightening state of affairs." According to the AP, some parents are challenging DeSantis' order allowing parents to decide if their kids wear masks to school. Despite the threats, some of the school districts in Florida are defying Desantis, and Biden has stated he will support these districts if funding is cut. According to CNN, the governor is fighting mask mandates because of personal freedom, saying "Politicians want to force you to cover your face as a way for them to cover their own asses."
Is the Biden-DeSantis feud really about political ambitions?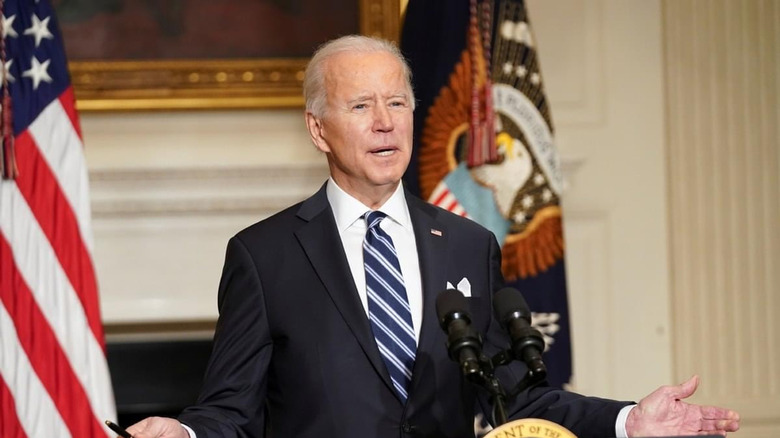 Archna Nautiyal/Shutterstock
Florida Governor Ron DeSantis isn't the only Republican fighting President Joe Biden on COVID-19 public safety. DeSantis (and Texas GOP Governor Greg Abbot) have banned schools and businesses from mask mandates, despite the CDC recommending "universal indoor masking for all teachers, staff, students, and visitors to K-12 schools" in light of the spreading Delta variant. DeSantis does seem to be drawing the most attention, though.
On August 11, White House Press Secretary Jen Psaki was asked why Biden was going to "war" with the Florida governor. "Our war is not on DeSantis — it's on the virus, which we're trying to kneecap," Psaki said. "And he does not seem to want to participate in that effort to kneecap the virus, hence our concern."
Then, during an August 12 interview on MSNBC's "The Beat with Ari Melber," journalist Julia Ioffe suggested why DeSantis and others fight Biden on COVID-19. After reportedly speaking to a senior Republican aide on Capitol Hill, Ioffe claimed, "And [the aide] said, 'They just want to make Biden look bad. They want the crisis to happen on Biden's watch, so that he doesn't get the credit for the vaccine that they felt Trump should get the credit for. That's it.'" Florida Democratic operative Kevin Cate made similar comments to CNN on August 24, opining, "Joe Biden is already the President. Ron DeSantis is wannabe, and wannabes throw stones at the people who have the job they want." Maybe it really is that simple.