The Truth About The Feud Between Ana Navarro And Donald Trump Jr.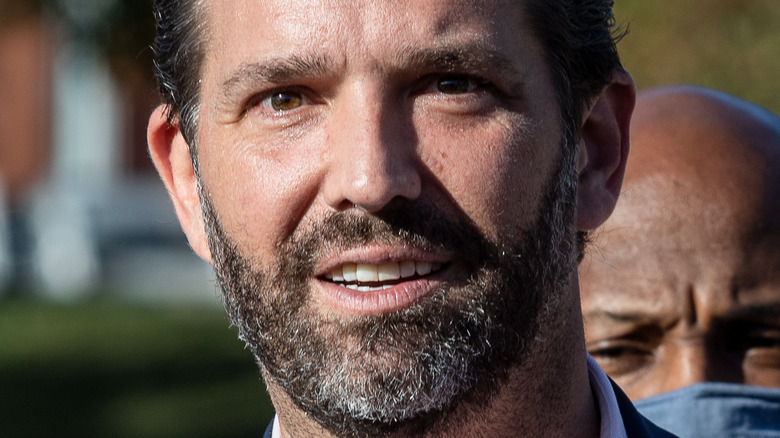 Chris Manning/Shutterstock
The Trump family is no stranger to a feud (or two or three) and former President Donald Trump has pretty much had harsh words for what feels like the entirety of Hollywood and far beyond, with so many feuds and public spats with other famous faces we couldn't even list them all here.
Prior to being permanently banned from Twitter, the businessman would often find himself in a war of words with someone on the social media site, before then getting landing himself in a major feud with the website itself. Trump Sr. was famously kicked off Twitter in January 2021 when the business announced it had "permanently suspended the account due to the risk of further incitement of violence."
But that ban didn't extend to members of the Trump family, and it's continued to get the controversial family in some hot water on multiple occasions since.
September saw Trump Sr.'s son, Donald Trump Jr., use the social media site for not exactly the most complimentary of reasons, when he took aim at "The View" star and political commentator Ana Navarro. In typical "The View" fashion, she wasn't afraid to hit back and make her feelings known, stirring up yet another public feud for the Trump clan. Scroll on for all the details.
Ana Navarro and Donald Trump Jr. got into a Twitter spat over obesity and COVID-19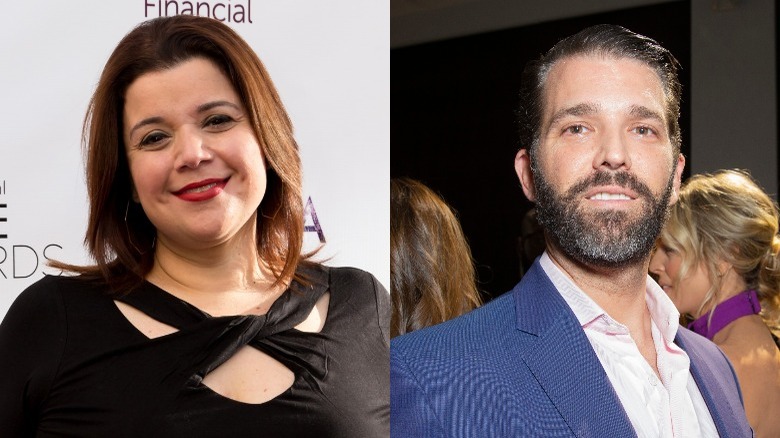 Greg Doherty/Getty & lev radin/Shutterstock
It looks like Donald Trump Jr. has found himself a new Twitter feud partner in Ana Navarro. The two got into it on the social media site on September 24 after Trump Jr. took a low blow at Navarro's expense.
It all went down after Navarro and her "The View" co-panellist Sunny Hostin had to leave the daytime talk show during a commercial break on September 24 after being told they'd both tested positive for coronavirus, though Navarro has since confirmed her positive result was false after being tested again.
The two departed ahead of a virtual appearance from Vice President Kamala Harris, who spoke about COVID-19. Harris's interview was then posted to Twitter, where Trump Jr. had something not so kind to say. He quoted "The View"'s tweet and added, "Given the Ana Navarro news, I think it's time for a national conversation about the dangers of Covid-19 & obesity."
Navarro hit back on September 25 by quoting Trump Jr.'s message and wrote, "Thanks for your concern. I don't have COVID. Fortunately for you, if you want to have a conversation about the effects of obesity on people with COVID, your dad is a phone call away... assuming he answers your calls." After poking fun at Trump Jr.'s relationship with his dad, she appeared to reference Trump Sr.'s close relationship with Ivanka Trump, adding, "Or just ask your sister to call him for you."
Ana Navarro is no fan of the Donald Trump Sr. and his family
Though Donald Trump Jr.'s Twitter jibe about Ana Navarro's weight was seemingly unprovoked, Navarro hasn't exactly made a secret of the fact that she's no fan of Trump and his family over the years. Despite being a self-proclaimed Republican, Navarro has called out Former President Trump on multiple occasions in some very public forums.
During a January appearance on CNN following the now infamous insurrection at the Capitol Building by Trump Sr.'s supporters, Navarro slammed claims suggesting Trump "represented Republican values," calling the idea "bull" and "a lie." She continued, "He is no Republican. He does not represent Republican values. He represented Donald Trump."
Navarro also slammed Trump Sr. on "The View" that same month while discussing House Minority Leader Kevin McCarthy's decision to meet with him in Florida after he left the White House to make way for President Joe Biden. "This has been, I think, such a sad week for the Republican Party. They had a chance to get rid of the cross they've been bearing with Donald Trump, who has divided the party and opened it up for all sorts of nut jobs to come into the party," she said.
Just two months before Trump Jr.'s slam, Navarro had some strong words for Ivanka Trump when she accused her on "The View" of "trying to rewrite history."
It sounds Navarro's feud with the Trumps probably won't be coming to an end anytime soon.