How Jen Shah's Legal Drama Is Much Different Than Erika Jayne's
As two seasons of the "Real Housewives" franchise are currently airing — "Real Housewives of Beverly Hills" and "Real Housewives of Salt Lake City" — reality TV fans immediately noticed a similarity between the two. Over in Beverly Hills, cast member Erika Jayne is facing on-screen tension with the other women after she and her separated husband, Tom Girardi, were sued for possible embezzlement, according to Today. In addition, People reported on the stress that Erika is facing regarding Tom's family placing him in a conservatorship after he was diagnosed with dementia in March.
Meanwhile, in Salt Lake City, the second season of "RHOSLC" kicked off with footage of housewife Jen Shah being investigated by federal law enforcement. According to Women's Health Magazine, Jen and her assistant, Stuart Smith, were arrested on charges of money laundering conspiracy and telemarketing wire fraud. Jen attempted to have the case dismissed in August, according to People, but her trial begins October 18.
In the midst of the two cases, many housewives are weighing in. Here's how Jen Shah's legal issues are different from Erika Jayne's.
Jen Shah is the main person on trial
As "Real Housewives of Salt Lake City" star, Jen Shah, is gearing up to stand trial for charges of money laundering and telemarketing wire fraud, viewers are watching the drama unfold during Season 2 of the show. Many of Jen's co-stars are also weighing in on the drama, specifically in comparison to "Real Housewives of Beverly Hills" star Erika Jayne's simultaneous legal struggle.
In a recent interview with Page Six, "RHOSLC" cast member, Whitney Rose, pointed out the biggest differences between Jen and Erika's law encounters. "In Beverly Hills, the biggest difference is Erika's husband is the one being accused," she said. "Jen Shah, the 'Housewife,' is being accused, so it's a lot different. While there's a lot of similarities, it's different."
Although Whitney was correct on Jen being the primary person accused, housewife Erika is still included in her husband Tom Girardi's legal tensions, as she is named in a lawsuit as well. Specifically, according to another Page Six article, the amount is for $25 million.
Jen Shah and Erika Jayne both allegedly affected people financially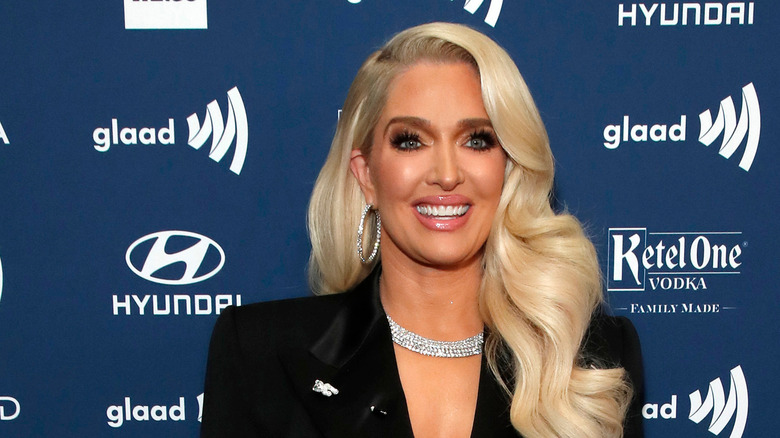 Kathy Hutchins/Shutterstock
Despite the differences in the legal cases against housewives Jen Shah and Erika Jayne, there are also clear similarities. According to Business Insider, Jen allegedly committed telemarketing fraud against elderly people, with one instance suspected to have lasted nine years from 2012 to 2021. In Erika's case, according to Vox, she and husband Tom Girardi are accused of using a divorce to hide Tom's business and lawsuit debts — being a form of embezzlement.
Jen's fellow "Real Housewives of Salt Lake City" co-star Lisa Barlow spoke to Page Six, offering a different perspective, one tying into the similarities of the two legal cases. "Just from what I've seen in the episodes [of 'RHOBH'] that I've watched, it's crazy. I think it's crazy," she said. "They're both rough. The victims, if there's guilt involved, it's a horrific thing."
"After what our country has gone through over the last two years [amid calls for] social justice, we cannot presume people are guilty and then they have to presume themself innocent ... We have to see how things pan out when she starts trial and let the judge and jury come to a verdict before we all do," Barlow continued.