Is Kylie Jenner Still Friendly With Ex-Boyfriend Tyga?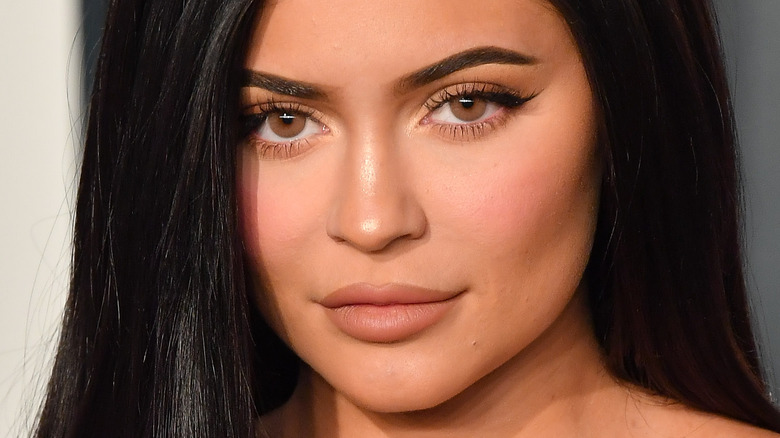 Allen Berezovsky/Getty Images
Kylie Jenner and rapper Tyga were once one of the most talked about couples in Hollywood. Because their romance coincided with Kylie's meteoric rise to fame as a social media influencer and businesswoman, "Kyga" will surely go down in pop culture history as a high-profile coupling of the 2010s. In 2017, the two called it quits. At the time, Kylie had this to say on her reality show "Life of Kylie" (via People), "There was no crazy fight, we just decided ... Well, I decided that I'm really young. I don't want to look back in five years from now and feel like he took something from me when he's really not that type of person."
While it appears Kylie has officially closed the chapter with Tyga in her life, many fans wonder if the young millionaire is still friendly with her ex. The same year she and Tyga split, Kylie was linked to rapper Travis Scott. While, as of this writing, it's not entirely clear where her relationship stands with Scott, at the very least, they are co-parents to daughter Stormi Webster, who they welcomed in February 2018. In September 2021, Kylie officially announced that the two were expecting their second child together.
All that being said, it seems safe to say that Kylie's low-profile relationship with Travis is much different than her past public rendezvous with Tyga.
Kylie Jenner and Tyga's break-up was amicable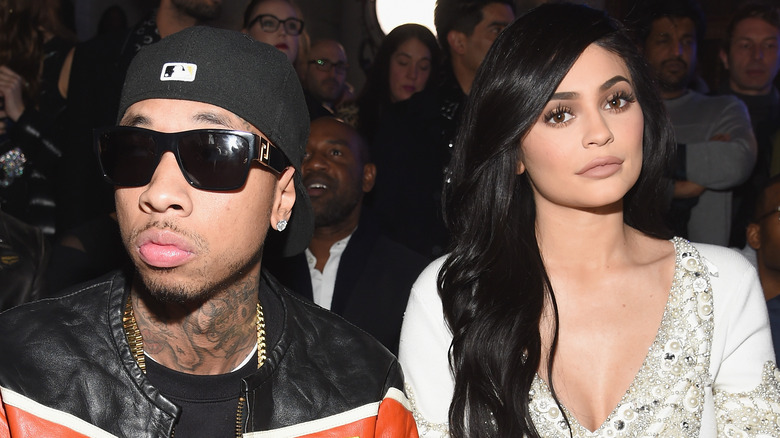 Dimitrios Kambouris/Getty Images
Per E! News, Kylie Jenner and Tyga began dating back in October 2014. At the time, the relationship caused quite the stir. Many fans side-eyed the age difference between Kylie, who was 17, and Tyga, who was 24. "Kyga" became more public following Kylie's 18th birthday in August 2015, when Tyga infamously gifted the lip kit mogul a leased Ferrari sports car as a birthday surprise, per Teen Vogue.
Kylie and Tyga's pairing led to some ongoing drama in their relationship with Tyga's ex Blac Chyna, according to People. After taking some time apart in 2016 and then reconciling later the same year, Kylie revealed that she and Tyga split for good in 2017. The star opened up about their breakup on her E! series "Life of Kylie," sharing (via Insider), "There was absolutely not one thing wrong with me and T. He and I will always, always have a bond." 
It seems some bonds are meant to be broken. In 2021, Kylie opened up about her relationship with her ex years after their split.
Kylie Jenner wishes Tyga well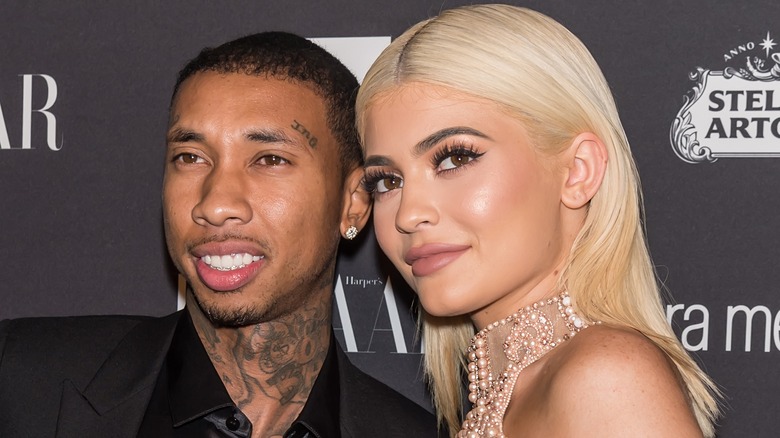 Gilbert Carrasquillo/Getty Images
Kylie Jenner confirmed she isn't friendly with Tyga on the "Keeping Up With the Kardashians" reunion special that aired in June 2021. When asked by host Andy Cohen about where she stands with the "Rack City" rapper, Kylie gave a simple answer (via E! News), "We're not friends."
Kylie went on to explain that despite their lack of friendship, there isn't bad blood between the exes. "We are OK," Kylie said. "If I see him out or if I run into him anywhere, you know, I always wish him well." Kylie added, "I have no bad feelings towards him."
This isn't the first time Kylie has set the record straight about Tyga since their split. When the Kylie Swim mogul was spotted visiting Tyga's studio during a brief split from Travis Scott in 2019, the reality star was quick to dispel rumors of their reconciliation. "There was no '2 a.m. date with Tyga," Kylie tweeted at the time. "You see me drop two of my friends off at a studio that he happened to be at." E! News later confirmed the exes hung out with mutual friends and nothing more came of the brief meet-up. 
It's clear Kylie and her ex-boyfriend Tyga won't be buddying up anytime soon.