Machine Gun Kelly And Travis Barker's Proposals Had One Hilarious Detail In Common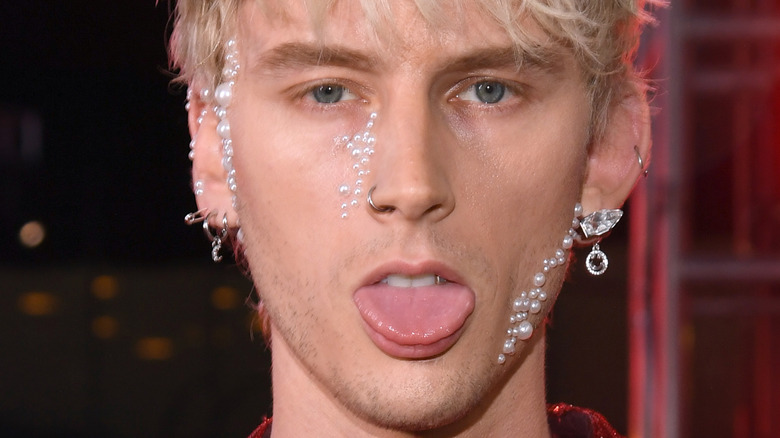 Kevin Mazur/mtv Vmas 2021/Getty Images
On January 11, Machine Gun Kelly and Megan Fox officially got engaged, and fans immediately thought about their seemingly similar friends, Travis Barker and Kourtney Kardashian. The two couples have grown closer to each other in 2021 and were spotted going on multiple double dates over the year, according to People. "Travis has a recording studio in his house so him and MGK will jam out there a lot. Travis introduced Kourt to Megan through MGK," an insider told Us Weekly. "As a group, they like to go on double dates, concerts, events together — it spices things up. Travis and MGK are happy Megan and Kourtney have gotten to bond and get along well with each other."
The insider also spilled the tea about Fox and Kardashian's growing relationship, and it sounds like it's becoming really strong. "Megan and Kourtney have grown closer as friends over the last two months. They act like best friends when they're together," the source said, noting she's even spent more time with Fox than her famous sisters. "It's mainly because she and Travis are inseparable, and Travis and Machine Gun Kelly are very close, so usually they bring along their girlfriends to hang out with them," the insider continued.
Kardashian and Barker's surprise proposal occurred first in October 2021, so it could be deemed a coincidence that Fox and MGK's proposal followed suit four months after. However, one eagle-eye fan spotted one similarity between the two proposals, that is so similar it's downright eerie.
MGK and Travis Barker both wore striped shirts during their proposals
Musician Machine Gun Kelly's proposal to Megan Fox is making people on Twitter do a double-take. It's not because of Fox's very wacky Instagram caption about sucking each other's blood, either. It's actually because many are noticing that his proposal outfit looks ironically very similar to musician Travis Barker's when he proposed to Kourtney Kardashian in October 2021. "First kourtney, then megan fox, can anyone check if pete davidson has been seen shopping for a striped shirt?," this Twitter user said. Even Fox and Kardashian's outfits are eerily similar since they both wore black outfits during their proposals.
Although their proposals are very reminiscent of one another, their locations and the meaning behind the locations are completely different from each other. When Barker proposed to Kardashian, she was surrounded by red roses and candles in California. When MGK proposed to Fox, it was in Puerto Rico, in a very sentimental location close to both of their hearts. "In July of 2020 we sat under this banyan tree. We asked for magic," Fox wrote on her Instagram. "Somehow a year and a half later, having walked through hell together, and having laughed more than I ever imagined possible, he asked me to marry him."
"She has been wanting to get engaged. The proposal was a surprise, though," a source told People. "They have traveled to Puerto Rico before, so Megan just assumed it was another vacation." Fox "loved the proposal" and "thought it was beautiful and perfect," according to the source. "She is excited to get married."