Aaron Rodgers Has Sweet Words For Ex Fiancee Shailene Woodley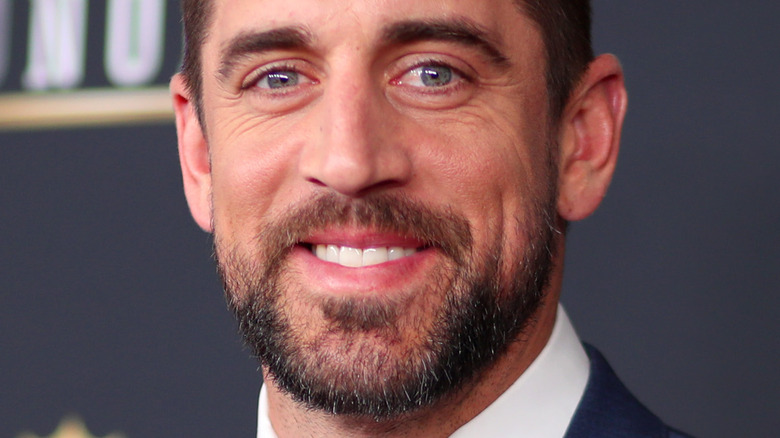 Christopher Polk/Getty Images
In Hollywood, there are a lot of unlikely couples. While some stay within the entertainment circle, others get their feet wet by dating athletes, and we have seen it time and time again. In February 2021, Green Bay Packers star Aaron Rodgers surprised fans when he dropped the bombshell announcement that he was engaged as he accepted his award for NFL MVP. "2020 was definitely a crazy year filled with lots of change and growth, some amazing, memorable moments," he shared, adding that he'd found love. At the time, Rodgers didn't give any further details on his big news, but actor Shailene Woodley confirmed the engagement a few days later on "The Tonight Show Starring Jimmy Fallon." Woodley shared that the "big news" wasn't even news to them because they had been engaged for quite some time. 
The pair seemed to be smitten and posted about one another on social media from time to time. Woodley was also Rodger's biggest fan during his "Jeopardy!" hosting stint. In February 2022, however, news broke that Woodley and Rodgers had called off their engagement. "While Shailene is supportive of Aaron's career, he put football first, and they were barely spending any time together," a source told inTouch. "She felt he neglected their relationship. Neither of them was happy." According to another report from Us Weekly, Rodgers and Woodley have remained on good terms post-split. Ultimately, "their interests [and] their political views weren't aligned," an insider shared. 
But, it seems like Rodgers still has love for Woodley.
Aaron Rodgers shares sweet tribute to Shailene Woodley
Aaron Rodgers shared a little Monday night gratitude. While the football star's pro career hangs in the balance, the star had a lot to say on social media, while also not saying too much. In the lengthy post, Rodgers shared a series of images from the past year, including one of himself and Shailene Woodley.
"Here's some... #MondayNightGratitude for some of the incredibly special people in my life," No. 12 began the update. He tagged Woodley first, gushing over the special relationship they shared. "@shailenewoodley, thanks for letting me chase after you the first couple months after we met, and finally letting me catch up to you and be a part of your life," he wrote. "Thanks for always having my back, for the incredible kindness you show me and everyone you meet, and for showing me what unconditional love looks like." Rodgers added that he "loved" the actor and was "grateful" for her. This confused a few people, who were under the impression that they had called off their engagement, although Rodgers could still have love for Woodley.... just in another capacity.
The Green Bay Packers star also thanked his coaches and teammates, leaving many wondering if this was a retirement announcement or perhaps an indication that he was leaving the only NFL team he's been a part of. In a press conference (via Rob Demovsky), Rodgers said he would not drag any decisions on his future out too long after the season.
Aaron Rodgers is sharing gratitude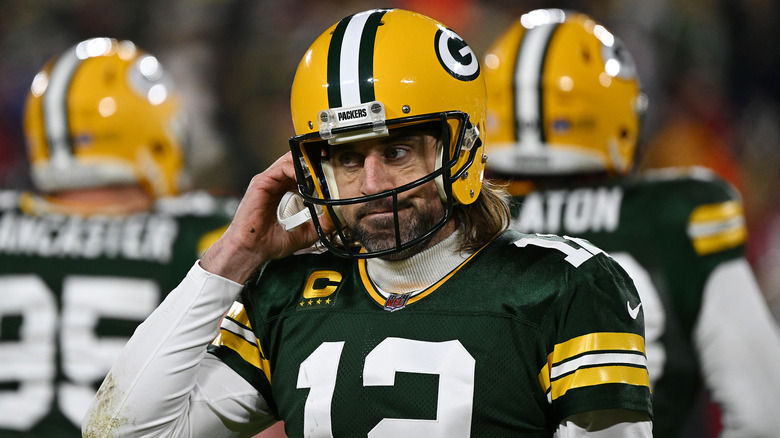 Quinn Harris/Getty Images
Before his lengthy gratitude post, Aaron Rodgers got inspirational in his Instagram Story the weekend following his split from Shailene Woodley. The NFL star got sentimental and shared a quote from fitness figure and motivational speaker, Aubrey Marcus. The quote reads, per Page Six: "The rarest gift you can give, is Love. I Love you no matter what, just as you are, and you are always forgiven. I expect nothing and am grateful for everything. I give you the truth only and always. You are learning in the perfect way." Rodgers shared the tweet from 2019 with two red emoji hearts.
Rodgers revealed on "The Pat McAfee Show" on February 22 that he had just finished a 12-day cleanse for "recentering" — focusing on minimizing mental stress while enjoying meditation. "I was going through some old pictures from last year and felt an intense amount of gratitude for the life that I have and for the lessons that I've learned and the growth that's happened in the last year and the people who've been a part of that journey." He also opened up briefly about how his relationship with Woodley introduced him to unconditional love. "[When] you have an amazing partner to do life with, it just makes the work life a bonus," Rodgers told McAfee. It is clear there is a lot of change, reflection, and evaluation of the future on the horizon for the athlete and only time will tell how the dynamic between Woodley and himself will evolve.