Britney Spears Reveals The Heartbreaking Reason She Has Cried So Much Over Her Sons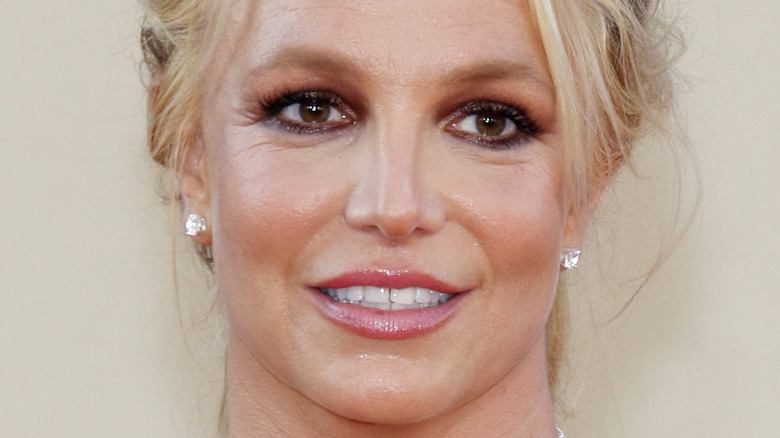 Tinseltown/Shutterstock
Britney Spears plays a lot of roles in her life, including that of a mother and a partner. The singer has been going strong in her relationship with Sam Asghari, and in September 2021, he asked the pop princess to be his wife. The pair has dropped a few bombshells throughout their relationship, including one on Asghari's birthday. "Such an amazing pic of my husband @samasghari !!!! He's such a hard worker, and he amazes me each day with his passion for life !!!!" Spears raved. "I'm so lucky to be able to share my life with him .... HAPPY BIRTHDAY," she gushed on Instagram. Wait, did she just say husband?
As fans know, Asghari isn't Spears' first husband. The singer married Jason Alexander for about 55 hours in 2004, and she was also linked to Kevin Federline. Spears and Federline had two children together, Sean Preston and Jayden James. Spears doesn't post photos of her two kiddos often, but it's always super sweet when she does. "It's so crazy how time flies .... My boys are so big now !!!!" she wrote in March 2021 on a photo of herself and her boys hiking. " I know ... I know ... it's very hard for any mama, especially a mama with boys seeing them grow up so fast !!!! Talk about enough to make you go to your knees ... GEEZ !!!! "
Spears is now sharing with fans why her boys have her in tears.
Britney Spears says time is flying
It's hard to believe that Britney Spears already has a pair of teenagers on her hands. The singer took to Instagram to share a series of images where she sported a black dress with red hearts. The curve-hugging ensemble fell off of Spears' shoulders, and its short length showcased her muscular legs. In one of the images, she held her dog, Sawyer. But the songstress didn't make her post about fashion; instead, she took a little trip down memory lane.
"My baby is getting bigger ... I will just say it just like when my boys got bigger," she wrote, adding that "IT LITERALLY SUCKS. They dont [sic] need me anymore." Spears shared that she has cried "oceans" for her boys. "Hopefully one day I can show recent pics of us but in the meantime, I respect their wishes !!!!" she added. " Oh well ... but Sawyer ... yes, he's bigger but he will always need me and I like that." According to Page Six, Sean Preston is 16 years old, while Jayden James is a year younger.
Spears has not been shy about sharing her desire to become a mom again, this time with Sam Asghari. "I would like to progressively move forward and I want to have the real deal. I want to be able to get married and have a baby," she said at her conservatorship hearing, per People. "I have an [IUD] inside of myself so I don't get pregnant. [My conservators] don't want me to have children — any more children."