The Truth About Jason Momoa's Relationship With Amber Heard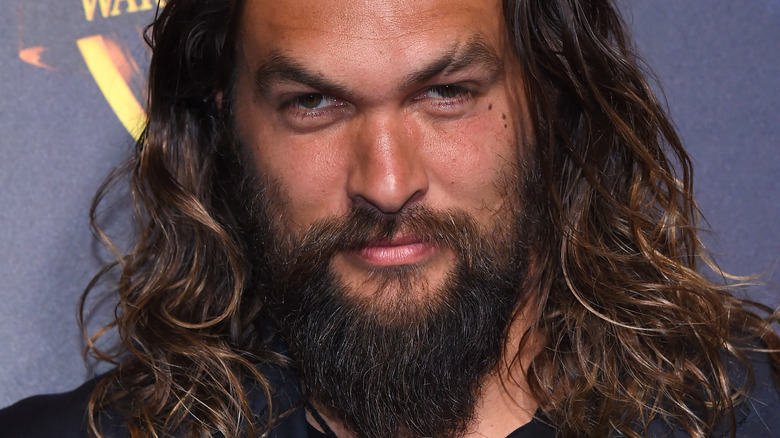 DFree/Shutterstock
Jason Momoa and Amber Heard have been making a lot of headlines lately — but for totally different reasons. There's been a lot of speculation about Momoa's love life now that he and his partner Lisa Bonet have called it quits after 16 years together. Amid the break-up news, the "Game of Thrones" star was forced to set the record straight after there were some rumors between him and Kate Beckinsale. "Absolutely not, not together," he told Extra! about the Beckinsale rumors, which heated up after he was seen lending the actor his coat at an event. "She is very nice," he explained, "I was being very nice, just being a gentleman. Now, I am not giving my coat to anyone."
Heard, meanwhile, has been dealing with all of the nonstop legal drama between her and her ex-husband Johnny Depp, who is suing the "Magic Mike XXL" actor for defamation, per NPR. Heard made a rare public statement about Depp, explaining that while she'll always have love for her ex-husband, writing on Instagram that "it brings me great pain to have to live out the details of our past life together in front of the world."
While 2022 has certainly been a rollercoaster year for both Momoa and Heard individually, many can't help but wonder exactly what went on between the two stars several years ago.
Jason Momoa and Amber Heard's friendship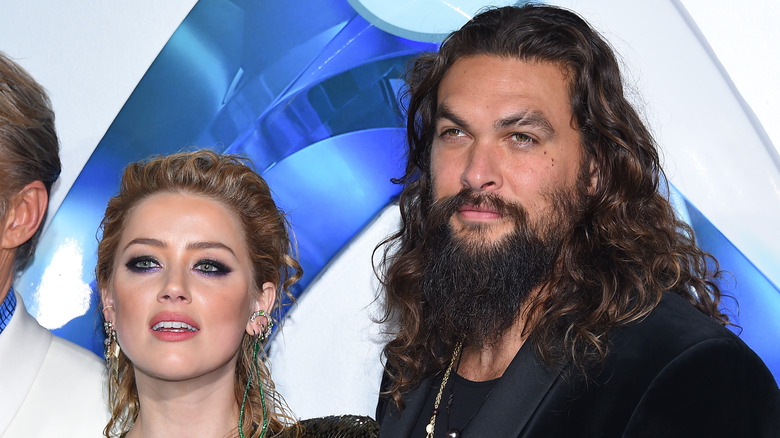 DFree/Shutterstock
Jason Momoa and Amber Heard's relationship isn't what you would expect. The two got rather close while filming "Aquaman" back in 2017 — as friends, of course. The two loved to joke around with one another, and even had silly spats the way close siblings do. During an interview with "Good Morning America" back in 2018, Heard explained that Momoa had a particular way of getting her attention whenever he was in need of it. Explaining that he is "allergic to being ignored," she said, "He adopted this method of ripping out the pages of my book, so I would pay attention to him. It would drive me crazy because I'd have 30 pages left, and it would be gone."
If that weren't enough, a lot of people have also noticed that Momoa and Heard did share a lot of photos of them together on social media. There are some posts of Momoa and Heard dressed in matching accessories and looking playful at sporting events. While to some people it was obvious that they were friends, others couldn't help but wonder if they were also romantic pair. Some social media comments have even included, "Very ACCORDINGLY CUTE COUPLE," along with, "Soul twins." Of course, their closeness prompted a lot of people to wonder what was really going on between them. 
Were Amber Heard and Jason Momoa ever more than friends?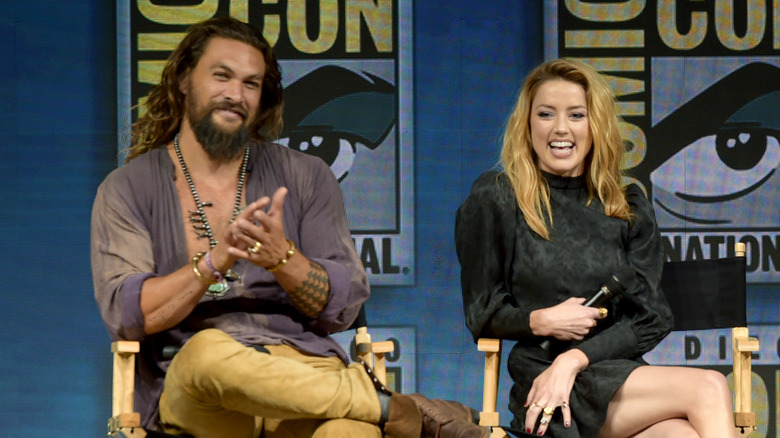 Kevin Winter/Getty Images
While they were filming "Aquaman" in 2017, there was speculation that Jason Momoa and Amber Heard were more than just co-stars and good friends. Those claims have never been confirmed though, as Momoa was still very close to Lisa Bonet, while Heard was reportedly dating Elon Musk at the time, even though they did break up at the beginning of 2018, as detailed by People. Plus, Momoa and Bonet quietly got married in October 2017, according to NBC News, which was about the same time that he was spending a lot of time with Heard. 
That said, it seems like Momoa's friendship with Heard was and still is nothing more than the supportive kind. Even though he has never said anything on the record about her ongoing drama with Johnny Depp, Momoa did congratulate his co-star when she welcomed her daughter Oonagh in July 2021. Momoa wrote "congratulations" alongside a red heart emoji under Heard's Instagram post. And while it seems like Momoa wants to keep his distance from her legal troubles, Hollywood Life reported that Momoa's text messages with Heard are expected to be made available during Depp's defamation trial against Heard – though it's unknown what those texts will reveal. That said, it appears that any rumors or reports that the two "Aquaman" co-stars were romantic are nothing but myth.