Will Smith's Career Reportedly Suffers Yet Another Blow After Oscars Slap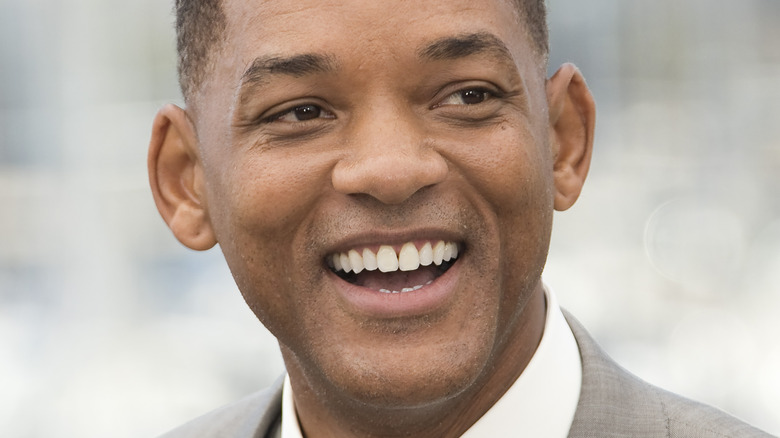 BAKOUNINE/Shutterstock
Will we, as a society, ever fully recover from Will Smith slapping Chris Rock in the face at the 2022 Oscars? From the looks of things — no. In the weeks since the actual event, Smith's career seems to have been in a bit of a free fall. After releasing several apologetic statements, Smith then decided to resign from the Academy. At the time, he said, in part, "I betrayed the trust of the Academy. I deprived other nominees and winners of their opportunity to celebrate and be celebrated for their extraordinary work. I am heartbroken."
The resignation wasn't the only consequence of Smith's behavior. He was also banned from attending any Oscars events, either live or virtually, for a period of 10 years. He responded to the decade-long ban by stating, "I accept and respect the Academy's decision." Meanwhile, the head honchos from the Academy explained the move was "a step toward a larger goal of protecting the safety of our performers and guests, and restoring trust in the Academy."
Smith has also, according to NME, been losing film projects left and right. Netflix has already stopped production on a crime thriller set to star Smith called "Fast and Loose," Sony has paused on "Bad Boys 4," and Apple TV+ has been quiet about the release of the movie, "Emancipation." And that's not the last of it either. The latest news indicates that Smith has been hit with yet another blow to his career in the wake of The Slap. 
Will Smith has lost more on-screen projects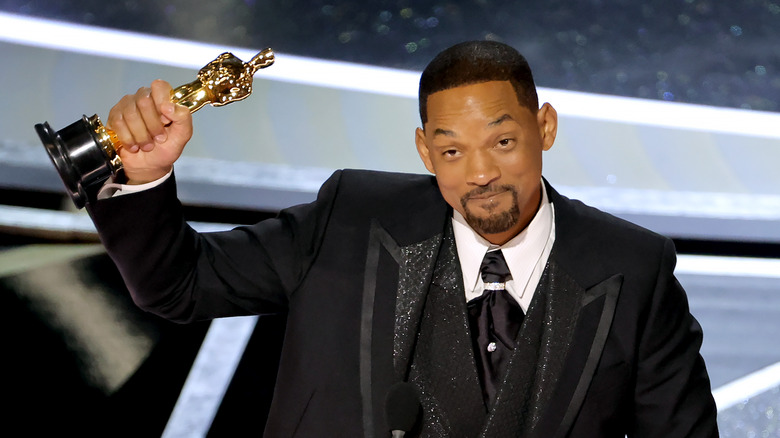 Neilson Barnard/Getty Images
According to Bloomberg, National Geographic has decided to pump the brakes on a nature show called "Pole to Pole," which was supposed to follow Will Smith as he visited the North and South Poles. The show was supposed to start filming in a matter of weeks, but has now been delayed until the fall, apparently, during which time literally anything could happen (this is the year 2022 after all).
Meanwhile, the New York Post reported that Netflix has also canceled the sequel to "Bright," starring Smith. As fans may recall, "Bright" was a 2017 Netflix movie. Here's the plot synopsis, straight from the streamer: "In an LA rife with interspecies tensions, a human cop and his orc partner stumbled on a powerful object and become embroiled in a prophesied turf war." Though the decision to put the kibosh on a second "Bright" was apparently unrelated to The Slap, it certainly doesn't help things for the erstwhile Fresh Prince in the career department. 
Things are obviously not going fantastic for Smith at the moment, but that doesn't mean he's gone for good. Whoopi Goldberg, for one, fully believes that his career will bounce back, and everything will once again be coming up Smith one day in the future. In early April, she said on "The View" (via Variety), "The question is does he have a path back? Yes, of course he does! He will be fine. He will be back. No worries." Hey, we've seen bigger comebacks than this. It's not impossible.
As Will Smith's career takes a hit, Chris Rock moves forward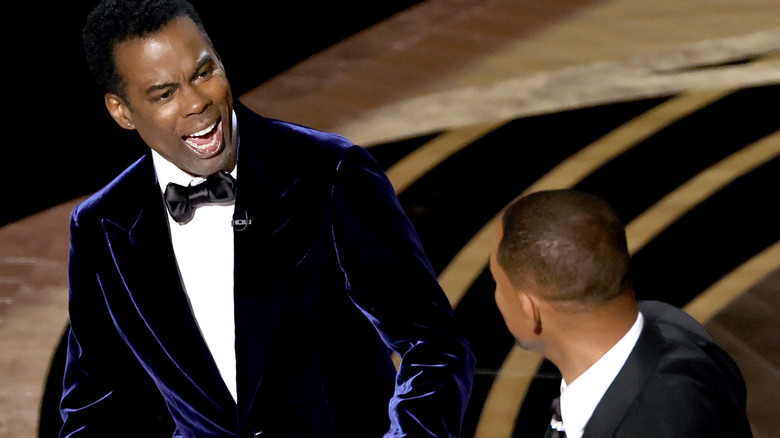 Neilson Barnard/Getty Images
While the fate of Will Smith's career hangs in limbo, there's one person who continues moving forward — and that would be the recipient of The Slap, Chris Rock. However, don't think he's necessarily milking the moment. Rock has continued his comedy tour as planned and barely even touched the topic. At his show in Fantasy Springs earlier in April, Rock said (via the Palm Springs Desert Sun), "I have a whole show and I'm not talking about that until I get paid. Life is good." In other words, he's not spilling about the Oscars incident unless some extra cash rolls in, but either way, he's "good."
Even though Rock isn't talking about the Oscars moment much, his family is definitely not staying silent. After two of his brothers previously addressed the topic, Rock's mother Rose is the latest to speak out. She took personal offense to the incident, explaining to South Carolina's WIS 5, "When he slapped Chris, he slapped all of us ... He really slapped me." She also wanted more of an apology on her son's behalf, telling the news outlet, "I mean [Smith's] people wrote up a piece saying I apologize to Chris Rock, but you see something like that is personal, you reach out."
Maybe now that his on-screen projects are slowing down, Smith can take the time to properly apologize to the comedian? Sure, he's released several statements at this point, but according to Rock's own mom, it's not enough.