Aaron Carter's Dramatic New Look Makes Him Completely Unrecognizable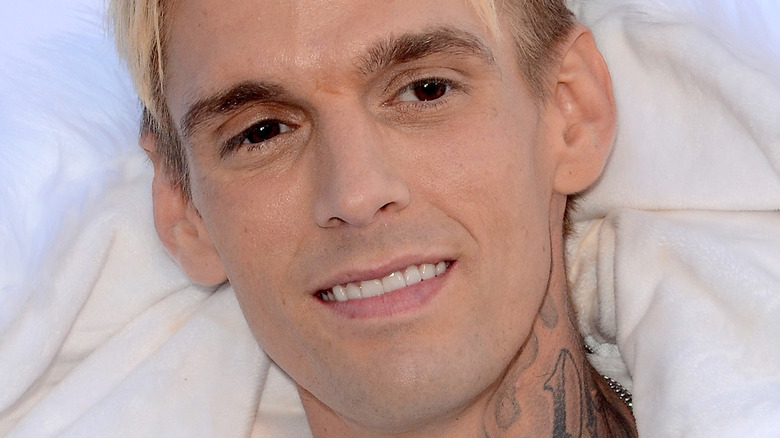 Kathy Hutchins/Shutterstock
Most '90s kids will remember Aaron Carter — the spunky little brother of Backstreet Boys' star Nick Carter. Just like his big bro, Aaron had what it took to become a pop star, debuting catchy tracks in the early '00s, ranging from "That's How I Beat Shaq" to "Aaron's Party." And who could forget his iconic cover of "I Want Candy"? Despite his sweet start, he also faced his share of typical adolescent drama, like being involved in a supposed love triangle with fellow teen royalty, Lindsay Lohan and Hilary Duff.
As Aaron got older, the drama he dealt with got much more serious. From publicly feuding with his brother Nick and miscellaneous other celebrities (ahem, Jesse McCartney), to losing his sister Leslie Carter from a drug overdose, to finding himself at the receiving end of a restraining order and domestic violence allegations, to spending time in rehab, he's really been through the ringer. He's also been in the spotlight for some happier news at least, including welcoming a son named Prince Lyric Carter in November 2021.
Another reason that Aaron has made headlines over the years? He's become quite the tattoo connoisseur. His collection includes some pretty prominent neck and face tattoos. And now those particular tattoos will be all the more on display, because he recently debuted a new haircut that'll have fans doing a double-take. In fact, he almost looks like a completely different person. Ready for the reveal?
Aaron Carter called his last haircut 'trash'
Aaron Carter was initially iffy about such a drastic change. He explained on Instagram, "Shaved my head and I wasn't entirely sure how i would like it? But I love it!!!" He admitted he "literally thought [his] head would look more awkward" and threw in a "lol!!" for good measure. But before you go and criticize his newly shaved head, he doesn't care. He added, "F**k what anyone thinks ... I LOVE IT!" He must really love it, if he said so twice.
However, it seems like he anticipated the worst reaction without good reason — as most comments skew positive. One person wrote, "Mr. cleaned it. Nice," while another said, "It take confidence to do this good job brother." Someone else joked Aaron may have a celeb doppelgänger in Travis Barker, commenting, "thought kourtney posted this [of] Travis." Hey, they do have the shaved-head-tattooed-face look in common! As for why he opted for the look, Aaron matter-of-factly explained, "My last haircut was trash and I had to start over....."
Some commenters were convinced it must be a filter. Of course, the tiny red butterflies and sparkles are a filter, but the haircut seems to be the real deal. And it's not his only recent change. In late March, Aaron showed off a giant blue butterfly inked on his face in honor of his late sister Leslie, explaining, "I always wanted to make her proud." He also wrote, "this is my body" — and indeed, he has no qualms about switching up what he does to it, regardless of what anyone thinks.