Amy King Issues Emotional Public Plea To Anna Duggar Ahead Of Josh's Sentencing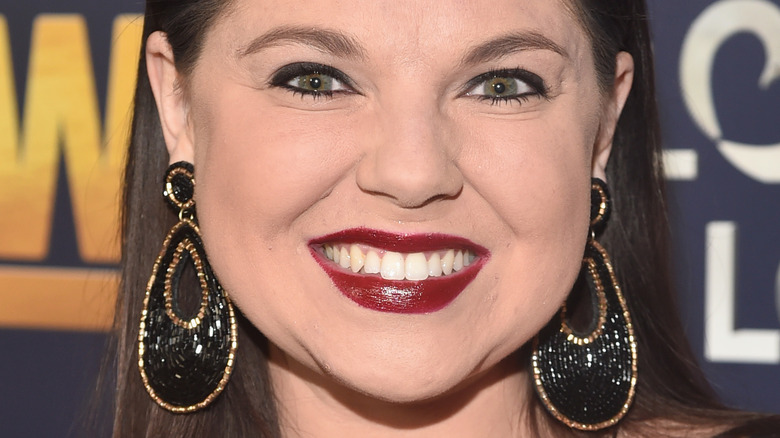 Alberto E. Rodriguez/Getty Images
As many await Josh Duggar's official sentencing after his guilty verdict, many have been looking to Anna Duggar, Josh's wife, to see how she is dealing with the horrific crimes of her husband. Since the beginning of Josh's charges for downloading and possessing child sex abuse materials, Anna has been standing by his side, and the two even welcomed their seventh child together two weeks before Josh's trial officially began. After he was found guilty, Anna posted on her Instagram a link to Josh's attorney's request to the court for acquittal with the caption, "There is more to the story." It is clear that Anna still publicly supports Josh, even despite his guilty verdict, which came seven years after his cheating admission in 2015, per Us Weekly. She even reportedly wrote a letter to the judge praising his character, in hopes of lightening his sentence, according to Radar Online.
But what about Amy King, aka Amy Duggar, the cousin of Josh and the Duggar family? Unlike Anna, Amy has long been denouncing her cousin's deplorable actions and has been one of the few members of the Duggar family to do so. Now, Amy is reaching out to Anna publicly in order to hopefully get the message through that it's okay for her to leave Josh, despite what she might have been led to believe about divorce.
Amy King urges Anna Duggar to leave Josh
On May 17, Amy King, who has distanced herself from the Duggar family, posted a photo of her and Anna Duggar hugging on Amy's wedding day with an emotional caption in the hopes of getting Anna to come to her senses about Josh. "No woman wants to be in your shoes," Amy begins. "You're faced with an impossible decision and you're being surrounded by the wrong kind of support."
Amy suspects that the Duggar's faith — and the ultra-conservative community in which she was raised — are what's keeping Anna in her marriage. "If no one else in your life is saying it, Amy continued. "I need you to understand that there is no shame in divorcing Josh." She mentions the fact that Anna's own father wrote to the judge ruling on Josh's case, which advocated for lighter sentencing, per Fox. "Someday your kids will be old enough to understand what kind of guy their father really is," Amy noted. "I'm saying all of this publicly so that when they do grow up, they will also know that they had family members shouting from the rooftops that they were worth protecting all along." 
Of course, the public can never know what is going through Anna's head. And it's possible when Josh is sentenced on May 25, she'll change her support. But whatever the outcome might be, it's clear Amy is here for Anna. "Dillon [Amy's husband] and I are more than willing to help you," she assured.