Kanye West Seemingly Lashes Out About Custody Drama With Kim Kardashian In New Song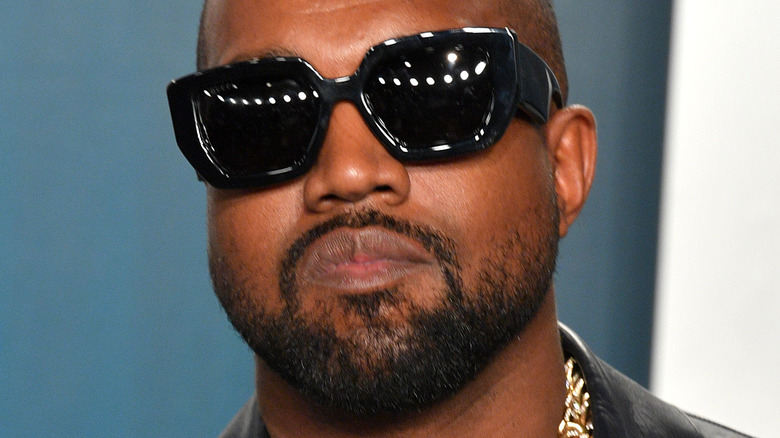 George Pimentel/Getty Images
Kanye "Ye" West and Kim Kardashian's relationship always feels like it couldn't get any messier ... until it does. Over the past few months, Ye has repeatedly instigated drama with Kardashian's current boyfriend Pete Davidson. It's been revealed that Davidson and Ye have exchanged some heated texts, and Ye even depicted Davidson in a disturbing music video for his song, "Eazy." Davidson has also stirred up the hornet's nest himself, reportedly getting tattoos related to Kardashian and her children with Ye.
Through it all, Kardashian has tried to refrain speaking negatively of her ex, but she's even cracked a few times. After Ye expressed concern about their oldest daughter North's TikTok presence in February, Kardashian finally laid into Ye in an Instagram Story, writing (via People), "Kanye's constant attacks on me in interviews and on social media is actually more hurtful than any TikTok North might create." The reality star continued, "Divorce is difficult enough on our children and Kanye's obsession with trying to control and manipulate our situation so negatively and publicly is only causing further pain for all."
Months after Kardashian used social media to air grievances amid the pair's divorce and custody battle, Ye is hitting back in a new release.
Kanye Ye West puts Kim Kardashian on blast in True Love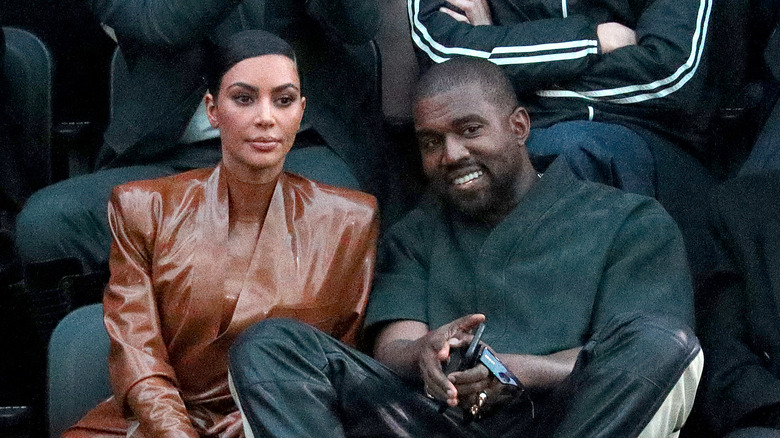 Pierre Suu/Getty Images
In Kanye "Ye" West's new song "True Love," the opening verse is clearly firing shots at Kim Kardashian. Most notably, it expresses dissatisfaction with their custody schedule, with Ye rapping, "When I pick 'em up, I feel like they borrowed / When I gotta return them, scan 'em like a bar code." Furthermore, the rapper criticizes Kardashian's outfit choices for their children, spitting, "Wait, why can't they wear Yeezys with the cargos?" in a reference to his famed sneaker line.
Even though Kardashian previously called Ye out for publicly commenting on their relationship, he isn't going down without a fight. Coupled with his shady track "Eazy" and music video depicting the burial of a stop-motion Pete Davidson, it seems he'll keep prodding Kardashian for a reaction until they reach either a resolution, or, more likely, a boiling point.
"True Love" appears on "Look at Me: The Album," the soundtrack for a documentary about late rapper XXXTentacion, who was murdered in 2018. Vocals from XXXTentacion also appear on the song, as he recorded them before his death, according to the song's producer John Cunningham. This isn't Ye and XXXTentacion's first collaboration; Ye previously featured on his song "One Minute," along with Travis Barker, who is now married to Kourtney Kardashian. With multiple musicians still in the family, such as Barker and Kylie Jenner's boyfriend Travis Scott, perhaps one of them will jump to Kim's defense in a musical clapback.