Inside Erika Jayne And Yolanda Hadid's Friendship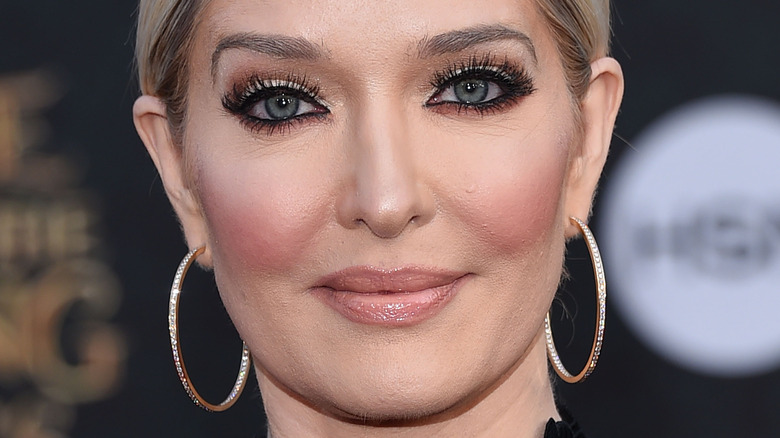 DFree/Shutterstock
"The Real Housewives of Beverly Hills" is a tricky spot for friendships. Lisa Rinna, for one, has had a very public feud with former friend, Denise Richards. Kyle Richards, meanwhile, has a legendary on-and-off relationship with her sisters, Kim Richards and Kathy Hilton. However, every once in a while, fans bear witness to a friendship that withstands the test of time. Such is the case with Yolanda Hadid and Erika Girardi — known also by her stage name, Erika Jayne.
As longtime fans of the show will remember, Jayne was first introduced to audiences as a friend of Hadid's (then Yolanda Foster) in the show's sixth season. Per Jayne's tell-all memoir, "Pretty Mess," Hadid got the ball rolling with her casting when the two were talking about the singer needing to "pivot." "She was holding her cellphone and started typing out a message, right there. 'I'm gonna text my boss and let him know that he should talk to you about being on the show.'" Several years and many seasons down the line, and the rest is history!
However, since Jayne's debut, much has changed in both women's lives. Hadid quit the show at the end of Season 6. She also went on to divorce husband David Foster. Jayne, meanwhile, has had her own share of difficulties: a divorce from her husband of more than 20 years, Tom Girardi, and endless legal woes that only seem to get worse. That said, through it all, it seems Jayne's friendship with Hadid has never wavered.
Erika Jayne and Yolanda Hadid face life's biggest challenges together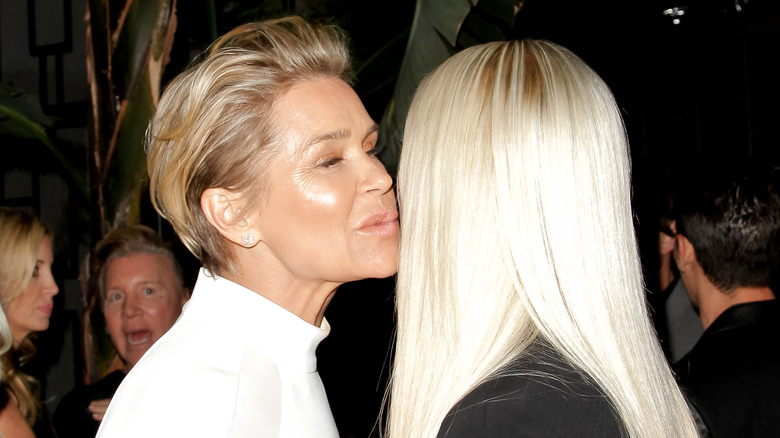 Tibrina Hobson/Getty Images
Erika Jayne's life today may be a whirlwind of legal woes, but this isn't the first time she's had a link to high-profile proceedings. Quite the contrary because, while not involved, per se, back in the '90s, Jayne had links to another jaw-dropping case. That is, the O.J. Simpson trial. Jayne's connection came as a result of her friendship with one of Simpson's lawyers, Robert Shapiro.
As for how this all ties into Jayne's friendship with Yolanda Hadid, the singer revealed in "Pretty Mess" that Shapiro was a mutual friend. In fact, he was the person who introduced the couples in the first place. "Our good friend Robert Shapiro... had introduced us to David years before, and we'd all become friends."
Since their first meeting, much has changed for both ladies. However, throughout those changes, they've continued to play a role in one another's lives, especially when it comes to the big stuff. As Jayne told her "Real Housewives of Beverly Hills" co-stars in a Season 11 episode, it was Hadid's divorce from David Foster that prompted her to ask questions about her own marriage. It also ultimately led to her unearthing her husband's affair. "After Yolanda divorced David, I just opened [Tom's] phone, and I was like, 'wow, okay.'"
Erika Jayne was upset when Yolanda Hadid left the show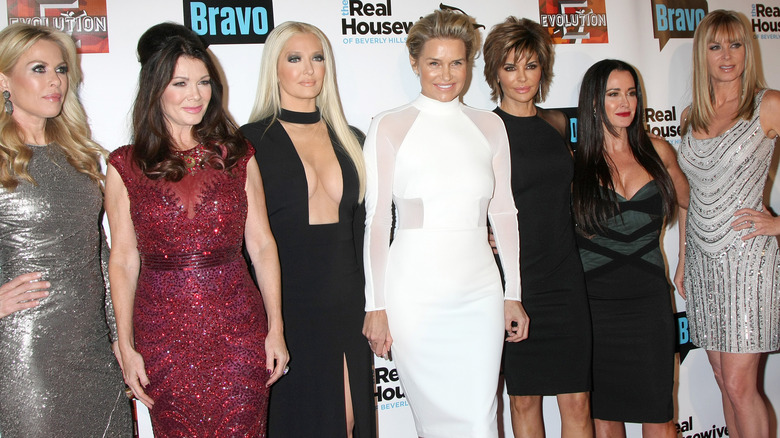 Kathy Hutchins/Shutterstock
Erika Jayne and Yolanda Hadid may have continued their friendship outside of "The Real Housewives of Beverly Hills," but that's not to say the singer wasn't upset when the former model left the show. Speaking to Bustle back in 2016, Jayne joked that initially, she felt abandoned by the very friend who had brought her onto the show. "Dammit. How could you leave me here, right here right now? Why are you leaving me?" She also admitted that much of her reaction owed to her feeling nervous to go on without Hadid. "You know, I lost my buddy, which was scary for a second."
Luckily, Jayne did go on to build relationships with the rest of her co-stars — what would the show be like without Jayne's friendship with Lisa Rinna? — and she credited Hadid's departure for that. "I really got to know everyone else a little bit deeper."
That said, even though Hadid's exit from "The Real Housewives of Beverly Hills" paved the way for Jayne to cement herself as one of the premiere cast members, she has nothing but love for the mom of Bella and Gigi Hadid. When asked by Bustle if the two were still friends in real life, Jayne did not need to think twice. "Well, of course. Are you kidding?" Outside of mentioning Hadid last season, Jayne hasn't spoken of the former model much in more recent years — publicly, anyway. However, with the history these two share, we have a feeling their friendship is doing just fine.