Are Jill Zarin And Luann De Lesseps Still Friends?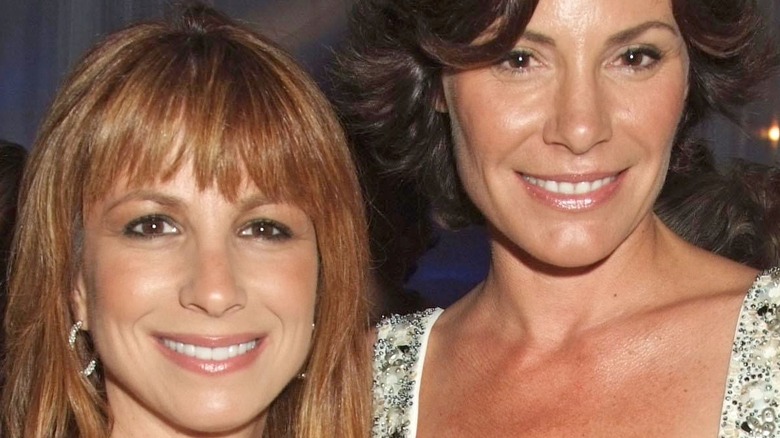 Everett Collection/Shutterstock
The "Real Housewives" franchise is known for alliances among the ladies: some genuine friendships, and others not so much. For every inseparable bond like the Green Eyed Bandits or Bad Weather, there are twice as many that don't go the distance. For example, Nene Leakes and Kenya Moore only briefly got along to vanquish Kim Zolciak-Biermann from "The Real Housewives of Atlanta" before turning against each other again, and Vicki Gunvalson and Tamra Judge both claim Shannon Beador stopped talking to them after their departure from "The Real Housewives of Orange County." Even more than designer clothes and table flipping, the franchise is most defined by its falling-outs.
One of the earliest of these alliances was between Jill Zarin and Luann de Lesseps of "The Real Housewives of New York City." Besides bonding over being wives and mothers in the Big Apple, often with model Kelly Killoren Bensimon in tow, they also shared a dislike for the same people: Ramona Singer, Alex McCord, and eventually Zarin's former best friend, Bethenny Frankel. Zarin and de Lesseps became increasingly close, even skipping Season 3's infamous "Scary Island" cast trip to hang out together, at least before Zarin crashed it. Although the risky move sealed Zarin's downward trajectory in the "Housewives" universe, she's back in the mix once again.
Now that Zarin is returning for "The Real Housewives Ultimate Girls Trip" Season 2, people are curious whether she stayed in touch with her fellow "RHONY" all-star.
Jill Zarin and Luann de Lesseps still talk (a lot)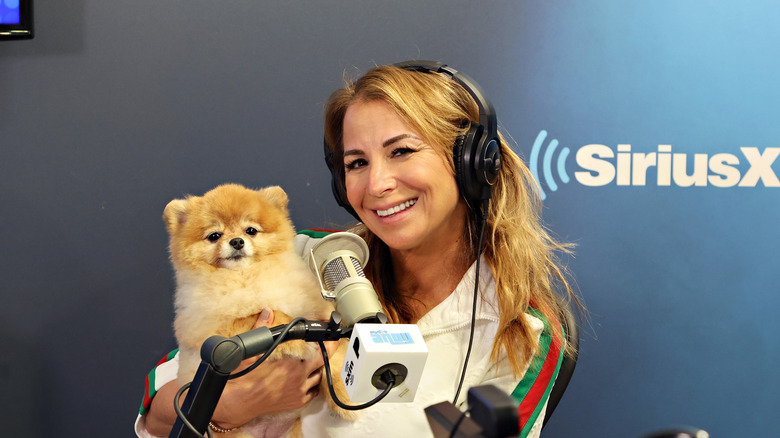 Cindy Ord/Getty Images
Even though Jill Zarin exited "RHONY" after Season 4 while Luann de Lesseps stayed to present day, the yenta and the Countess are still going strong. In fact, throughout Zarin's absence on the show, de Lesseps has repeatedly advocated for her return, whether as a full-time housewife or in a smaller role. From 2017 to 2020, she appeared on "RHONY" as a guest, most notably filming husband Bobby Zarin's funeral in 2018 and reuniting with Bethenny Frankel at the service. While the former best friends didn't keep talking after that, the scene provided closure for fans who loved seeing them together in the show's early years.
However, that same year, Zarin and de Lesseps had a social media exchange confirming their continued friendship. After de Lesseps shouted out Zarin's fabric business, Zarin tweeted, "She has always been a loyal caring friend who has my back and I have hers." This lines up well with what we've seen on the show: During Seasons 3 and 4 especially, they defended nearly everything the other did even when it didn't go over so well with their co-stars or the audience. Shortly after, de Lesseps reposted the tweet on her Instagram Story, adding, "I'm the type of girl that's always loyal till the end," a lyric from her groovy song "Girl Code."
The lyrics still ring true years later, with de Lesseps more recently giving Zarin some "Ultimate Girls Trip" advice.
Luann de Lesseps helped Jill Zarin prepare for Ultimate Girls Trip 2
When Jill Zarin called Luann de Lesseps and asked her how to approach season 2 of "The Real Housewives Ultimate Girls Trip," the Countess' advice boiled down to one of her signature quotes: "Be cool, don't be all, like, uncool." Okay, those weren't her exact words this time, but it was the same idea. On "Watch What Happens Live," De Lesseps revealed that she told Zarin, "Jill, just do like you do Jill Zarin ... Just go in there with no expectations."
De Lesseps previously appeared on Season 1 of the Peacock crossover show, with "RHONY" co-star and eternal frenemy Ramona Singer. Throughout the trip, she was repeatedly embarrassed by Singer's behavior around the other ladies, feeling the need to apologize for it since they were on the same show together.
Zarin isn't the only "RHONY" cast member joining Season 2: In fact, Dorinda Medley is hosting the all-star gathering at her Blue Stone Manor in the Berkshires. Besides Zarin's guest appearances on "RHONY," her time on the show hasn't overlapped with Medley's, so it should be interesting to see how their personalities clash. In the trailer, Medley can be seen telling Zarin, "I was on a show you're no longer on." She's startin'! Given that they're still very much connected, perhaps we'll see Zarin and de Lesseps' friendship on the "RHONY: Legacy" spinoff. Despite not being on screen together lately, they're still in the same fabulous circle of people.