How Much Money Did Sonja Morgan Get In Her Divorce?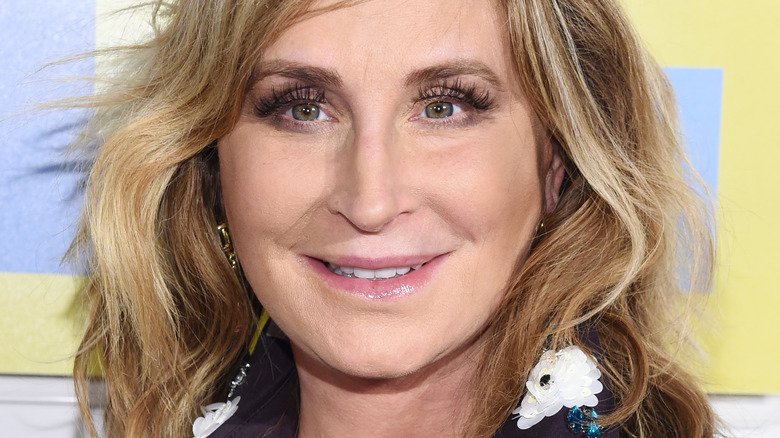 Jamie Mccarthy/Getty Images
Of all the Real Housewives across the franchise, few have been more defined by their divorce than Sonja Morgan. Although her ex-husband, John Adams Morgan of the banking dynasty, has never once appeared on "The Real Housewives of New York City," Sonja's former life as Lady Morgan hangs over her Upper East Side townhouse like a dark cloud. Ever since joining the series in 2010, Morgan's riches-to-rags storyline has followed various attempts to reestablish herself financially, each more confusing than the last: film production, an event planning company, liquor and clothing lines, a Nigerian football team, caburlesque, and last but certainly not least, a long-since-abandoned toaster oven. Additionally, she's had many a meltdown when recalling the glitz and glamour of her past marriage, which she's often accused of dwelling on. You don't touch the Morgan letters!
Given Morgan's mixed success with getting her business ventures off the ground, viewers might be curious to know just how much she received in her divorce. After all, despite her 2010 bankruptcy and a few eccentricities like brown refrigerator ice and washing her face in the bidet, she's still managed to keep up appearances with co-stars Luann de Lesseps and Ramona Singer in the lifestyle department. But how does she do it, and how much is her ex-husband to thank?
Sonja Morgan's divorce left her high and dry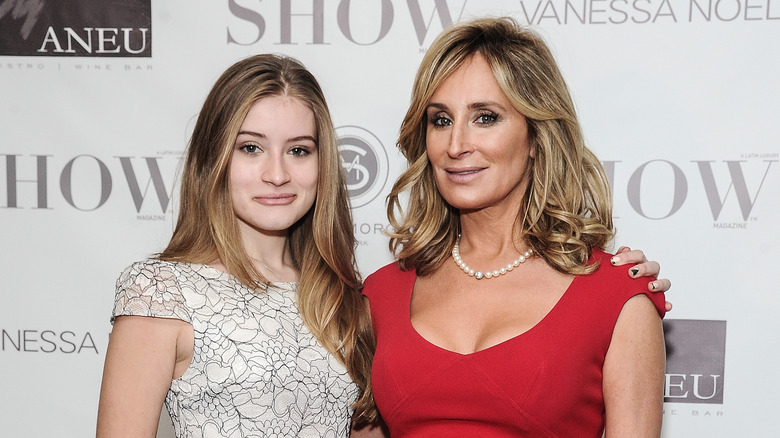 Daniel Zuchnik/Getty Images
At first glance, Sonja Morgan seems to have made out like a bandit after her 2006 split. The public divorce settlement between her and ex-husband John Adams Morgan revealed that she was awarded a whopping lump sum of $3 million, per Casetext. Meanwhile, other Housewives in similar positions have received far less: Shereé Whitfield of "The Real Housewives of Atlanta," who fits the divorced-and-rebuilding archetype of that series, earned just $1 million in her split from NFL player Bob Whitfield. The Morgans' divorce settlement also states that Sonja would receive $12,500 in monthly child support for their daughter Quincy, which totals out to $150,000 a year.
Just by looking at the official court document, one might be confused about Morgan's post-divorce financial status — she's notoriously frugal on the show, largely living in the same townhouse and employing unpaid interns over the course of her 11 featured seasons, and it wouldn't make sense for the money to dry up so quickly. As it turns out, she never actually received it: Upon being ordered to pay the $3 million lump sum, John Adams Morgan claimed he was "destitute" and unable to do so, per the American Bankruptcy Institute. To make matters worse, Sonja invested in and then pulled out of a John Travolta film, leading to millions in debt, bankruptcy, and even a lawsuit. Fortunately, she's finally on the right track, with her financial and legal issues long behind her.
Sonja Morgan has multiple streams of income today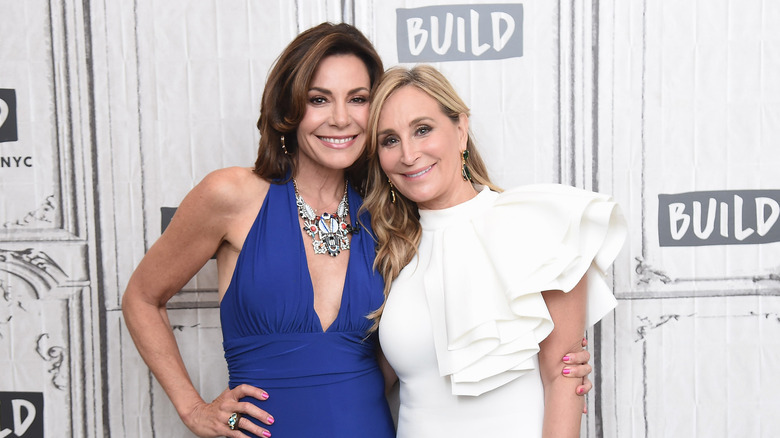 Gary Gershoff/Getty Images
Equally stressful and entertaining to watch over the years, it's bittersweet knowing that Sonja Morgan's financial issues have finally come to a close. In 2019, she revealed on "Watch What Happens Live with Andy Cohen" that she's in a better place today. "I have an 18-year-old to get through college ... but I'm out of my Chapter 11 reorganization, which means I paid 100% on the dollar," she explained. Although Morgan never got the divorce settlement she wanted, she's been able to stay afloat through other means.
While many Real Housewives would still be wealthy without appearing on TV, Morgan seems to fall into the category that uses the show's salary as their primary source of income. As of 2022, she's reportedly worth $8 million, and gets paid $465,000 per season of "The Real Housewives of New York City" (per Celebrity Net Worth). Although the structure of the show has been canned after the polarizing Season 13, Morgan is currently filming a spinoff with co-star Luann de Lesseps, and seems like a shoo-in for the upcoming "RHONY: Legacy" series. Even if her participation doesn't pan out, it seems like she's doing better than ever.
In addition to "RHONY," Morgan charges $99 per order on Cameo, and has finally managed to kick off that "international fashion lifestyle brand" she once bragged about: A look at her Linktree showcases a sangria line, a shoe collection, and even a standup comedy tour. However, don't hold your breath for the toaster oven!