Kim Zolciak Reveals Who Is Sliding Into Brielle Biermann's DMs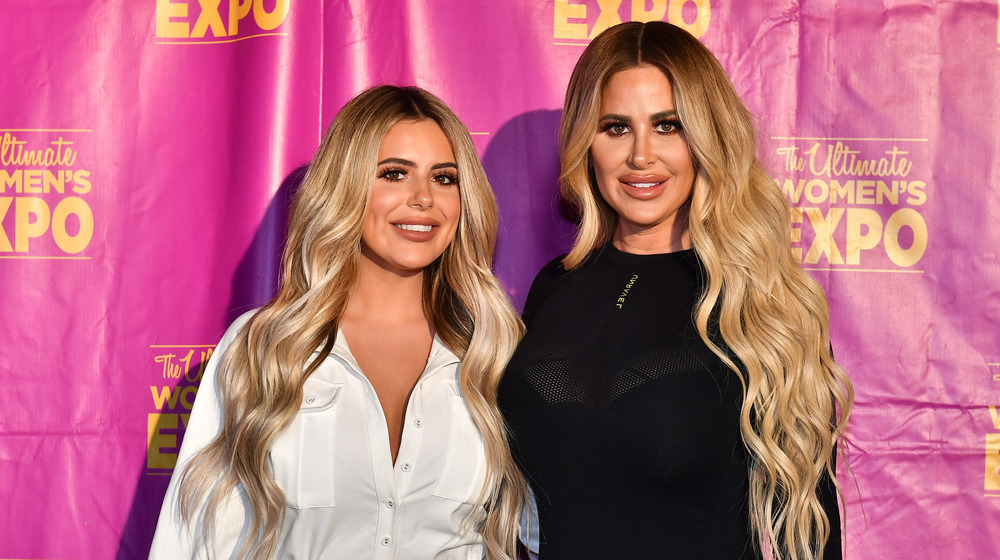 Paras Griffin/Getty Images
Just like her mother Kim Zolciak, Brielle Biermann is a hot commodity. The beauty has caught the attention of some of Hollywood's hottest men and ESPN's favorite players. Previously, the Don't Be Tardy star was linked to White Sox pitcher Michael Kopech for nearly two years before the pair split in 2018. After the breakup, Kopech went on to marry, divorce, and have a child with Riverdale star Vanessa Morgan. While it looks like Brielle dodged a bullet there, she revealed that Kopech "blocked" her after their split, per Us Weekly, adding, "I'm not a bitter ex."
Since parting ways with Kopech, Brielle appeared to move on to UCLA basketball player Justin Hooper after they were spotted together at Tana Mongeau and Jake Paul's "wedding" in July 2019. It looks like their romance fizzled by November after Brielle confirmed she was "single" during an Instagram Q&A, per Distractify.
While Brielle may be single now, she won't stay on the market for long. Brielle is looking for some "excitement" and someone who gives her a "reason to travel," she told Us Weekly in September 2020. As of late, Brielle gets DMs from "all walks of life," Kim chimed in at the time. "I've seen more d**k pics on Brielle's phone in a day than I've ever seen in my entire life," she joked. However, Kim said she's been seeing a common denominator in her daughter's recent suitors.
Keep scrolling to learn more about who has been sliding into Brielle's DMs.
Kim Zolciak says tons of athletes are knocking on Brielle Biermann's door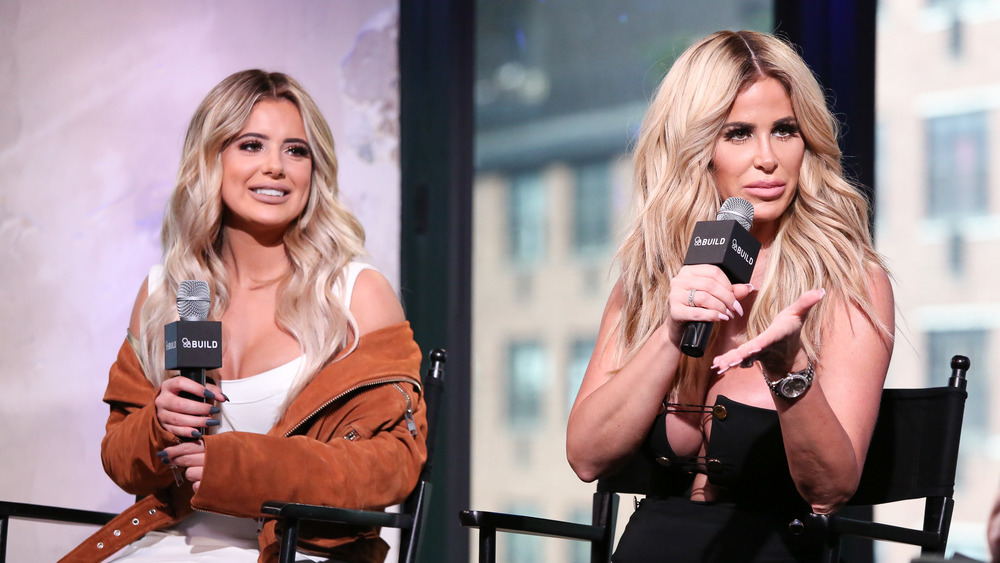 Rob Kim/Getty Images
It looks like Brielle Biermann might be following in mother Kim Zolciak's footsteps, considering her affection for professional athletes. The former Real Housewives of Atlanta star — who married former Atlanta Falcons defensive end Kroy Biermann in 2011 — revealed, "A lot of athletes DM Brielle," on the Dec. 14 episode of the HollywoodLife Podcast.
Since Kim and Kroy got together, the pair welcomed four more children and appear to be going strong. While the couple's relationship gives Brielle a lot to look up to, Kroy's ability to slide into the roles of loving partner and father apparently isn't the norm for most pro-ballers. "Kroy's a rare athlete, you know, he definitely verbalizes what men want," Kim said on the podcast (per Page Six). "We all know, obviously, kind of what they want, but there's those few far in-between guys that definitely want a relationship and a connection."
With Kroy's connection to professional sports, he's familiar with a lot of the athletes who've reached out to Brielle. "Kroy's worked with them, and he has a lot of great friends that are athletes as well, I mean, I think everybody's different," Kim said, adding, "We find it funny like, 'Oh, this NFL player is DM-ing Brielle,' and Kroy's like, 'Oh, God.'"
While athletes might be vying for Brielle's attention, Kim said she would "like a Kroy" to walk into Brielle's life who's "dedicated and committed" to their relationship, adding, "I want somebody that is her partner."