The Truth About The Weeknd And Drake's Relationship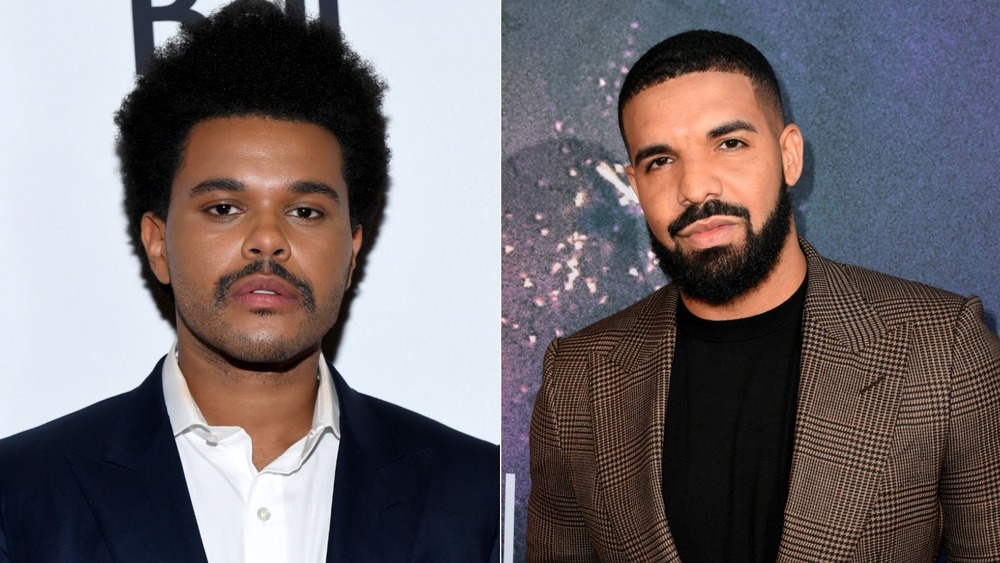 Gp Images, Kevin Winter/Getty Images
Throughout hip-hop's evolution, we've seen some pretty great collaborations. Whether it be DaBaby and Megan Thee Stallion, Kanye West and Jay-Z, or even Lil Baby and Gunna, it's without question that these match-ups prove what great musical chemistry can accomplish. For Drake, it seems he's already proven he can make a hit with any of your favorite artists. Aside from the legendary hits he's made as ⅓ of the Young Money trinity, along with Lil Wayne and Nicki Minaj, the "Laugh Now, Cry Later" crooner's musical matchups with fellow Canadian artist The Weeknd are ones that we can't seem to forget.
Nearly a decade ago, Drake introduced one of his biggest protégés to the mainstream scene in 2010 after posting two of The Weeknd's songs on his October's Very Own (OVO) blog, per XXL. The two would meet a year later in 2011 while The Weeknd was promoting his debut House of Balloons mixtape. That same year, the "Starboy" singer appeared on Drake's sophomore album Take Care as both a writer and an artist for songs "Crew Love," "The Ride," "Practice," and "Shot For Me." Additionally, Drake brought The Weeknd on tour to be his part of his live shows as an opening act. Although the OVOXO duo instantly became a fan favorite, their friendship outside of the studio faced a few hardships. Keep scrolling to find out where Drake and The Weeknd's friendship is today.
Drake wanted to sign The Weeknd to his OVO label
In October 2011, Drake spoke highly of The Weeknd in an interview. "He's like a writer, collaborator on four songs on my album, which I'm very proud of. I usually don't branch out writing-wise working with other people," he told MTV News (via XXL). "I usually like to write all my own stuff, but we get it. We try to tap into the same emotions because we're from the same city." Although the two effortlessly made hits with one another that appear on both of their early projects, Drake did not get the chance to sign The Weeknd.
By 2012, The Weeknd built a fanbase of his own. Drake told Sway Calloway in 2012 that he was working on officially signing the "What You Need" crooner to his OVO Sound label, per XXL. "As far as on paper, it's all being worked out, but that's not really what counts anyway. What counts to me is the fact that the affiliation is so known, and that's all I really care about," he said. "I want to continue being involved in his career and vice versa and keep making music together." 
Unfortunately for Drake, the singer had other plans. The Weeknd signed with Republic Records in September 2012. Many speculated that Drake wasn't happy about it after he tweeted, "You won't get away with just a thank you...you owe me a favor." Yikes.
Drake and The Weeknd have gotten past their bitter feud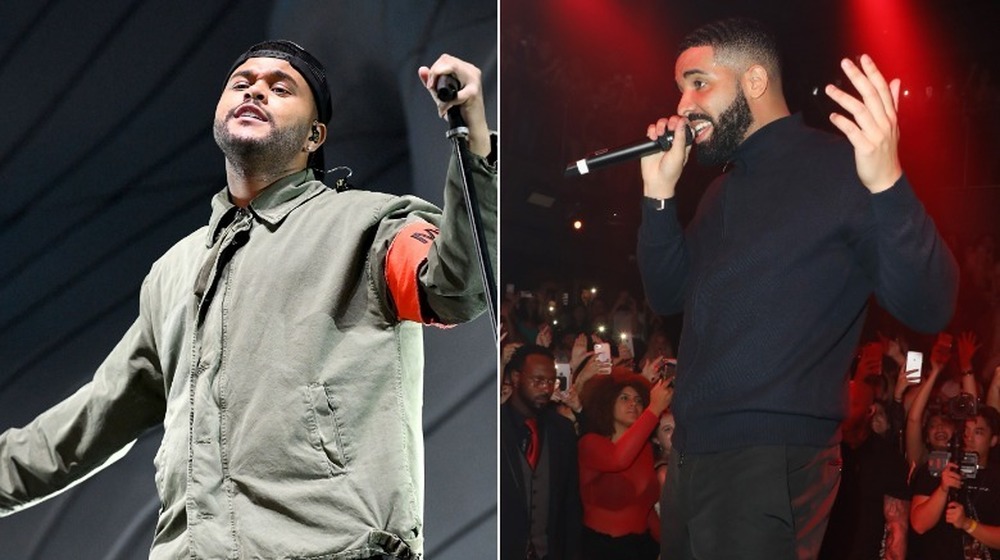 Scott Dudelson, Alexander Tamargo/Getty Images
Insert Link and Drake's relationship hasn't been the easiest. Between Drake and Bella Hadid's dating rumors to shady Instagram comments, the former and The Weeknd faced a lot of hardships in their friendship. In November 2017, Drake responded to an Instagrammer's claim that The Weeknd wrote most of his Take Care album, writing (via XXL), "Abel Tesfaye CO WROTE on 'Shot For Me' and 'Practice,' obviously was featured on 'Crew Love' and 'The Ride' and that's it. There's 20 songs on that album ... don't try me."
In 2019, it was speculated that The Weeknd shaded Drake on his "Lost in the Fire" single. In the song, The Weeknd said: "And I just want a baby with the right one/'Cause I would never be the one to hide one." Clearly, The Weeknd had listened to Pusha T's "The Story of Adidon" diss to the rapper a few times too many.
Since then, things are looking up for the two. In Drake's drill-inspired 2020 song "War," he admitted that he wanted to bury the hatchet with his protégé in the line "And the boy that sound like he sang on Thriller, you know that's been my n****/ Yeah, we just had to fix things, family, six tings, we can't split up." While we don't know if The Weeknd's ready to drop the beef, but we surely hope we can get another collab out of the pair in the future.