The Grammy Moment That Had Beyonce Fans Upset With Trevor Noah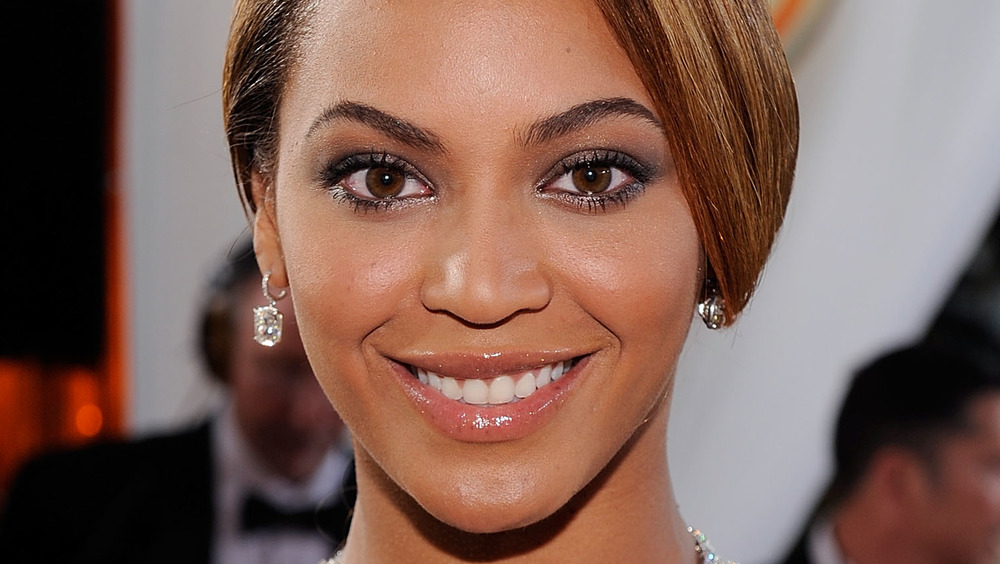 Kevork Djansezian/Getty Images
Beyoncé had a big night at the 2021 Grammys. The star marked a record-breaking 28 wins at the music ceremony when the 63rd Annual Grammy Awards — hosted by Trevor Noah — aired live on March 14, 2021, as she overtook bluegrass singer Alison Krauss as the most-awarded woman in the history of the show and also became the most awarded singer of all-time.
Per BBC, Beyoncé was given her 28th Grammy Award for the song "Black Parade." The song, which is a celebration of Black power, was released for Juneteenth 2020. It was the most-nominated track at the 2021 ceremony, recognized in the Song of the Year, Record of the Year, Best R&B Song, and Best R&B Performance categories. After winning for the latter, Beyoncé said in her acceptance speech, "As an artist, I believe it's my job to reflect the times, and it's been such a difficult time. So I wanted to uplift, encourage, celebrate all of the beautiful Black queens and kings that continue to inspire me and inspire the world."
But while Beyoncé may have celebrated a history-making night, there was one controversial moment during the show involving the star, Megan Thee Stallion, and the host that had fans up in arms on social media. Keep reading to find out what happened.
Trevor Noah didn't help Beyonce or Megan Thee Stallion
Grammy watchers noticed after Beyoncé and Megan Thee Stallion's joint acceptance speech for Best Rap Song for the remix of "Savage," host Trevor Noah didn't help them leave the stage down some steps. Instead of assisting, Noah kept his distance and ushered them down, which was a bit of struggle for the duo, as can be seen in a video posted to YouTube. The two weren't in the most nimble outfits, as Megan stunned a bright orange strapless gown with a long train and heels, while Beyoncé wowed in a black leather mini dress and heels. Many Twitter users called out Noah for failing to show his chivalrous side.
"Trevor Noah don't know you supposed to help ladies in high a** heels down the steps?" one viewer tweeted. Another wrote, "Trevor couldnt help Meg or Bey down those steps..... #GRAMMYs," alongside a GIF of Jim Halpert in The Office shaking his head. "Trevor I know your momma asking why in the hell didn't you help them down the stairs sir???," a third tweeted alongside a facepalm emoji. "Now Trevor when ladies are walking down the stairs with no ramp YOU HELP THEM DOWN!!! Especially Beyonce!!! #GRAMMYs," a fourth person wrote, alongside a GIF of Tyler Perry as Madea with the words, "No manners."
Noah hasn't publicly addressed the moment, though it's possible he kept his distance due to social-distancing guidelines amid the coronavirus pandemic.
Trevor Noah was also accused of making Beyonce 'uncomfortable'
It wasn't just Trevor Noah failing to help Beyoncé and Megan Thee Stallion down the stairs that had fans talking. The Daily Show host was also called out on social media after he announced Beyoncé had tied Alison Krauss' Grammy record while she was still on stage with the "Body" hitmaker.
Moments before failing to help them down the steps, he said, "Before you leave the stage, I just wanted to say this. We want everybody to know that right now, Grammy history has been made. With that award, Beyoncé has just tied the all-time record for most Grammy wins ever for a female artist and by any singer male or female, so congratulations Queen Bey!" Megan stood open-mouthed before turning to Beyoncé and clapping, though her collaborator looked uncomfortable and mouthed, "Oh my." The moment went viral on Twitter, raking up more than 1 million views in under 12 hours.
"Beyoncé looked so incredibly uncomfortable that Trevor announced that and I feel her because this was Meg's song that Beyoncé was featured on and Beyoncé just wanted Meg to have her moment," one person tweeted. Another wrote, "Trevor was like...Yo Megan imma let you finish, but Beyonce has tied the most Grammys of all timmmmmeeee!" A third tweeted, "Y'all I think Beyoncé was pissed that Trevor Noah made that moment about her when it was Megan's moment."
Neither Beyoncé nor Noah have publicly spoken out about these awkward moments.