The Real Reason Prince Charles Won't Let Archie Be A Prince
Shutterstock
Just when you thought the royal family feud couldn't get worse, The Daily Mail reported that Prince Charles would not give Prince Harry and Meghan Markle's son Archie the title of prince. According to the British outlet, "The heir to the throne has made it clear that Harry and Meghan's son will have no place among frontline royals as he plans a slimmed-down monarchy after he becomes king." The real reason Prince Charles decided not to give a royal title to Prince Harry's son is up for debate.
According to The Daily Mail, "The full details of Charles' plan for a slimmed-down monarchy have never been revealed, but it has been speculated that only heirs to the throne and their immediate families will receive full titles, financial support from the public purse through the Sovereign Grant and police protection funded by the taxpayer."
A source close to Meghan and Harry claimed, "Charles has told the Sussexes that he will change key legal documents to ensure that Archie cannot get the title he would once have inherited by right." According to the British outlet, "Princess Charlotte and Prince Louis, William's daughter and younger son, received their titles not by right but as gifts of the queen ... Similarly, when king, Charles will have the power to change George V's Letters Patent how he sees fit — and so streamline The Firm."
Why is the Prince of Wales choosing not to give his grandson the royal title? Keep reading to find out more.
Prince Charles reportedly wants a 'slimmed-down monarchy'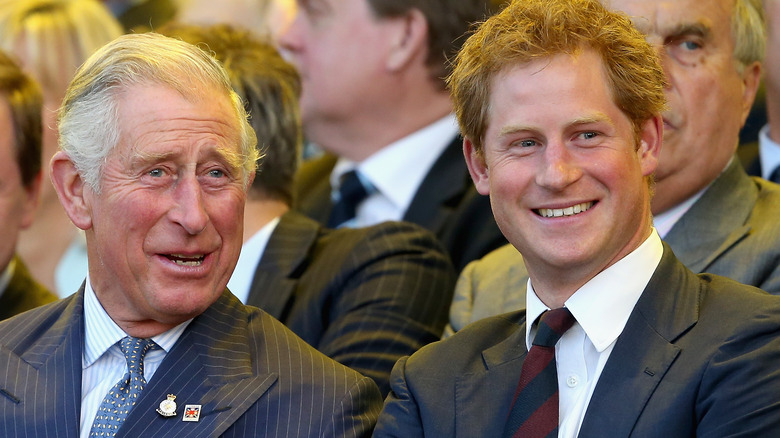 Chris Jackson/Getty Images
The Daily Mail confirmed Prince Harry and Meghan Markle's claims that Prince Charles did not want their son, Archie, to be a prince. Why did Prince Charles come to this decision? A royal insider told the outlet, "Charles has never made any secret of the fact that he wants a slimmed-down monarchy when he becomes king. He realizes that the public don't want to pay for a huge monarchy."
The Prince of Wales claims his decision about his grandson is financial. However, some believe Archie won't be a prince because of his skin color. In their interview with Oprah Winfrey, Harry and Meghan claimed that a royal family member was concerned about Archie's skin color before he was born. But it appears claims of racism in the royal family may go deeper. In a June 18 Daily Mail story, Harper's Bazaar Royal Editor Omid Scobie alleged that the royal family had conversations about the color of Archie's skin before he was born. "There was one conversation that took place that affected them massively when it came to someone within the royal family sharing concerns over the color of Archie's skin," Scobie shared at a Foreign Press Association event, via The Daily Mail. 
A 2021 Newsweek survey reported that most British people don't want Prince Charles to be king; they prefer Prince William to take the throne. So Prince Charles' decision about his grandson may be one example of why people don't like him.
Archie was offered a lesser royal title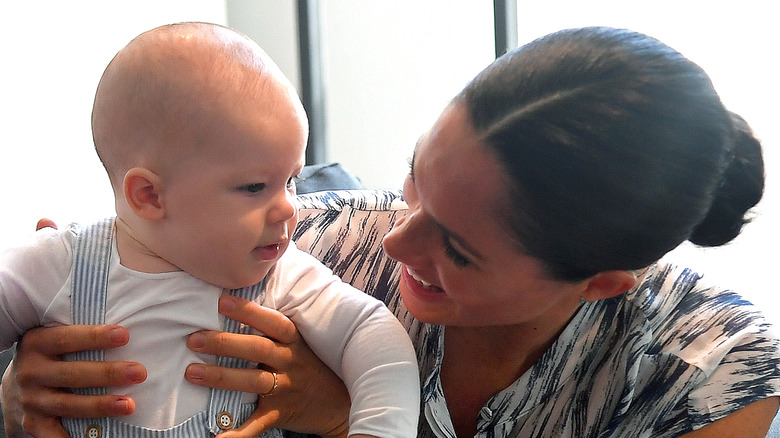 Pool/Getty Images
Despite excluding Archie from becoming a prince, the British royal family offered to award him a lesser title. According to The Daily Mail, Archie is technically the Earl of Dumbarton, a title that Meghan and Prince Harry refused for their son, per Town & Country. Reportedly, per The Daily Mail, they hoped that Archie would become a prince once Prince Charles ascended to the throne and became king — the usual royal convention that Charles seemed to be altering.
Per Town & Country, the Earl of Dumbarton title can be used for Archie because he is Queen Elizabeth II's great-grandson, and Prince Harry is a duke, a convention enacted by the queen's grandfather, King George V. But during the Duke and Duchess of Sussex's bombshell interview with Oprah Winfrey in March 2021 (via Town & Country), Meghan and Prince Harry said they specifically wanted Archie to receive a prince title because with one, the royal family would provide their son with security.
Meghan told Oprah (via Town & Country), "They said [he's not going to get security] because he's not going to be a prince. Okay, well, he needs to be safe so we're not saying don't make him a prince or princess, but if you're saying the title is what's going to affect that protection, we haven't created this monster machine around us in terms of clickbait and tabloid fodder. You've allowed that to happen, which means our son needs to be safe."