The True Meaning Behind 'Whole Lotta Money' By BIA Featuring Nicki Minaj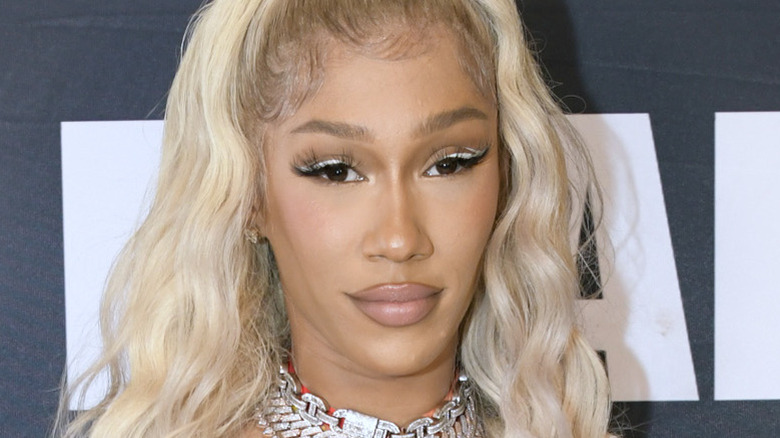 Arun Nevader/Getty Images
The women of the rap industry continue to break barriers and make space for themselves in the male-dominated genre. Making a name for herself is none other than Boston, Mass. artist, BIA. The rapper got her first taste of fame when she appeared on the first two seasons of T.I.'s Oxygen series, "Sisterhood of Hip Hop," a show about five aspiring female rappers trying to break out into the industry (via Boston.com). At the time, she was signed to Pharrell's i am OTHER record label, per BET. BIA released her first EP, "Nice Girls Finish Last: Cuidado," in 2018. In 2019, the "Cover Girl" rapper received a co-sign from Rihanna for her feature on fellow rapper Russ' track, "Best On Earth." The Fenty Beauty entrepreneur captioned one of her Instagram videos, "thank you @bia and @russ for my new fav song #BestOnEarth."
Fast forward to 2020, BIA dropped her second project "For Certain," featuring her viral hit single, "Whole Lotta Money." The song received praise from the likes of Lil Nas X, Lizzo, and Cardi B. Thanks to the song's overwhelming popularity on TikTok, BIA's original version of the track peaked at number three on the U.S. Bubbling Under Hot 100 Chart. BIA's talent has captured the eye of many stars, including Nicki Minaj, who appears on the former's "Whole Lotta Money" remix. Here's the real meaning behind the track.
Nicki Minaj co-signs BIA on 'Whole Lotta Money' remix
It's no secret that Nicki Minaj is selective with who she gives features to. The "Beam Me Up Scotty" rapper revealed that she was impressed by BIA's "Whole Lotta Money" track, which prompted her to DM the latter to congratulate her on the hit. "I open the DMs, and I see that the girl had been DMing me for three years!" Minaj explained during a July 2021 Instagram Live stream. "It wasn't just about a dope chorus and a beat. I don't feel that a lot. I used to feel that and that used to be my inspiration for wanting to rap."
The "Whole Lotta Money" remix saw even greater success with Minaj's impact. The song cracked the top 20 of the Billboard Hot 100 chart, marking BIA's second entry in the category. On the catchy track, Minaj and the Boston rapper take turns spitting bars about the luxuries of their lives. Minaj also endorses BIA by referring to the duo as "BarBIA" in the ad-libs, and raps the line (via Genius): "Ayo, BIA (Huh?)/ I just bent the block, all these b****es wanna be ya." BIA follows up the New York rapper, addressing her critics with the line, "Prolly cause my waist gone, money long, Nia."
Many fans of both rappers believed they were throwing shade at other women in the industry —especially Asian Doll, who congratulated BIA on securing the feature after previously announcing why BIA's verse was scrapped from her song, "Nunnadet S**t" (via HotNewHipHop). Regardless of their intent, Minaj agrees that BIA is one of the three female rappers to watch. Minaj previously co-signed Megan Thee Stallion upon release of their 2019 summer hit, "Hot Girl Summer," as well as Atlanta rapper Latto.