Expert Claims Prince Charles Has Been Very Hurt The Past Few Months. Here's Why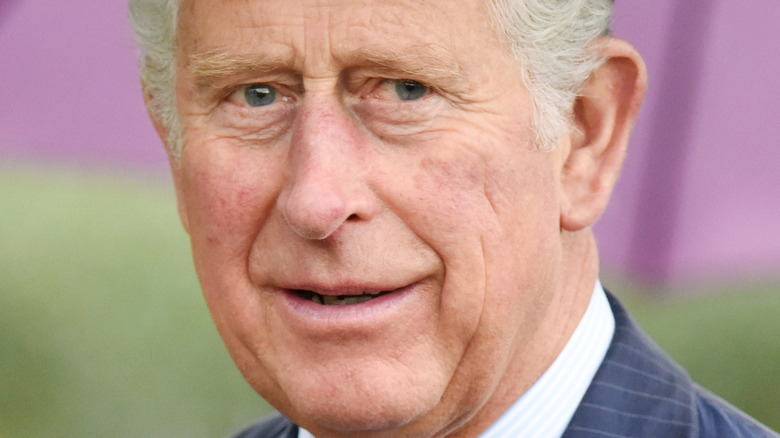 Shutterstock
Prince Charles had a reason to celebrate August 15. He took to social media and congratulated his only sister, Princess Anne, on her 71st birthday. In a sweet Instagram post on the Clarence House page, the caption read, "Wishing The Princess Royal a very Happy Birthday today." It also described the photo, "In this photo from 1951, The Prince of Wales squeezes his younger sister's hand while sitting in their prams in the Clarence House garden." The black-and-white pic showed toddler Charles leaning over to take his baby sister's hand as she sat upright in her stroller.
Admittedly, there has not been much opportunity for Charles to celebrate this year. While his granddaughter, Lilibet Mountbatten-Windsor, was born in June, he still hasn't met her. Prince Harry's family now resides in California after leaving the royal family, and relations between father and son are reportedly strained. Ever since Harry and Meghan Markle's bombshell interview with Oprah Winfrey, their relationship was cast in the spotlight. 
Then, Prince Philip died on April 9, and Charles had to deal with the loss of a parent. Even though Philip had been sickly, Charles was in the throes of grief but needed to mourn in the public eye. Things didn't improve when Harry made disparaging remarks about Charles' parenting skills. Now, award-winning TV producer Nick Bullen is claiming that Prince Charles "has been very hurt," per Fox News.
A royal expert believes Charles "explained" and refuted Harry's claims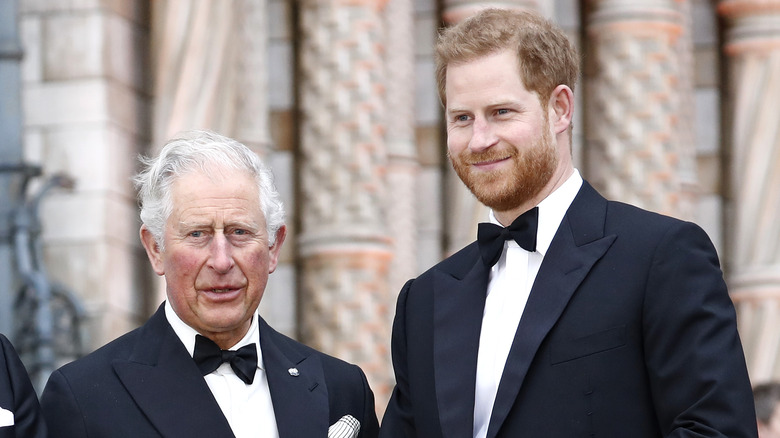 John Phillips/Getty Images
Nick Bullen, the co-founder of True Royalty TV, spoke to Fox News about Prince Harry's upcoming tell-all book. He stated that Prince Charles was not impervious to the claims Prince Harry's been making. Bullen claimed, "I do know from people close to him that he has been very hurt over the last few months about all the revelations." 
Harry has been open about his relationship with Charles, telling Dax Shepard on the Armchair Expert podcast in May (via Page Six) that there was "a lot of genetic pain and suffering." Bullen pointed out, "It's very rare that the royal households complain and explain, but they most certainly explained this time." Bullen was commenting on Harry's claim that his father had cut him off financially in the first quarter of 2020 after the Sussexes announced that they would be leaving the monarchy. He then continued, "Harry alleged that after they stepped down, they were immediately cut off financially." Per BBC News, a Clarence House spokesperson and their annual financials proved that Charles continued to support Prince Harry and Meghan until the summer of 2020. 
However, Bullen added, "But Clarence House turned around and basically said, 'No, that's not true. Harry was receiving money until the summer.' So I think that in itself is pretty telling about how people [in the palace] feel about what's going on." 
Prince Harry said Prince Charles and Prince William were "trapped"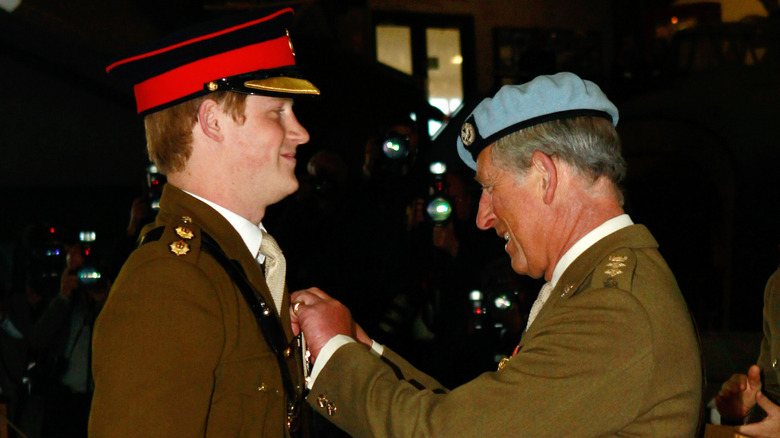 Wpa Pool/Getty Images
Prince Harry, meanwhile, is on a mission to tell his side of the story. In his and Meghan Markle's interview with Oprah Winfrey, Harry claimed that Prince Charles had cut him off financially after he announced that he was leaving the monarchy, per The Washington Post. Harry also claimed that without the inheritance from Princess Diana, he and Meghan would not have been able to make a new life in the United States. 
Harry also told the world that his father and brother were "trapped" by the monarchy and implied that he received little emotional support from Charles. "My father used to say to me when I was younger, he used to say to William and I, 'Well, it was like that for me, so it's gonna be like that for you.' That doesn't make sense," he said to Oprah in the documentary "The Me You Can't See" (via Glamour). "Isn't it all about making sure that history doesn't repeat itself? That whatever pain and suffering has happened to you that you don't pass on?" 
Yikes! How can Prince Charles bask in the shade Prince Harry keeps throwing at him? With a stiff upper lip, of course.