Inside Kelly Clarkson's Final Decision To End Her Marriage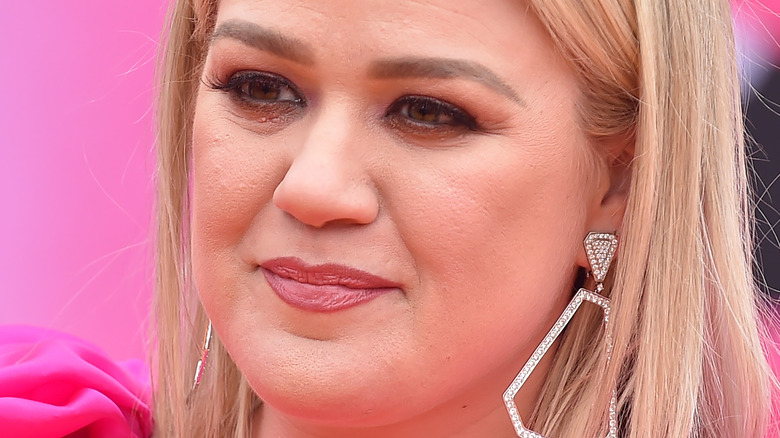 DFree/Shutterstock
Kelly Clarkson's divorce from music manager Brandon Blackstock has hardly been kept on the down-low. Clarkson and Blackstock's increasingly messy split has played out in the tabloids, despite the stars seemingly wanting to keep things a little more under the radar.
The two haven't exactly made a big spectacle of their breakup in the public eye themselves, not even issuing a statement about going their separate ways. Instead, fans only learned that Clarkson was looking to be a single woman again when it was uncovered in June 2020 that she'd officially filed for divorce, citing "irreconcilable differences" (via Us Weekly).
Clarkson has also somewhat shied away from addressing her divorce too openly in public, despite her usually candid personality. She told Entertainment Tonight in October 2020 that she'd decided not to say too much for the sake of the two children she shares with Blackstock, daughter, River and son, Remington.
"That's the thing that's been kind of hard to navigate is I am an open book, but at some point I'm a mama bear more than I am a person in the public eye," she explained of why she was keeping a little quieter for her kids, though she described going through a divorce as "the worst." Clarkson continued by heartbreakingly noting, "the past few months have been horribly sad."
Well, now we have a little more insight on why Clarkson decided it was time to put an end to her marriage.
Kelly Clarkson reportedly 'could no longer trust' Brandon Blackstock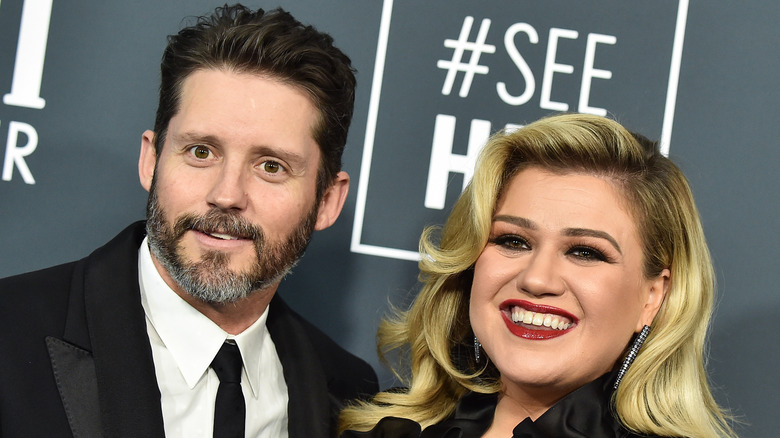 DFree/Shutterstock
Kelly Clarkson and Brandon Blackstock were married for seven years before Clarkson filed for divorce, but it sounds like the final part of that relationship wasn't exactly happy. According to an insider who spoke out to Us Weekly, the "Since U Been Gone" singer reportedly realized "she could no longer trust [Blackstock], and she felt that [Blackstock] was just using her for her money and lifestyle."
They added that the star also purportedly "had tremendous resentment toward" her estranged husband — who worked as Blake Shelton's manager – in the end. As for the other final straw? The mom of two supposedly "just wasn't willing to look the other way anymore" and "had a lot of questions that he just couldn't answer."
It sounds like Clarkson is at least on a much better path now, though. Despite her and Blackstock's divorce still not being officially finalized as of August 2020, more than a year after she filed, the insider claimed that "The Voice" coach "has no regrets" about pulling the plug on her marriage and "only stuck it out for as long as she did for her kids."
A source also alleged to Us Weekly that things had to end because Blackstock was supposedly "jealous" of Clarkson's thriving career, claiming that their "relationship had been on the rocks for a long time" before their split was made public.
Where do Kelly Clarkson and Brandon Blackstock stand amid their divorce?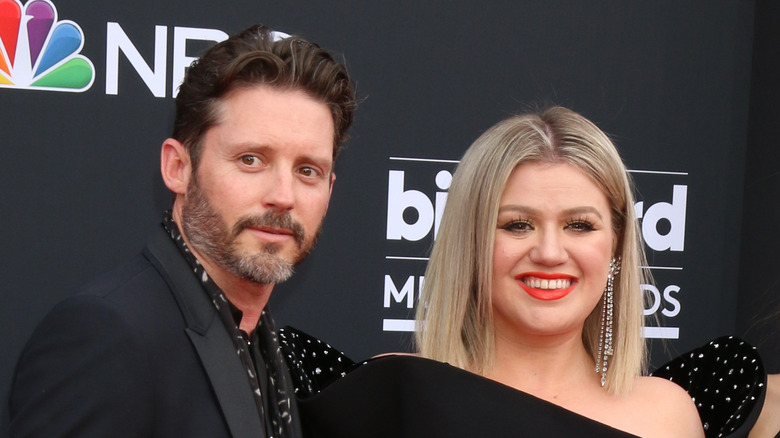 Kathy Hutchins/Shutterstock
It sounds like Kelly Clarkson and Brandon Blackstock unfortunately don't have the best relationship since going their separate ways. Things appeared to turn nasty in the courtroom when Clarkson claimed in October 2020 that Blackstock asked for "unconscionable fees and compensation" and acted "in conflict of interest with [her] best interests" while serving as her manager (via Today).
That came after court documents obtained by E! in November 2020 also painted a bleak picture of how things had deteriorated between the once happy couple. "The level of conflict between the parents has increased. The parties have a difficult time co-parenting due to issues of trust between them," the papers stated.
Clarkson herself made it pretty clear where she stands with Blackstock in August after she asked the judge to legally restore her maiden name, as she'd gone by the surname Blackstock in her personal life. Shortly before that, it was reported Clarkson and her lawyer had asked the court for a separate trial in order to "terminate her marital status," allowing her to be "considered legally single" as soon as possible (via Us Weekly) amid rumors Clarkson has been waiting until her divorce is finalized to date again.
Though it seems like this is one split that unfortunately has turned seriously sour, we're hoping the two will be able to come together and work out a civil co-parenting routine.