Inside The Last Home NeNe Leakes Shared With Late Husband Gregg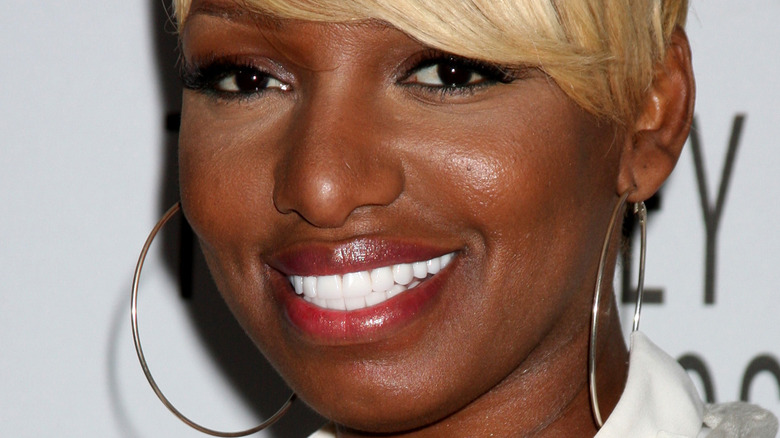 Kathy Hutchins/Shutterstock
NeNe Leakes suffered a tragic loss in early September when she lost her husband, Gregg Leakes, to colon cancer. The former "The Real Housewives of Atlanta" star's publicist confirmed the news on September 1, saying in a statement that Gregg had died at home "peacefully," leaving the his family "in deep pain with a broken heart" (via People).
"After a long battle with cancer, Gregg Leakes has passed away peacefully in his home surrounded by all of his children, very close loved ones and wife Nene Leakes," the statement continued. "We ask that you pray for peace and strength over their family & allow them to mourn in private during this very very difficult time."
NeNe has since shared various posts about her loss on social media, including posting several photos from her late husband's "celebration of life" ceremony on Instagram on September 8. "I am grateful for all of you," she wrote in the caption, adding in all caps, "THANK YOU FROM THE BOTTOM OF MY HEART!"
"I LOVE GREGG SO MUCH AND MISS HIM A LOT," she continued with a broken heart emoji, writing alongside a praying hands emoji, "I will continue to be strong and celebrate his life."
Well, it seems like part of that healing process involved NeNe selling the last home she and Gregg shared together, with the reality star officially putting her Duluth, Georgia, home on the market. Keep on scrolling to go inside.
How much is NeNe Leakes selling her home for?
NeNe Leakes' gated community home was up for sale as of October 2, with Sotheby's International Realty listing the 9,791 square ft property in Duluth, Georgia, for $4 million with an exterior of 0.7 acres. The sprawling five-bedroom property boasts five full bathrooms and two partial bathrooms, with a "main attraction" very fitting for the iconic "The Real Housewives of Atlanta" star.
The listing notes one of the most impressive parts of the home is the "enormous" closet, which was designed by the reality star herself and comes "complete with glass door built-ins, jewelry cases, shoe racks, mirrors and much more." Sign us up!
NeNe's soon to be former home also features a "gourmet kitchen" with marble countertops as well as "a full second chefs kitchen," which is nothing less than we'd expect from the star. There's also an "entertainment bar" in the basement with a theatre, game room, and, get this, even a beauty salon! Yes. Nene Leakes has a beauty salon in her home, and we just couldn't love her more for it.
The property also features an outdoor pool and a covered patio for those hot Atlanta days, while it's in close proximity to tennis courts and a golf course.
NeNe gave Bravo a full tour of the home back in 2017 when she revealed she liked to "buy things that are custom [and] fabulous that you may not see in everybody's house." She could say that again!
How much NeNe Leakes could make from selling her home
NeNe Leakes could be looking to net an impressive sum from the sale of her Duluth property. TMZ reported back in 2015 that the star and her husband Gregg Leakes purchased the property for $2.1 million, meaning NeNe — who's thought to be worth around $14 million — could stand to net an impressive $1.9 million.
There's no doubting NeNe put a lot of time and effort into the home though to make that profit. She told People in 2016 while sharing snaps of the inside and outside of the house that she had a big hand in the décor after wanting something "completely different" to the place she lived in before, which featured heavily on the earlier seasons of "The Real Housewives of Atlanta."
"I decided to do silvers and whites... because I wanted to keep it open and bright and beautiful," NeNe told the outlet. "You can see my outdoors, and the whole idea for the outdoors was a resort, so I want some of the outdoors to come indoors." 
NeNe described the home as being "like a resort" and also touched on that seriously epic sounding basement, admitting, "Our basement is for entertaining and having a good time." No kidding!
We're just hoping wherever NeNe moves to next she can make memories as special as the ones she shared with her late husband in her current home.