Are Lisa Rinna And Kyle Richards Still Friends?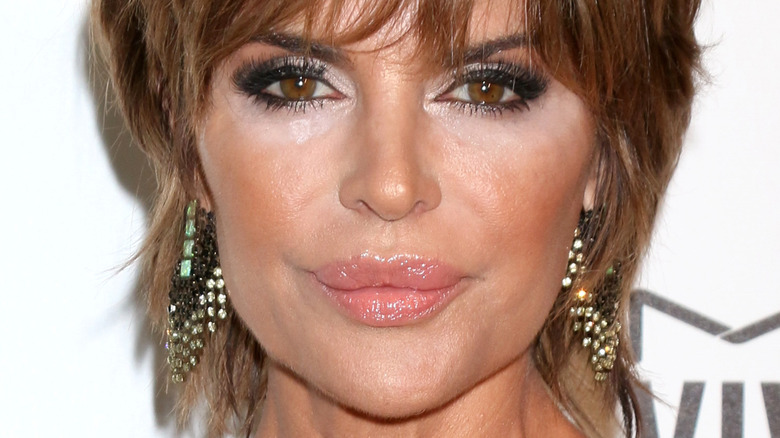 Kathy Hutchins/Shutterstock
Lisa Rinna and Kyle Richards are the queens of "The Real Housewives of Beverly Hills." The two knew each other long before their reality TV days, and both ladies are usually at the center of drama on the show. In true housewife style, Kyle loves to blame drama surrounding her on other people. People interviewed Kyle and her sister Kathy Hilton, who also stars on RHOBH. The sisters have had "ups and downs" in their relationship, but Kyle says the sisterly feuds are due to "people loving to create problems. We have a lot of outside, toxic people contributing to the issues between us."
Lisa, on the other hand, might be feeling guilty about her mean girl antics, which have sparked some drama on the show. On September 15, Lisa confessed she felt bad being so harsh on her former RHOBH co-star Denise Richards on "Watch What Happens Live with Andy Cohen," for instance. Lisa said, "I don't like my behavior and how I treated her. I was mean, and I was cruel. I was too cruel. I absolutely was, and I would like to atone for that."
With so much upheaval in both their lives, some fans want to know if reality show mavens Lisa and Kyle are still friends. Here's what we know.
Lisa Rinna and Kyle Richards have been friends a long time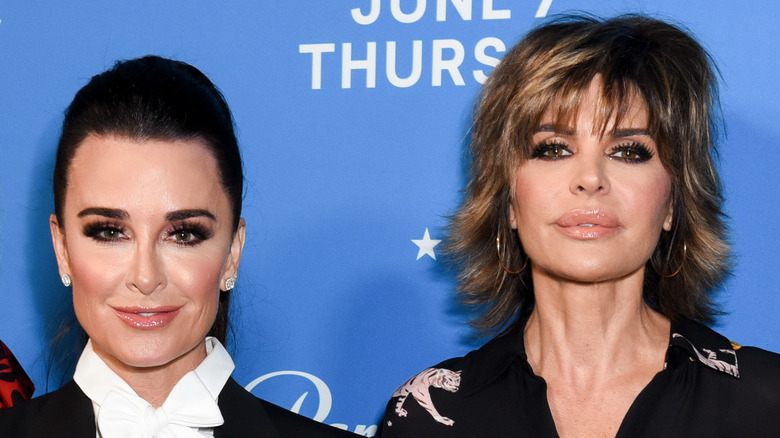 Presley Ann/Getty Images
Lisa Rinna and Kyle Richards were friends for many years before sharing screen time on "The Real Housewives of Beverly Hills." According to Bravo, the two reality stars have shared many of the same life milestones, from "watching their daughters grow up to launching new businesses." In March, Kyle posted a tribute to her long friendship with Lisa. Kyle posted a photo on Instagram from a Vegas trip she and her husband, Mauricio Umansky, took with Lisa and Harry Hamlin, Lisa's husband. Kyle wrote, "Vegas 17 years ago! Way before RHOBH." Lisa commented on the Instagram post, "[Oh my god] I'm sitting with Jana and Robin as we speak!" referring to the other friends in the photo.
However, Kyle and Lisa don't always agree. For example, when it comes to the Erika Jayne situation, Page Six reported that Kyle would not defend her fellow cast member. At the same time, the disgraced housewife claims that Lisa is her only friend from "RHOBH." But it appears the two reality queens, Kyle and Lisa, are closer than ever.
Lisa Rinna and Kyle Richards' friendship is stronger than ever
It's safe to say the friendship between Lisa Rinna and Kyle Richards is stronger than ever. On July 11, Kyle posted hilarious photos of Lisa on Instagram, writing, "Happy birthday @lisarinna I hope this birthday brings you continued happiness, good health & success! Grateful to have you in my life. Keep dancing always!" On October 3, Lisa posted a photo to Instagram at Kyle's daughter's Bat Mitzvah. Lisa wrote, "About Last Night, @portia_umansky Bat Mitzvah."
Lisa and other members of the "RHOBH" cast have supported Kyle in her return to the "Halloween" franchise, joining the former child star at the premiere of "Halloween Kills." Kyle co-starred with Jamie Lee Curtis in the original 1978 horror classic. Entertainment Weekly reports the Beverly Hills housewife is reprising her original role as Lindsey Wallace.
But others think of Lisa and Kyle as a dynamic duo. Hollywood publicist Amir Yass said Lisa and Kyle were "lovely," but Erika Jayne was a nightmare. Yass told Showbiz Cheat Sheet about his experiences with the RHOBH. "I met them all at Coachella at different times ... and the only ones who were nice to me were Lisa Rinna and Kyle [Richards]. And they are the ones who took pics with me. Erika of course was cold." Here's hoping drama never gets in the way of their long-lasting bond!