Donald Trump Just Dismissed This Claim Against Melania Trump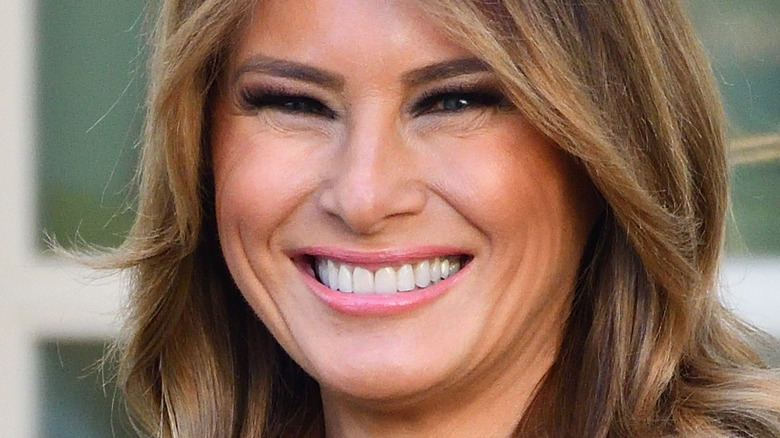 Evan El-Amin/Shutterstock
Melania Trump's years at the White House were marked by the many spectacles of her husband, Donald Trump. She was also involved in gossip and scandals up until the end of her term. One of her biggest scandals came with her former aide, Stephanie Winston Wolkoff, publishing a memoir titled "Melania and Me." The screaming tell-all spoke about her time in D.C. working closely with Melania across projects. The author had also released controversial audio tapes where her former boss was allegedly found saying that she could not stand White House Christmas decorating.
Still, when Melania finally bid Washington D.C. farewell, she released a video promoting her years in the White House as the first lady. "Use every opportunity to show consideration for another person," she said in her final message before moving out. "In all circumstances, I ask every American to be an ambassador of Be Best. To focus on what unites us, to raise above what divides us, to always choose love over hatred, peace over violence, and others above yourself."
Though Melania seems to be happy to be done with the White House, her husband doesn't seem to be ready to hang it up. After having his mouthpiece jammed on Twitter, he has been participating in Republican events and rallies and hinted at a possible presidential run in 2024. But what does he have to say about Melania's feelings about possibly returning to the White House?
Donald Trump thinks Melania Trump is in for the 2024 race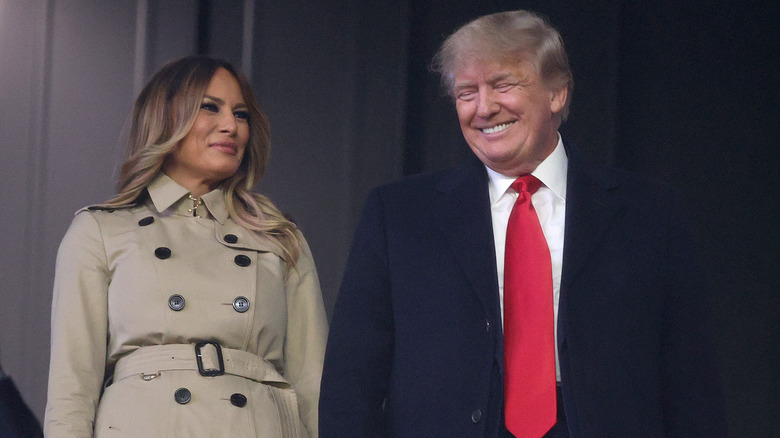 Elsa/Getty Images
After Donald Trump's loss to Joe Biden in the 2020 presidential elections, many questioned Melania Trump's feelings about returning to the White House for a potential second term in 2024. Months later, Donald had an answer when he was asked this question by "Fox & Friends" co-host Brian Kilmeade. "Is it true that the former first lady, Melania Trump, has told you 'I'm not going back if you run again'?" Kilmeade asked Donald, per the New York Post.
The former president immediately denied it. "No, that's not true. That's an interesting one. More fake news," he claimed. "She was a great first lady, she did a great job. She loves the people, they love her, I see how they love her," he continued. "But no, I will say this: We have to fix our country. Our country is going bad. We're not going to have a country if we keep doing this."
Donald can only speak for himself, and sources close to Melania have had varying opinions. One source told CNN that she does not want to be the first lady again and that "for her, it was a chapter — and it's over, and that's that." Another source, a close family friend to the Trumps, had a different opinion. "If [Trump] runs, she will be right there. She's not going to have her own rallies," the source told Politico, but hinted at what many have already perceived as a lack of enthusiasm. "But did she ever?"
Donald Trump is already preparing for the 2024 presidential elections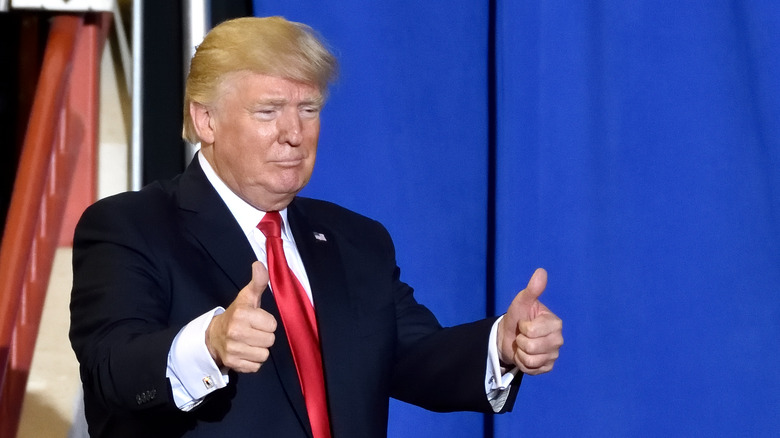 Evan El-Amin/Shutterstock
Speculations aside, Trump is already getting busy for 2024. Sources close to Vanity Fair say that he's already fancying his chances between the ongoing pandemic and the U.S.'s withdrawal from Afghanistan. He's taking other small steps, too, such as editing his web ads to be more specific and critical of president Joe Biden.
Donald's intentions for 2024 became clearer when Florida Rep. Matt Gaetz, a close source to the former president, hinted that he was in the game. "Trump sees Biden is on the ropes. He wants to throw punches as a combatant, not a heckler from the stands," he told Politico. Trump might not be in a hurry to announce his candidature, but he still has a following; as Gaetz argues, "the base is rightly loyal to him." For his supporters, Trump would be just the answer they had been expecting.
But what are the chances of Donald winning? According to a February Politico-Morning Consult poll, he is just popular enough with Republican voters — 54% back him for the 2024 race. Mike Pence was the second popular choice, with 12% Republican supporters supporting him. There was also the former president's son Donald Trump Jr. at 8%. Further, he almost revealed his 2024 plans in a GBNews interview on December 2. When segment host Nigel Farage asked him why he would "consider going back to the hell again," Trump replied: "[I]f you love the country you have no choice."
Initial signals are one thing, but, ultimately, only time will tell whether Trump makes a run for 2024.